Homemade Cream Cookies - A Delicious Recipe
It only takes a little creativity and quality ingredients to make wholesome and delicious desserts. This recipe for homemade cream cookies requires healthy ingredients only.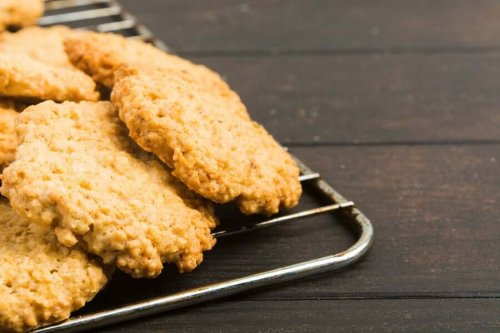 Would you like to learn the secret of making traditionally delicious homemade cream cookies? This is a very easy recipe to follow.
So, continue reading to find out how to make this delicious homemade treat. We'll give you detailed instructions throughout this article.
Cream biscuits, an ideal treat
Today we're bringing you several options for great cookies. Keep in mind that the simplicity of this recipe is what makes them truly exceptional.
What does it mean though? Well, it means that you can add almost any ingredient you like and make a variation on the same recipe. For instance, you can add white or dark chocolate, cocoa, almonds, coconut, etc.
Another thing that makes this treat so special is that you can add as little sugar as you want. Thus, if you're on a special diet and really want a sweet, you can opt for these without feeling guilty.
Who can eat them?
Keep in mind that carbs, cholesterol, and sugars, aren't necessarily bad. The human body needs them all for building muscle tissue and for maintaining the proper functions of cells. In fact, this happens daily with everything you eat, be it vegetables, grains, fruits or fats.
However, you should definitely not eat these cookies or at least make the necessary adjustments if you're celiac. This is because this cream cookie recipe uses gluten-containing flours that will lead to uncomfortable and unpleasant consequences for those with an intolerance to it.
You should be fine if you don't have any dairy or gluten intolerance though. All you have to do is follow the steps to get started.
Homemade cream cookies
1. Traditional homemade cream cookies
If you love homemade treats, then these traditional cream biscuits are undoubtedly your best option. This is because they contain just the right amount of sugar and you can mix and match other ingredients to make all sorts of combinations.
Below we'll show you a recipe that's adapted from the original, which contains chocolate. It may be helpful for encouraging your little ones to eat homemade treats instead of processed sweets.
Ingredients
2 cups of wheat flour
1 cup of liquid cream
½ bar of white chocolate
½ dark chocolate bar
2 mint leaves (for decoration)
½ cup of brown sugar
A pinch of salt
Wax paper
Preparation
Firstly, put the flour, sugar, and salt in a large bowl
Then, mix the dry ingredients with a whisk until they're fully mixed in
Next, pour the cream slowly into the bowl
Then, beat it until soft and smooth
At this point, wrap the dough with plastic and refrigerate it for 30 minutes
Now, sprinkle a little bit of flour on a wooden board and flatten it with a rolling pin; stretch it until it covers the entire table
Now cut the dough with a cookie cutter and place the pieces on a tempered glass tray
Preheat the oven to 430°F and then bake them for 20 minutes
Finally, melt the types of chocolate separately in a double boiler and then pour each one into a different plastic bag. Top the cookies with them once they've cooled down a bit
2. Homemade cream cookies with chocolate chips
Ingredients
2 cups of wheat flour
3 eggs
½ cup brown sugar
2 tbsp butter
1 pinch of salt
2 cups of chocolate chips
1 cup of crushed hazelnuts
1 cup of liquid cream
Preparation
Firstly, mix the following ingredients in a bowl: wheat flour, sugar, liquid cream, eggs, and butter
Then, mix it with your hands to give it a better texture and consistency, and finish it with a whisk
Once you achieve a smooth dough free of lumps, add the salt, the chocolate chips, and the hazelnuts
Then, flatten the dough with a rolling pin on a wooden board to cover the area
Next, cut your cookies with a cutter
Place them on a tray and preheat the oven to 375ºF.
Finally, place them in the oven and bake them for 20 minutes
After that, remove them and let them cool down for a few seconds before serving
Thanks for reading.
It might interest you...