Home Remedies for Pharyngitis
Pharyngitis is an uncomfortable infection that is caused by a bacterial or viral infection. Learn how to help treat naturally at home!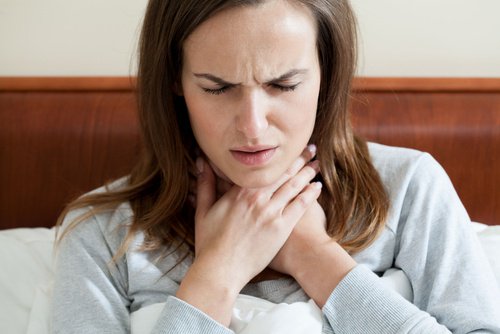 When the mucosa lining your pharynx becomes inflamed, this causes a condition called pharyngitis. Its most frequent symptoms are fever, swallowing pain and redness in the area. It can even make us unable to eat or talk.
Viral (and also bacterial) infections usually cause this condition, so it's a common problem during cold months. In this article, we'll reveal the best home remedies to treat it.
Natural recipes to combat pharyngitis
The air we breathe, the food we consume or how much we cover ourselves up in the winter can be the trigger for this inflammatory disease.
Some home remedies that can help you in these cases are:
Gargling thyme
This aromatic herb has analgesic and anti-inflammatory properties
which are really effective if you have pharyngitis.
The recipe is divided into two: one that includes gargling, and the other that's a tea to drink.
Ingredients
1 cup water (250 ml)
1 tablespoon thyme leaves (10 g)
The juice of ½ lemon
1 tablespoon honey (25 g)
Method
First, heat the water until it boils.
Then, add the thyme and let it stand for 10 minutes.
Strain and then add the lemon juice and honey.
Once everything is well blended together, gargle the mixture three times (each time with one tablespoon of the preparation). When you finish don't swallow the mixture, but spit it out into the sink.
Drink the rest of the cup throughout the day.
Marinated carrot in honey
This is an excellent remedy for pharyngitis, as it reduces the symptoms and gradually eliminates the infection.
Ingredients
2 carrots
4 tablespoons of thyme honey (100 g)
The juice of 1 lemon
Method:
First, peel and grate the carrots.
Then, place them in a bowl along with thyme and honey and stir well.
Cover the preparation and let it marinate overnight.
In the morning, add the lemon juice and consume a tablespoon during the day.
Marigold Tea
There are many benefits that this orange plant has for our health and our appearance. Marigold flowers contain bitter ingredients that have the ability to
reduce inflammation.
Ingredients
½ teaspoon dried marigold flowers (2 g)
1 cup water (250 ml)
Method
First, heat the water and add the marigold flowers before it comes to boil.
Turn off the heat and allow the tea to brew for about 5 minutes.
Filter it and then drink it (if desired, sweeten with honey).
You can drink 3 cups a day. Another option is to gargle a tablespoon of the liquid when it's warm.
Gentian tea
This plant has properties that enable it to stimulate the production of white blood cells and, in addition, increase the body's defenses. Furthermore, it's used to treat many respiratory diseases in addition to pharyngitis.
Ingredients
1 tablespoon dried gentian root (10 g)
A cup of water (250 ml)
1 tablespoon honey (25 g)
Method
Heat the water and, before it boils, add the gentian root.
Remove from heat, cover and let it stand for about 5 minutes.
Filter the tea, sweeten it with honey and drink it at night.
Tomato juice
Tomatoes are ideal for refreshing the feverish area and are also a nutrient-filled food. By consuming tomato juice
you'll be able to eat without having to pass solid food through your throat
and increase the pain.
Ingredients
2 tomatoes
½ cup water (125 ml)
Method
Wash the tomatoes well, cut them in half and remove the seeds.
Place them in the blender, add the water and blend well.
Drink slowly. You can consume up to 4 cups per day.
Gargling sage
Sage is a plant used to heal wounds and reduce all kinds of ailments (from arthritis to PMS). Plus, its anti-inflammatory and antiseptic properties help in cases of angina, pharyngitis or gingivitis.
Ingredients
2 tablespoons sage (20 g)
2 cups water (500 ml)
Method
Heat the water while washing the sage leaves thoroughly.
When it boils, add the sage and remove the liquid from the heat.
Cover and let stand it for 10 minutes.
When the liquid is warm, strain it and gargle it several times a day.
Linden Flower Tea
Linden flowers are diaphoretic. This means that they
increase body sweat while raising body temperature
, which eliminates
the bacteria or viruses that cause pharyngitis
.
Ingredients
½ teaspoon dried linden flower (2 g)
1 cup water (250 ml)
Method
First, begin to heat the water.
When it boils, add the linden flowers.
Boil it for 5 minutes and then remove it from the heat.
Cover for 10 minutes, filter and drink.
You can consume up to 3 cups a day.
Do you want to know more? Read: Throat Infections: Natural Treatments
Gargling beech bark
This tree has a good amount of tannins that make it a perfect antiseptic and anti-inflammatory to treat conditions on both the skin and mucous membranes.
In the latter case, we recommend gargling an infusion made with this tree.
Ingredients
1 tablespoon dry beech bark (10 g)
4 cups water (1 liter)
Method
Boil water with the dry beech bark added in for 5 minutes.
Remove from the fire and let the concoction stand for another 5 minutes.
Filter and gargle every 5 minutes.
Milk with turmeric and honey
Before going to bed (or sleeping, if you're going to rest) we recommend consuming this delicious and effective remedy that treats pharyngitis and any other respiratory infection.
Ingredients
1 cup milk (250 ml)
A teaspoon of butter (5 g)
1 teaspoon honey (7.5 grams)
1 teaspoon turmeric powder (5 g)
Method
Heat the milk without letting it boil.
Then, remove it from heat and place it in a cup.
Add the butter, honey, and turmeric and mix well.
Consume before it cools.