Home Activities for a Rainy Day
A rainy day can ruin the plans you had to go for a walk together, but not the joy of enjoying each other as a family. Take advantage of the activities that we're about to suggest. Try them out at home with your children.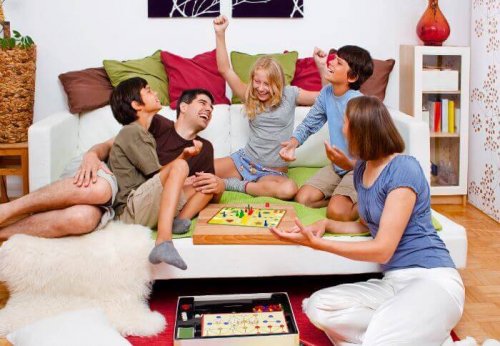 You planned on going hiking to that beautiful park you've wanted to check out for a while. And when the day finally arrives, it's raining cats and dogs. Luckily, there are still many home activities you can do!
You may be disappointed, but your children are restless and looking out the window…What can you do?
It's time to take a deep breath, count to ten and get creative. It's not as bad as it seems. Take it as a chance to teach your children how pros such as yourself improvise. You know, when life gives you lemons, make margaritas! (Well, something like that.)
But is it truly possible to transform a seemingly frustrating day into one full of color and fun?
You betcha!
The Best Home Activities for a Rainy Day
A good attitude and creativity are all you need to have in order to have fun. After all, what's so bad about rainy days? It's just water, so you can go out there and splash around if you truly want to be outside.
After you're done dancing and singing in the rain, go back inside and don't let anything drag your spirits down. It's time to get yourselves together and prepare for a great, cozy day full of fun home activities. What a great chance to strengthen your bond as a family!
1. Take Advantage of the Initial Plan
Ok, so you're bummed out because you still have that basket full of food for the picnic you planned to have when you reached that summit. Well, anyone can have one of those.
But have you ever had a picnic in your living room?
That very same blanket you were going to take to that national park (which would've come back full of bugs and dirt) can now stretch out on the floor.
Plus, if the plan was to spend the day at the beach, fill the tub or the inflatable pool and gather your favorite toys. Have you ever added bath bubbles to a kiddie pool?
2. Hands-On Painting
Drawing, painting, and DIY crafts are all fantastic group and/or individual activities to do at home. The sky is the limit when it comes to possibilities.
Do a search online. There's a wide range of ideas to suit every taste using any material you might have at hand and to challenge people of any age.
Once you decide on an activity, gather all of your materials and assign different tasks to the children: get someone do the painting, someone else to cut out stuff, etc. This way, you'll work as a team for a common goal. It's always nice to have a new conversation piece with which to impress the Jones family…
Children who are already closer to adolescence may enjoy painting a mural or starting their career as graffiti artists in their room. Encourage them to express themselves freely.
3. Board Games Olympics
Board games are classic when it comes to things to do at home. For those days when your plans to go out fall apart, there's nothing like a fun bingo game. Or perhaps poker or some other card game. Maybe even a puzzle, or Scrabble, or Apples to Apples, or …
This is another opportunity to encourage teamwork. Get the older children in charge of teaching and keeping up with the younger ones in an epic family-wide board game Olympics.
Heck, take it a step further and make your own board game for future rainy days!
4. Throw a Party
Take advantage of the food you've already packed or what's in the fridge to host an impromptu party.
Get everyone to go get changed and dress to the nine. Everyone can have the opportunity to be dancers and DJs. Each one of you can select from your favorite music. Some can dance, some can play, and everyone can have fun.
5. Sleepovers
Children love sleepovers, so they're a great activity for them to have fun at home.
If they woke up and immediately realized that it was raining cats and dogs, then let them stay on their pajamas. It's just like a classic sleepover, but early and throughout the rest of the day.
Let the children help out with breakfast, movies , or games… There are so many possibilities.
6. Storytelling
Make some popcorn and encourage everyone to tell stories. Some can tell stories they know by heart or simply read a book while others listen and then they can exchange roles and so on.
Reading is a great way to stimulate children's imagination. When they do it aloud, they also get to practice their vocal talents and reading skills. Even when the little ones can't read, hearing mom or dad tell them a story is always a special treat.
7. Do Scientific Experiments
If your children are more into science, then organize a round of home experiments instead of doing crafts.
Scientific experiments are great because children will learn while having fun. You can go ahead and gather what you need for them while your children disguise themselves as "mad scientists."
Of course, make sure the experiments are age-appropriate and don't miss this chance to provide an easy scientific explanation with each experiment.
8. Home Activities: Exercise
Exercise isn't only healthy, it's also a perfect activity to do at home on a rainy day. Organize a training session for both adults and children. You don't even need any kind of fitness equipment. As usual, get creative.
Put on your gym clothes and pick an activity. For example, a yoga session with the family can relax you all. But, if it isn't relaxation what you want then try Zumba, a high-energy exercise dance.
Further, improvise with all kinds of exercise routines. You can even get them into weightlifting and use bean bags or water bottles as weights.
9. Take Advantage of the Stillness of the Rain
Finally, the daily routine is often hurried and it barely leaves you with any extra time to just sit down and talk to those you love. Perhaps the soothing sound of falling rain will simply relax you all and you'll be willing to bring up important, meaningful subjects and simply chat together.
For example, get your children to help you cook something. While you all work, then the conversation will begin to flow. Enjoy cooking and chatting and, of course, enjoying the delicious things you make together.
Home Activities: When the Rain Stops
When it stops raining, perhaps you can consider your original plan for the day, but from a different perspective. If you wanted to go to the beach, for example, then you might still be able to catch the sunset and even, perhaps, a beautiful rainbow.
Also, you can still put on your rubber boots and go out there and splash around in the remaining puddles.
Remember, a rainy day isn't necessarily boring, especially when you have a chance to do things as a family. There are so many possibility!
It might interest you...