5 Herbal Teas to Cleanse Your Digestive System
Most foods contain substances known as toxins, some more than others. They directly attack the function of your cells, robbing them of energy.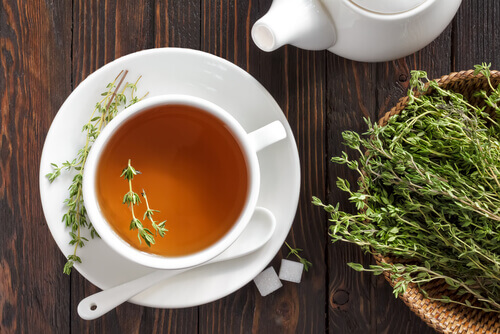 Herbal teas can help to boost your immune system and digestive system After all, your intestines are of the most important things that your body needs to stay healthy.
That's why we want to share some herbal teas with you that will facilitate your body's detox processes.
Also, herbal teas will help keep your intestines healthy.
1. Oregano tea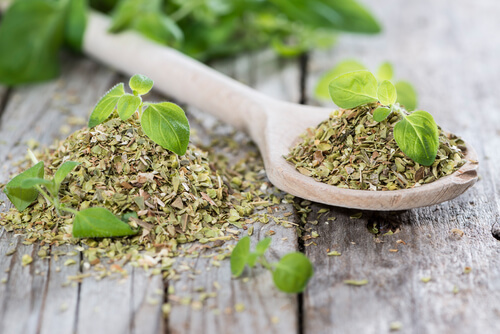 First off, it's a good idea to drink oregano tea after your meals because it can improve your
digestion
and alleviate any problems with constipation.
Also, these herbal teas have antioxidant, antibacterial, and anti-cancer properties. Why? Well, it's because the essential oils stimulate certain enzymes to detox your body.
Ingredients
2 cups of water (500 ml)
3 tablespoons of fresh or dried oregano leaves (30 g)
1 tablespoon of honey (25 g)
Preparation
Heat the water until it boils.
While it's boiling, add the oregano leaves and allow it to steep for a minute. Then turn off the heat and let it sit for a few more minutes.
After this time, strain the liquid into a cup and add a tablespoon of honey to improve the flavor.
Read also: Poor digestion and emotional problems
2. Coriander tea
Coriander tea has digestive properties that are useful for cases of diarrhea, constipation, painful digestion, and digestive system disorders in general.
Also, it facilitates the elimination of excess gas in the digestive tract. Additionally, coriander tea stimulates your nervous system and is beneficial for your mental performance.
Ingredients
2 to 3 teaspoons of coriander seeds (15 g)
2 cups of water (500 ml)
Preparation
Heat the water until it boils.
While it's boiling, add the coriander seeds and let it simmer for five minutes.
Turn off the heat and let it cool for three to four more minutes. Strain off the liquid and serve.
3. Epazote tea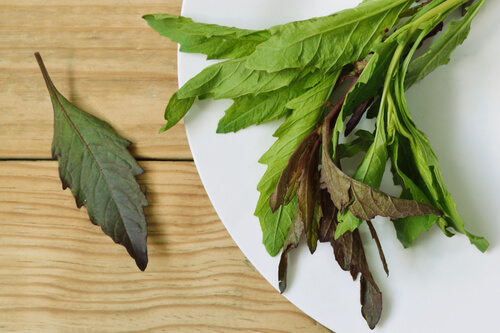 Epazote is a green leafy herb that's traditionally used to eliminate parasites, nasal secretions, and cough.
Additionally, epazote tea is very beneficial for people who are suffering from gastritis and other uncomfortable gastrointestinal symptoms.
Also, it can help fight infections due to parasites, prevent stomach ulcers, reduce fats, lower cholesterol, and regulate your thyroid health. And, it can maintain healthy blood sugar levels and improve bone health.
Ingredients
5 tablespoons of epazote leaves and flowers (50 g)
4 cups of water (1 liter)
Preparation
Bring the water to a boil and add the epazote leaves or flowers.
Boil for five minutes and then strain off the liquid.
Consume one cup of this tea an hour after each meal.
See also:5 natural detox treatments
4. Dandelion and rosemary tea
Next, dandelion is rich in iron, making it ideal for treating anemia. And, thanks to its many beneficial properties it can help people who are obese or who have high cholesterol. Basically, it protects the liver and its production of bile.
And, in a similar way, it can help treat kidney problems. Specifically, it is helpful in the event of kidney stones.
Ingredients
4 cups of water (1 liter)
2 tablespoons of dandelion (20 g)
2 tablespoons of sarsaparilla root (20 g)
2 tablespoons of rosemary (20 g)
Preparation
First, heat the water until it boils.
Then, add each of the ingredients, remove from heat, and allow it to stand for around 10 minutes.
Drink a cup of this tea after each meal, for 15 days.
5. Thyme tea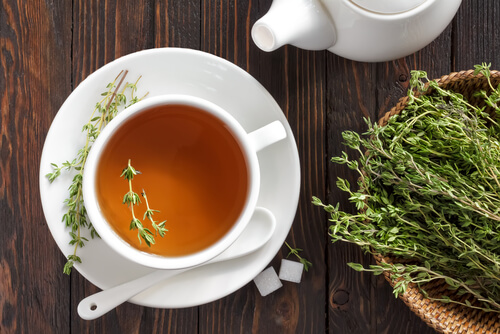 Thyme is a digestive plant that helps fight and eliminate parasites, intestinal worms, and gas. Also, it can help fight inflammation due to disorders like cystitis.
Ingredients
1 tablespoon of thyme flowers (10 g)
5 dried thyme leaves
4 cups of water (1 liter)
1 tablespoon of honey (25 g)
Preparation
First, bring the water to a boil and add the dried flowers and leaves for five minutes.
Next, let it sit for another five minutes.
Then, strain off the liquid and add the honey.
It's recommended to drink three cups of thyme tea a day.