Heat and Cold: Essential for Sports Injuries
Using cold and heat to treat sports injuries is a recurrent practice. But, do you know which one to apply depending on the physical problem? We'll help you answer this question.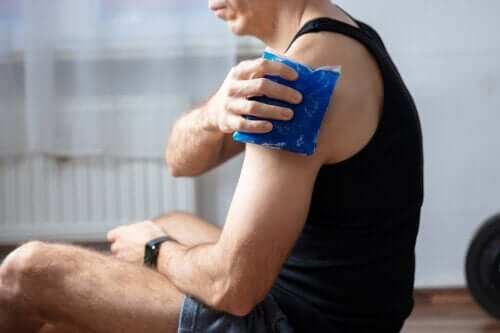 Practicing any physical activity brings with it the risk of unforeseen sports injuries. When this happens, we often start wondering how we should really deal with them. And although the application of cold and heat for sports injuries is widely recommended, there are some knowledge gaps that need to be filled.
When is heat or cold recommended? How are they applied? What are their benefits? What contact time is recommended? Each of these questions will be answered if you continue reading. So keep reading to learn how to treat your injuries effectively!
Cold for sports injuries
Cold is used to treat musculoskeletal conditions. In a narrower sense, we use local cryotherapy to counteract inflammation, injuries caused by trauma, and muscle strain. The use of ice is appropriate with the following conditions.
Sprains
Bursitis
Muscle ruptures
Inflammation
The way cold acts is through vasoconstriction, that is, the narrowing of the blood vessels. So, this is how the blood flow to the area tends to be reduced, and, in turn, this helps to reduce inflammation in a short time.
Benefits
The benefits of cold for injuries are in the relief of pain resulting from trauma, swelling reduction, and minimization of muscle spasms.
How to apply
Specialists recommend applying cold with a gel pack or a piece of ice wrapped in a cloth that avoids direct contact with the skin. The time of use varies between 10 and 30 minutes. The process should also be discontinuous and repeated in cycles of 2 hours.
On the other hand, doctors don't recommend cold as a therapeutic treatment in the following cases:
Open wounds
People suffering from sympathetic dysfunction
People with Raynaud's syndrome
Neoplasms
Heat for sports injuries
The first step in clearing up doubts surrounding heat and cold for sports injuries has been completed. So when is it appropriate to raise the temperature of the treatment?
In essence, using heat is particularly focused on muscle injuries (contractures) and joint discomfort. In addition, its implementation in the treatment becomes essential when the athlete experiences chronic pain.
The influence of thermotherapy is in the dilation of blood vessels. This condition creates a greater flow of blood, nutrients and oxygen to the affected area. In addition, it catalyzes metabolic activity. Of course, it also elevates inflammation.
Benefits
The benefits of heat applied in a conscientious manner to address the ailments mentioned above are, for example:
Muscle relaxation
Reduction of muscle and joint pain
Increased soft tissue performance
Decrease in blood pressure
Increased mobility in the area of injury, resulting from improved elasticity of tendons, muscles, and joints
How to apply
Hot packs, whirlpool baths, high-temperature cloths, heat lamps, and ultrasound are the most common elements to transfer heat to the area of the injury.
The recovery process should begin with thermotherapy between 48 and 72 hours after the occurrence of the physical problem.
After the initial stage, the selected material is put into contact with the skin (not continuously) for a period of between 10 and 30 minutes.
Similarly, as with cold, there are situations in which it's best to avoid any hot agent. Among the circumstances in which we don't recommend that you opt for this treatment are the following:
Inflammation
Very hot areas
Malignant tumors
Recent blows
Variations in sensitivity
Infections
Hemorrhages
Cold and heat for injuries (contrast baths)
At this point, we've looked at the broader spectrum for the use of cold and heat for injuries. However, the two different types of treatment aren't always incompatible. This is the origin of the so-called "contrast baths".
This therapy is based on the alternation of cold and heat to treat some injuries and trauma. As a result, specialists promote vasodilatation and vasoconstriction to enhance local circulation, especially in the extremities.
You must carefully manage the temperature of both cold and hot water before immersion, since the effectiveness of the process will depend on this. Therefore, hot water should be between 100 and 111 F (38 and 44 ℃). Meanwhile, cold water has to be between 50 and 70 F (10 and 20 ℃). Also, specialists use it to a greater extent for tendinopathies and sprains.
Final considerations of cold and heat for sports injuries
In conclusion, you should always remember that cold and heat to treat injuries are an adjunct to other methods that speed recovery. In addition, the exercises the physiotherapist recommends, as well as the massages, are what will end up ensuring a total rehabilitation.
Finally, it's crucial to leave the choice of cryotherapy, thermotherapy, or contrast methods to a specialist, in order to avoid harmful actions that may cause further problems in the long run.
It might interest you...
Original article: El frío y el calor, esenciales para las lesiones deportivas – Mejor con Salud