Healthy Snacks that Are Easy to Make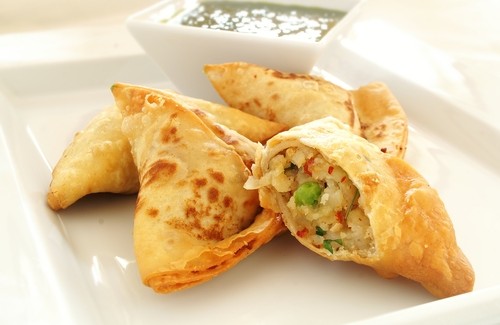 Including healthy snacks in our diet is one of the best ways to quickly keep our hunger at bay.  Here you will find some of the best options.
Vegetable samosas with yogurt sauce
Ingredients
Dough:
225 grams flour
1 Tbsp. salt
2 Tbsp. olive oil
90 ml hot water
Filling:
Tomato
Peppers
Turnip
Green beans
Olive oil
Salt
Salt
Curry powder (just a pinch)
Directions
The first thing you should do is sift the flour into a bowl and add oil and water.  Knead until completely blended.
Afterwards, finely cut vegetables and saute (except for the tomato, which will be added after all the vegetables are well cooked).  Knead the dough and form small balls out of it.  Then, with the help of a rolling pin, roll dough into a sheet.
Cut the dough into circles.  Bend at the equator, forming a semi-circle.  Stuff with vegetables, and close the Samosa, sticking it together with a bit of water.  Fry with generous amounts of oil until they are completely cooked.
Chocolate covered peanut clusters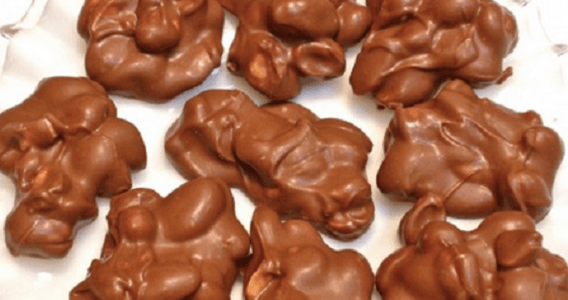 This is one of the easiest healthy snacks to make that you will ever find.  Unsweetened chocolate contains quite a bit of healthy benefits.  It produces antioxidant effects, is good for the heart, and even diabetics can eat small amounts of it with no problem.  Peanuts also contain a lot of antioxidants, and are a very nutritious nut.
Ingredients
100 grams unsweetened chocolate
150 grams natural peanuts, skinned and washed
Directions
Melt chocolate in a double boiler until completely melted, without burning.
Sprinkle the chocolate chips uniformly over a tray and add liquid chocolate until peanuts are completely covered.
Wait until chocolate is moderately cool, and can be divided without melting.  Divide the treats into small portions.
When chocolate has completely cooled, separate the portions and keep them in a cool and dry area.
**Remember, the peanuts are interchangeable with any other nut or dried fruit of your choice, and create new, healthy treats.
Frozen fruit and yogurt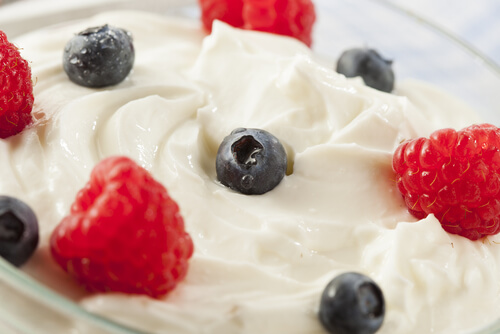 Two ingredients that can't be left out from our diets: yogurt and red and blue fruit.  To make a sweet, healthy, and quick snack, try this when you need something fresh:
Ingredients
As many red or blue (or both!) fruits as you like
Plain yogurt, enough to cover fruit
Honey (only if you'd like to increase this treat's sweetness)
Directions
– Mix fruit and place in small glasses or jell-o molds.
– Add yogurt, until completely covering fruit.  You could now add honey or any sweetener of your choice.
-Cover bowels and place in freezer.
-Depending on the temperature of your freezer, you can have a healthy snack in just a few hours.
Natural popcorn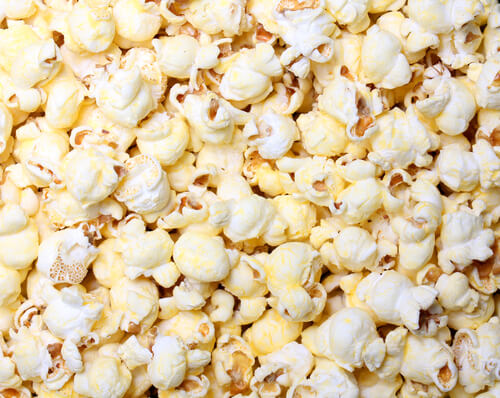 We have adopted, as part of our lifestyle, consumption of packaged, frozen, or microwave-ready foods.  One of the most common types of these foods is popcorn.  This is because we all know that they are healthy snacks, and are perfect for spending good times with the family.
The problem is that the type of popcorn we eat in the theaters or that we make in the microwave contains large amounts of salt, preservatives, and chemicals that are in no way healthy for us.  To make a healthier version of this snack, we need:
Ingredients
2 tsp. vegetable oil
1/2 c. natural popping corn
Salt to taste
Directions
1. Heat oil in a pan.  When ready, add popping corn.  Constantly stir for a few minutes, to make sure the corn is golden.
2. When the corn begins to pop, cover pan so as to keep them from jumping out.  Remember to keep moving the pan.
3. When you no longer hear the corn popping, carefully remove the kernels.
4. White popcorn is still warm, add a bit of salt to bring the flavor out.
3/4 c. of popcorn provides our daily recommended dose of whole grains.
Healthy, guilt-free snacks
You don't need to deprive yourself of the flavors you like in order to keep your figure.  Searching for the healthiest, most natural forms of your favorite desserts is enough.