Healthy Breakfast: Oats, Banana, Cocoa, and Coconut Oil Pancakes
In addition to being a healthy and satisfying breakfast, these oatmeal and banana pancakes are an ideal way to take care of your weight and avoid cravings between meals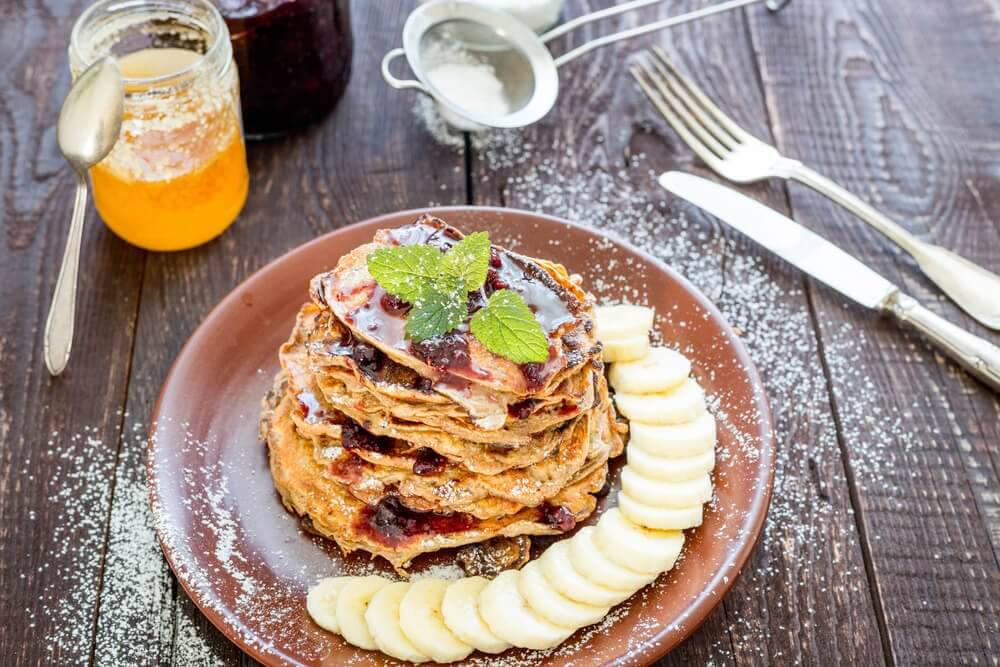 Start eating a healthy breakfasts today. Try these simple and homemade pancakes made with oats, bananas, cocoa, and coconut oil. They are a healthy and nutritious option that will fill you up and have you energized throughout the morning.
Let us to you how to make these nutritiously delicious pancakes that don't contain gluten, sugar, or lactose.
Eat healthy and improve your health
A healthy and natural breakfasts, like this recipe can be made quickly and easily every morning. These pancakes are made with natural and nutritious ingredients, which are excellent for satisfying your appetite throughout the morning.
They provide the necessary amount of energy throughout the day. Choosing a healthy breakfast products, isn't just a positive everday habit. It is also an investment in your health because it helps prevent diseases and other problems in the long run.
Avoid eating sugar, poor quality fats, and refined flour, as well as any processed foods. Thus, you'll discover the pleasure of making your own breakfast every day.
Oats
Oats are the best cereal you can have for breakfast because it provides a good amount of carbohydrates, protein, and fiber. It is a very nutritious and energetic food that improves digestion, intestinal functions, and at the same time it also balances the nervous system. This is a good choice to calm you down when you're anxious, depressed, or irritable.

Oats are helpful for losing weight because of its ability to regulate blood sugar levels. Due to this, you can avoid cravings for sweets and snacks between meals. Do you want to know more? 6 best fruits to detox
Banana
Bananas are a very healthy fruit rich in carbohydrates, vitamins A, B6, C, and folic acid, and minerals such as potassium and magnesium. Additionally, bananas contain a good amount of fiber. This delicious fruit packs a lot of energy, reduces high blood pressure, and relaxes the muscular and nervous systems. Bananas also add natural sweetness to any recipe.  Therefor you will end up consuming less sugar.
Cacao
Pure dark chocolate, or cacao, unlike normal chocolate from the supermarket, it is a medicinal food with many health benefits. It contains powerful antioxidants and it is a stimulant to enhance your brain function and state of mind.
Cacao also reduces cholesterol levels and takes care of your heart, alleviates stress and improves your libido naturally. This ancient food satisfies your chocolate cravings while still providing all aforementioned benefits.
Coconut oil
You shouldn't completely eliminate fats from your diet.  You should avoid the ones that are harmful to your health and cause you to gain weight. Extra virgin coconut oil is a healthy fat that helps you maintain a good body weight, while eliminating fats that accumulate around the waistline. It also speeds up your metabolism to burn those pounds easier.

Additionally, coconut oil is delicious.  It is soft, tropical, and it is one of the healthiest fats to include in typical recipes because it can withstand high temperatures.  Visit this article: 10 beauty benefits of coconut oil
Nutritious pancakes
Ingredients
1 egg
1/2 cup of water, milk, or vegetable milk (100 ml)
1 tablespoon of vanilla extract (10 ml)
2 tablespoons of brown sugar (24 g)
2 tablespoons of extra virgin coconut oil (30 g)
1 cup of oats (90 g)
2 ripe bananas
2 tablespoons of cocoa powder (20 g)
Preparation
The easiest way to prepare oat pancakes is with a blender. You can also do it by hand:
Beat the egg well and add milk or water, vanilla extract, brown sugar, and coconut oil. Beat well and repeat.
Add ripe bananas to the mixture and mash them with a fork.
Once you have the dough ready, you can cook your pancakes in a pan with a little oil for about five minutes each.  Flip only once to prevent them from burning.
You can also make them using a waffle or sandwich maker.
Eat a healthier breakfast with these pancakes and garnish them with something different each day: chocolate syrup, jam, butter, nuts, yogurt, cinnamon, etc.
It might interest you...