The Healthiest (and most delicious!) Smoothie Recipes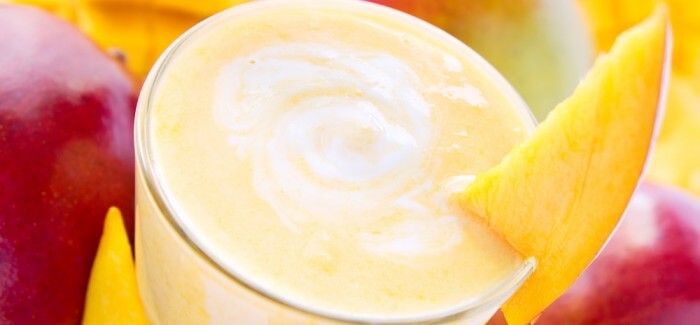 Smoothies are extremely quick and easy to make. Plus you can prepare them with a wide variety of fruits and veggies to help incorporate various vitamins and nutrients into your daily diet.
As we have just mentioned, these recipes are very easy – all you have to do is put all of the ingredients in the blender and when everything is perfectly blended, add ice, serve, and enjoy your wonderfully nutritious and delicious beverage.
Here are some of our favorite combinations that also happen to be extremely beneficial to our health.
Papaya smoothie, excellent for improving digestion
This delicious natural smoothie can help aid and improve digestion as well as preventing constipation, swelling and inflammation of the stomach, liquid retention, and other such issues. It is a rich course of the enzyme called papain, or papaya proteinase I, and potassium, both of which help the digestive system function smoothly, as well as preventing gas and flatulence.
Ingredients
One cup of peeled papaya, cut into chunks with the seeds removed
One cup of sliced peaches
One cup of peeled and chopped pears
One teaspoon of ground flax seed
One teaspoon of ginger
One half cup of Greek yogurt
6 mint leaves
6 ice cubes
Smoothie for wrinkle prevention
This natural smoothie isn't just delicious, but its abundant antioxidants and status as a rich source of Vitamin E, Omega 3 fatty acids, and Vitamin C make it an excellent food for the prevention of aging. These elements are both important and essential for the body's production of collagen, a protein that aids in the production of both skin and bone. Proper collagen production can both diminish and impede the development of wrinkles and age lines.
Ingredients
One cup of blueberries.
One cup of cherries.
One cup of strawberries.
One quarter avocado, peeled and chopped.
Two tablespoons of wheat germ.
Two tablespoons of ground flax seed.
One half cup of plain yogurt.
One cup of ice.
Mango smoothie for immune system strengthening
This mango smoothie is an excellent immune system helper thanks to a great abundance of beta-carotenes and Vitamin C, both of which are essential for strengthening the body's defenses. Many experts agree that Vitamin C increases the production of white blood cells; these are the cells that protect our bodies against viruses and many other foreign bodies that can affect and damage our health.
Ingredients
One cup of mango, peeled and chopped.
One cup of chopped melon.
One half cup of chopped pineapple.
One quarter cup of ground almonds.
Ice.
Kiwi smoothie, to protect the little ones
This smoothie is wonderful for pregnant women – with this smoothie, you can reduce the risk of birth defects in newborn babies. This smoothie is a wonderful source of folic acid, iron, and calcium, all of which help to transport oxygen to the baby and strengthen its bones.
Ingredients
3 tablespoons of orange juice.
One cup of blackberries.
2 cups of kiwi, peeled and chopped.
One half cup of fat-free powdered milk.
One cup of prune juice.
Ice.
Strawberry smoothie to sate your hunger
This strawberry smoothie has only 65 calories but will keep you satisfied for longer and it boasts high quantities of fiber and proteins and is high in Omega-3s, which help to speed up your metabolism. This smoothie can also help to reduce abdominal fat. 
Ingredients
One cup of strawberries.
One cup of chopped mango.
One lemon, no skin or seeds.
One tablespoon of flax seed oil.
One half cup of tofu.
One cup of ice.
In summary…
As we have just seen, all of these smoothies are wonderful for our bodies and health and can help to prevent and combat many health issues and other inconveniences that affect our daily quality of life.
These beverages are ideal for consumption at any hour of the day or night – apart from strengthening the immune system and combating many ailments, they are delicious and refreshing.
And so we can conclude that fruit is the best ally we have to maintain our health in good condition. Fruit is one of the best alternative medicines available to us in nature and with the preceding recipes we have seen some combinations that can help us achieve better benefits, as well as help us consume each day the nutrients we need.