Healing Properties of Nopal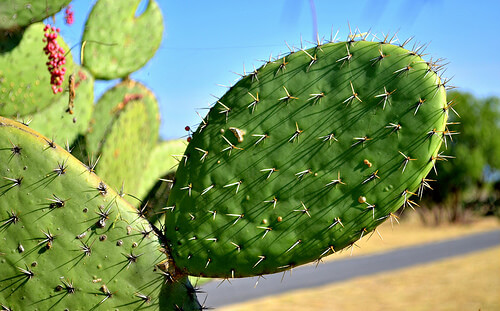 This is a plant from the cactus family that inhabits all of America and grows wildly. It is not hard to grow and you can plant it in any kind of soil. That is why it is so popular on this continent. Moreover, it has been proven that it has great qualities that turn it into a natural remedy for several illnesses. Learn more about the healing properties of nopal in this article.
Nutritional Properties of Nopal
This plant is rich in calcium, phosphorus, potassium, sodium, and it also has carbohydrates, nitrogenous ingredients, fiber, vitamins A, B, C, and K, chlorophyll, riboflavin, and proteins. There are many studies and research that state that nopal is truly great for people's health by helping the gland, nervous, immune, circulatory, digestive, and respiratory systems.
It also has various properties for external use: it has developed cosmetics, creams, and beauty treatments for the skin as well as hair. They have also created soaps, shampoo, conditioner, moisturizing gels, lotions, pomades, eye shadows, etc. with nopal. In traditional medicine, it has been used to treat wounds or slight skin burns.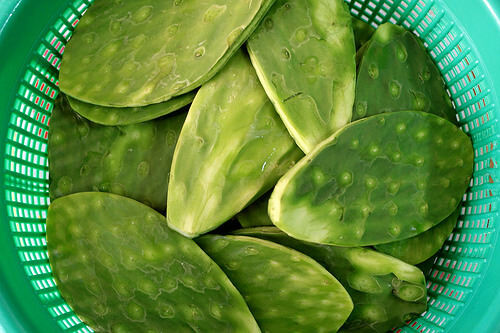 You can eat it in different ways: juices, sauces, powdered, sweets, lollipops, stews, salads, jams, soups, broths, combined with grains, fruits, or linseed. For its gastronomical use, nopal is used as fodder and the main ribs are as tender as a vegetable, that it can be prepared by pickling it, for example. It is very popular when blended with fruit.
Health Properties of Nopal
A powerful antibiotic: it inhibits or directly suspend the growth and development of different bacteria. Nopal is used as a poultice (its main ribs) and has very good effects on your skin, as well as wounds and infections.
Treats atherosclerosis: this cardiovascular inflammation caused by plaque on blood vessels can be treated with this plant because it is an unrivaled antioxidant and anti-inflammatory. Regularly consuming fresh nopal juice or in powdered form helps prevent this disease from happening.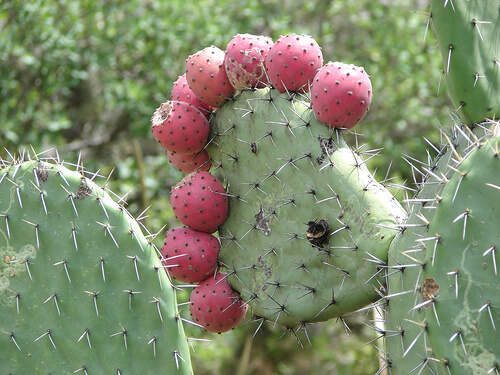 Stops cancer from spreading: nopal has many dietary fibers, soluble and insoluble. The latter absorb water and help food "past" better through the digestive tract. It also improves ingestion and is in charge of diluting cell concentration that can possibly be carcinogenic in the colon, which prevents this disease from happening.
Helps regulate cholesterol: thanks to its amino acids, vitamin B3, and fiber. Nopal also prevents excess sugar in the blood and the conversion to fat, which is why it substantially reduces "bad" cholesterol and triglycerides. It also eliminates bile acids which then convert into cholesterol.
Improves the colon: because of its active ingredients, it helps in the prevention of fat and carbohydrate absorption. It keeps the the blood level balanced and helps control obesity. Nopal contains fiber that absorbs glucose in the intestine. It also keeps this organ clean and in an excellent state.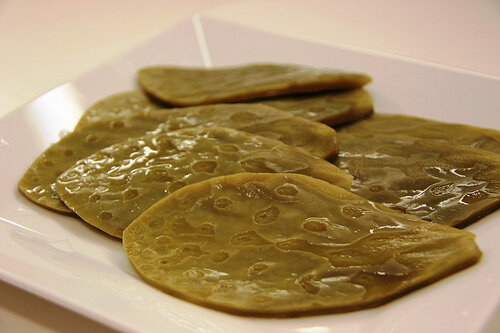 Regulates diabetes: in other words, the blood sugar level for people that suffer from this disease. Thanks to the 18 amino acids in the plant, your body will have more energy and you will be less fatigued, which is why glucose will also be reduced. It strengthens the liver and the pancreas and increases sensitivity to insulin, stimulating the movement of glucose to all the cells in the body. It also decreases carbohydrate digestion, which reduces insulin production.
Improves digestion: because of the B vitamins (B1, 2, and 3) and C, as well as calcium, potassium, magnesium, sodium, and iron. With its antioxidant power, it offers great protection against the toxins that you consume with meals and slows down the dangerous effects of consuming alcohol or certain "heavy" foods.
Prevents constipation: the fiber that nopal has help digestion, as we said above, which prevents you from having problems when you go to the bathroom.
An ally against obesity: because of the large amounts of fiber it contains, it helps slow down the absorption process of food and nutrients entering the blood, which also facilitates their elimination. It allows liquids to get to the blood stream faster, which helps reduce cellulitis and retention. We recommend consuming nopal with juices, like orange, for example. The insoluble fibers that it has cause a satisfied feeling and prevent you from eating too much. As if that was not enough, it regulates intestinal movement so that you can defecate properly.
Reinforces the immune system: this is because nopal offers a lot of vitamins, especially the complex ones like A, B, and C. It also has minerals and a lot of amino acids that help eliminate toxins, detoxify the liver, and get rid of the harmful effects of environmental contamination, environments with cigarette smoke, problems that alcohol cause, etc. Because of the photochemicals it has, it helps the body defend itself from any virus or bacterial attack.
Prevents damages to the nervous system: it also helps you relax, be in a better mood, and can even help get rid of depression problems or emotional imbalances.
It is an excellent diuretic: nopal juice is used to remove inflammation from the urinary system and reduce kidney or bladder pain.
Images courtesy of Razi Marysol Machay, Diógenes el Pacífico, David de la Luz, Javier Lastras, Roberto González and Luis Daniel Carbia Cabeza.