Moisturize Dry Elbows and Feet
You can take extra advantage of your daily shower to exfoliate the affected areas with an exfoliating glove and then apply moisturizing cream.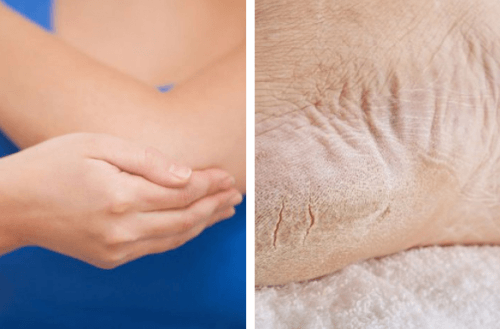 The loss of skin hydration as a result of exposure to the sun or environmental contaminants is unavoidable. However, you can reduce the loss of moisture by applying natural products and following some basic skin care steps. Today we'll be talking about how to moisturize dry elbows and feet.
Areas of the body like the feet and elbows are more susceptible to dryness due to the role they play in supporting the body and the surfaces they come into contact with. Learn how to moisturize dry elbows and feet in a short time.
The problem with these areas of the skin is that they can harden and even crack with the passage of time. This makes them more difficult to treat.
The result is skin that is noticeably dry. This affects not only your health, but also your appearance.
Solving this problem doesn't need to be an arduous task when you have all the natural ingredients to relieve and restore the skin's health and appearance right at home.
This time, we're going to share a complete treatment based on natural ingredients that will help you eliminate this problem in a short time.
1. Daily cleansing
This may be a little obvious, but it's important to note that it plays an important role in treating dryness.
By cleaning with water and soap, you'll soften the skin on these parts of the body, making it easier to remove dead cells.
We recommend using a small brush or exfoliating glove to apply these substances most effectively.
2. Moisturizing cream
After bathing, you should use some type of moisturizing cream to hydrate dry skin as well as to provide it with nutrients for its restoration.
Creams made with honey, aloe vera, or apple improves these areas of the body with their antioxidant and regenerative properties.
3. Drink more water
For hydrating the skin from the inside out, there's nothing better than drinking plenty of water every day.
Water plays a really important role in cellular regeneration and reduces the dryness caused by dehydration.
4. Moisturizing oils
Every night before going to bed, you can rub a little olive or coconut oil on the affected areas so that their hydrating properties can work on your skin overnight.
5. Honey
Another great natural moisturizer, honey can be used to alleviate dry skin.
Its antioxidant and restorative properties help maintain the skin's elasticity and work to help prevent hardened skin and calluses.
Natural remedy for moisturizing dry elbows and feet
If the dry skin problem is difficult to eliminate with the above remedies, then a restorative treatment might be useful to you.
It's a combination of natural yogurt and avocado, which are popular ingredients due to their ability to hydrate and smooth the skin naturally.
This remedy is used just once a week. If you follow the steps below you'll soon notice results.
Ingredients
½ cup natural yogurt
1 ripe avocado
Directions
Cut the avocado in half, putting the pulp into a bowl. Then use a fork to mash it into a paste.
Mix the avocado paste with the half cup of natural yogurt until you get a homogeneous cream.
To apply
Clean the affected areas and exfoliate them. When they're good and clean, apply a uniform coating of the avocado cream with gentle circular motions.
Let the cream work for 45 minutes so that its compounds have enough time to work.
Finish the treatment by rinsing with warm water and applying a moisturizing cream.
When to see a doctor
Dryness of the skin on different areas of the body becomes a concern when nothing seems to be able to treat it.
The feet and elbows dry out often and this is normal when there are weather changes. However, when they begin to harden and crack, it's more difficult to treat and often requires medical attention to prevent them from developing an infection or other major  problem.
It might interest you...