Things to Consider if You're Having a Son
It's important for your son to be able to communicate emotionally. Try to establish trust and never mock what they may say to you.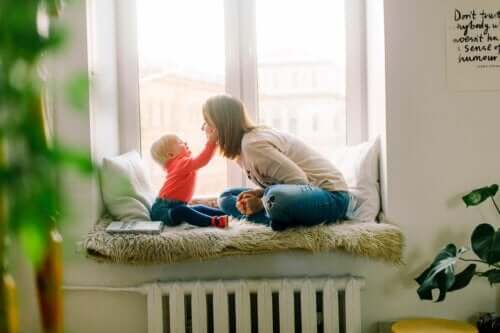 All children are precious and valuable, whether they're boys or girls. Therefore, you should love them and teach them alike. Nevertheless, there are some things you should consider when having a son because sometimes raising boys can be a bit different.
Of course, as with girls, parenting becomes a challenge and the day to day at home will be decisive for the formation of their character. So, what should you keep in mind? We'll tell you below.
The challenges of having a song
First and foremost, it's important that you not perpetuate or encourage gender stereotypes. In the past, many mothers, when having a son, used to give them certain privileges. However, this is now a thing of the past and their education should be of equal quality.
Children are never carbon copies of their parents. They have their own character and voice, and you must learn to guide them to be responsible, mature, and happy.
Strategies for raising a son
As we've mentioned, for several decades now, macho ideas that gave privileges to the male child have been coming to an end. Of course, this doesn't mean they aren't special, for a mother they'll always be. However, it's a matter of teaching them that their rights and duties are the same as those of girls.
On the other hand, myths such as "boys don't cry" have also been debunked, of course they do and it's perfectly normal, as in all human beings. However, as a review of studies in the journal Estudios Pedagógicos explains: "parenting practices differ from one parent to another and their effects on children are also different".
For this reason, you must orient yourself a little more in this regard and apply some strategies that'll undoubtedly be decisive for their formation over time. Let's take a look at some basic tips.
Teach him to be himself
A mistake that many families can make is to fall into the sex and gender stereotypes that've been created in our societies. Some people want their son to be the best at soccer or their daughter to be the smartest in class.
But, while there's nothing wrong with instilling a little competitiveness, pressure and imposition can affect their self-confidence and even their abilities.
Teach your son to be himself. Furthermore, guide him, without imposing your desires, help him in the path they choose and he'll be fulfilled and happy.
Your son has the right to cry
Boys, like girls, need to vent their emotions. Another mistake that some parents may make is to often tell them "don't cry, you're a man". It's important to encourage your son to communicate emotionally.
Try to establish, from the beginning, a relationship of trust, never tease them about what they may say to you. People who learn to manage and express their feelings well are better able to understand the emotions of others.
A son will seek his space early on
Boys tend to go back and forth between the need for attachment and pampering, and the extreme desire to be left alone and exercise their rights and freedom. This is something that will happen early, so it's very important to keep this mind when having a son. You must be patient and maintain your bargaining power.
There are certain tasks and responsibilities that he must be held accountable for. For example,  keeping his room clean, helping out with the house cleaning, taking care of the pets, or caring for his things. In this way you'll foster their security. Furthermore, it'll give them respect for your actions and a sense of responsibility that'll be very useful to them in the future.
And you… do you have a son? Share your experience with us. Also, remember to take into account these strategies for his upbringing.
It might interest you...