Habits that Can Make You Sick Without You Knowing It
Did you know that refrigerating potatoes can be harmful for your health? Even though we believe that they are healthy or we've had them all of our lives, there are some habits that it's best to get rid of. Learn more in this article!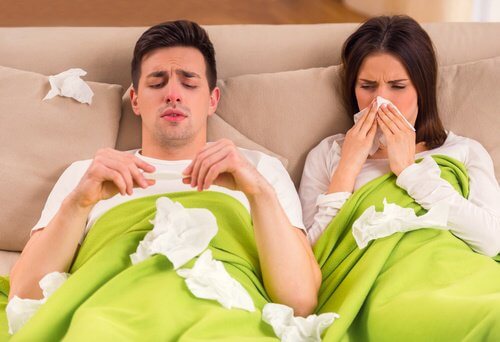 You know that going outside without a jacket in the winter can make you catch a cold and that eating too much causes indigestion. However, there are many habits that you do on a daily basis and can make you sick  without even knowing it.
In this article, we'll tell you about some of them so you can try to avoid doing them.
Which habits make you sick?
Of course, no one wants to be sick or suffer from symptoms and pain. However, problems happen if you don't know the consequences for some habits.
Among the things that hurt your health, you'll find:
Hang-drying clothes indoors
If you hang dry your clothes, what do you do when it rains and you're washing your clothes? You usually place them close to the heater or in the bathroom. Maybe you put them in the kitchen next to the stove. You might even put them in the living room with a half-open window so they can air out.
However, leaving wet clothes in your house creates an unhealthy environment. This is because mold spores and dust mites can reproduce much faster in these kinds of environments.
Skipping breakfast
Some do this because they don't have time. It could even be a habit. Either way, the fact is many people don't eat breakfast before leaving the house. This is a mistake.
First, your body needs energy to face the day. And second, if you don't eat breakfast, your stomach will need more nutrients in the hours that follow.
As a result, you'll eat a large lunch or snack all the time. This causes weight gain and the diseases related to it. Which includes high cholesterol, hypertension, etc.
Lying to your doctor
It doesn't matter what kind of doctor they are. It's likely that you've said some "white lie" during an appointment. If this happens, your doctor can't help fix your problem or heal your disease.
This can also cause incorrect diagnoses and incorrect prescriptions of medication. All of this can make your disease worse or even put your life in danger.
Using uncomfortable shoes
Women prefer to be seen as beautiful in 8-inch heels before taking care of their feet. Maybe there are men that use sports shoes like you see on TV and end up with foot fungus.
Footwear should always be comfortable. This comes before fashion. Otherwise, there can be many uncomfortable problems: corns, athletes foot, peeling, bad odors, itching and even twisting your toes.
Brushing your teeth after eating
It's true that oral hygiene is important. However, the problem here comes from when you do it.
Some people brush their teeth immediately after eating lunch or dinner. Doing this prevents their saliva from neutralizing their mouth's pH levels. As a result, their enamel gets damaged by the acids in the foods.
Wait for at least 30 minutes to do this. (In the meantime, you can drink water.)
Eating just before going to bed
Eating your last bite while already in your pajamas and in bed isn't a good idea.
The reasons?
In the first place, you'll get indigestion.
Secondly, you won't be able to get to sleep.
Thirdly,  you'll probably gain weight (your digestive processes are much slower when you sleep.)
Also, it's bad to eat too much at dinner. This is especially true if you want to avoid insomnia and detrimental consequences for your body.
Eating without an appetite
Another bad habit related to eating has to do with how you're feeling. This means eating when you're bored, sad or nervous.
Without realizing it, we can eat large amounts of foods, mix ingredients and cause massive indigestion. Nervous, depressed or stress eating can cause weight gain. Plus, it can also cause all kinds of stomach pains.
Working at night
This includes studying. There are many people who say that they work better after midnight. The truth is that at night, your body and brain slow down their metabolism.
In addition, sleeping during the day isn't the same if you want to rest after pulling an all-nighter. Working at night is the same as messing up your biological clock. This can cause stress, irritability and even weight gain.
Keeping potatoes in the refrigerator
This popular vegetable in many homes has a secret that is worth to reveal. The starch it has turns into a sugar when you refrigerate it.
The problem is that when it's cooked, it becomes carcinogenic.
For example, some studies have shown that potatoes that have been kept in the fridge and later fried produce a substance related to cancer.
Biting your nails
This is a bad habit. And it's not just bad for your hands' appearance (for instance, it can cause deformities in your fingers). It's also bad for the health of your teeth.
Your enamel gets worn away by "grating" against your nails. If that wasn't enough, it can make you catch all kinds of diseases. This is because your dirty fingers are in contact with the mucous membranes of your mouth.
Opening your windows during the morning
Maybe your grandmother or mother told you that it's necessary to air out your house when you get up.
This was good advice for older times. However, it isn't good for people who live in the city. You may think that the air that comes in is fresh. But the truth is that this air is full of toxins that can make you sick.
Heating up your food in plastic containers
It's very common to take your own food to work to save money. The plastic containers you use also become your plate and the thing you heat your food in. To do this, you put it directly in the microwave.
We're not going to talk about how microwaves are bad for your health. However, things get worse when you use your lunch box. Plastic contains Bisphenol A. This is a chemical compound that becomes toxic at high temperatures. It passes onto your food undetected.
It might interest you...