Did You Know that Green Tea Increases Longevity?
The antioxidants present in green tea help reduce the formation of free radicals. Therefore, they help reduce a person's risk of developing illnesses. With that in mind, we want to talk about how green tea increases longevity.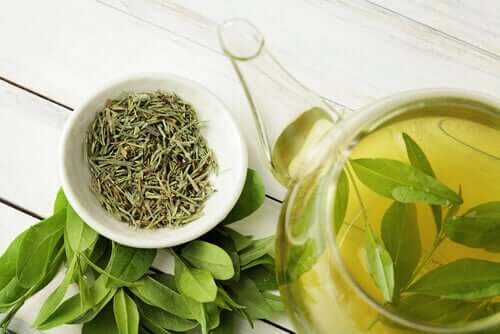 When it comes to living a long and healthy life, it's important to be careful about what we eat. This involves, of course, consuming fresh foods instead of processed foods and avoiding certain toxins. However, there are also other substances and products that you can include in your diet with the goal of delaying the aging process. Such is the case with green tea, and that's because green tea increases longevity.
Green tea is an infusion that's rich in antioxidants and is used on a routine basis in many countries. It's a millenary product that some tribes claim possesses medicinal properties.
However, this tea isn't miraculous. In order to notice its health benefits, you need to consume it as part of a varied and balanced diet.
Green tea can help you lose weight
One of the benefits of green tea is its power to stimulate weight loss. According to a study published in Nutrición Hospitalaria, it produces this effect within the context of a hypocaloric diet.
In this sense, drinking green tea on a frequent basis helps stimulate metabolism and increase caloric output. What's more, it has a certain effect on appetite suppression, so it helps reduce your intake of unhealthy between-meal snacks.
To benefit from the effects of green tea when it comes to reducing body fat, you can include this infusion in your daily routine. Or, you can also look for a product of green tea extract. Both options are valid, as long as you combine them with a varied diet and exercise.
Also read: Metabolic Flexibility to Burn Fat
The antioxidants in green tea
Another one of the characteristics of green tea is its antioxidant content. Ingesting this substance on a regular basis is associated with a lower risk of developing illnesses over the mid to long term, according to a study published in Public Health Nutrition.
The study associates drinking this substance with a decrease in cognitive illnesses and, at the same time, indicates that green tea increases longevity.
In the same way, the study recommends combining the consumption of green tea with other antioxidants to maximize their effects. For example, you can include ginger or cranberry extracts in your tea in order to improve their ability when it comes to increasing longevity.
Diet and exercise for preventing illnesses
Currently, the only two valid methods for increasing longevity are frequent exercise and healthy eating. As for the former, your diets should include an abundant amount of vegetables and fish. At the same time, restricting your intake of trans fats, ultra-processed foods, and alcoholic drinks is fundamental.
In the case of sedentary individuals, it's good to reduce carbohydrate intake as well. That way, you'll improve your body composition and metabolic health as well.
Green tea increases your life expectancy
Green tea is an infusion with benefits that are beneficial to your health. First of all, it has a positive effect when it comes to reducing fat tissue. At the same time, it contains antioxidants that help prevent illnesses related to cognitive deterioration.
Green tea increases longevity when you consume it on a frequent basis. You can also take it in the form of a supplement. However, remember that this substance isn't miraculous. In order to enjoy its benefits, you also need to have a healthy, varied diet. 
At the same time, you should practice physical exercise on a frequent basis. Loss of muscle mass and physical strength is likened to a greater risk of mortality and decreased life expectancy.
If you practice healthy habits, including green tea in your routines can increase longevity and reduce the risk of cognitive deterioration. The best part is, green tea is easy to find on the market and is available to all.
It might interest you...