Give This Spectacular Garlic Soup Recipe A Try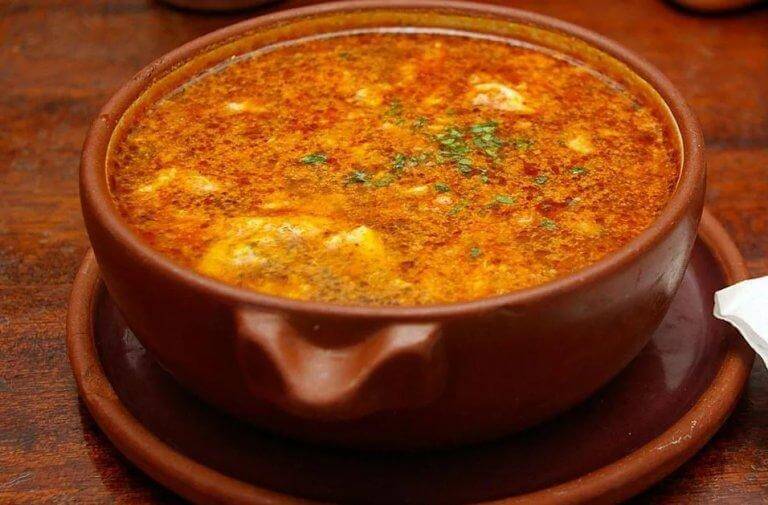 Here is a nutritious and exquisite Spanish soup recipe that originates from the "Castilla y León"  region. It is a very traditional old fashioned dish. 
This garlic soup — also known as Castilian soup — is one of those traditional and flawless "grandma's recipes." The following will show you how to make an exquisite and inexpensive garlic soup.
Health benefits from garlic
Apart from being known to have good flavor and aroma, it also has a high nutritious value. Below you can find out how its nutritional value improves your health. So don't hesitate and give these delicious garlic soup recipes a try!
Very nutritious and low in calories
Apart from being very healthy, garlic is great for weight loss . This food is low in calories, that contains essential vitamins and minerals, which help our metabolism function correctly.
One 28 gram portion of garlic contains barely 40 calories and less than 10 grams of  carbohydrates. However, it is rich in vitamins C and B6, manganese, selenium and a small percentage of proteins. It is also known for its moderate quantity of calcium, potassium, iron, phosphorus and vitamin B1.
Allicin: garlic's secret
Historically, garlic was used as a natural remedy for treating digestive diseases and discomfort. Currently, it is estimated that the multiple properties of garlic are linked to a high content of a sulfurous substance called Allicin. 
Garlic: a powerful antioxidant
Nowadays, antioxidant products are highly demanded and greatly valued. Nevertheless, what few people know, is that they have a powerful and inexpensive antioxidant in their kitchen: garlic.
Garlic contains vitamin C and flavonoids that work to fight free radicals and prevent cell damage. Eating them daily reduces the wearing down of the cardiovascular structures in hypertensive patients. Likewise, the antioxidant effect of garlic helps slow the symptoms of dementia and the first phases of Alzheimer's disease.
Strengthen your Immune System with Garlic
You have probably heard at least once that garlic tea is the best remedy for curing a cold. Well, taking daily garlic supplements can only reduce your risk of catching a cold by  60%.
Garlic soup recipe: delicious, practical and inexpensive
Ingredients (for 6 people)
10 garlic cloves (50 g)
6 eggs (optional) (250 g)
12 slices of hard bread (72 g)
1 piece of jamón serrano (150 g)
4 tablespoon of extra virgin olive oil (50 mL)
Salt, pepper and sweet paprika  (to taste)
2 1/2 liters of meat broth (you can also use chicken and vegetable broth)
Preparation
The first step to begin preparing the garlic soup recipe is by peeling and cutting the main ingredient: garlic cloves. Slice every one making sure not to make them too thin
After getting a large enough pot, pour some olive oil in the pot then put it over the flame. When the oil heats, add the garlic and sauté them until they are slightly browned. The garlic usually turns brown very quickly, so make sure it doesn't burn.
Then, add the jamón serrano (previously cut into small pieces) and brown it slightly. Once again, make sure it doesn't burn or dry out.
The next step is to add the 6 slices of hard bread and toast them with the sautéed garlic and jamón serrano.
When the toast is ready, take the pot off the flame, add the paprika and stir well. Add as much paprika you want according to your own taste.
When it appears that the ingredients are mixed together and they have taken on the paprika color, put the pot back on the stove over a low flame, so the garlic and paprika don't get burnt.
Add the heated broth once all ingredients are reheated. The broth gives the soup a better flavor than water.
Let the soup cook for 20 to 25 minutes over a low flame. It is best not to stir the soup and let it cook slowly.
While we wait for it to cook, toast the other six slices of bread in a pan with a little olive oil. 
After 20 minutes, add the previously toasted bread slices to the soup and let them soften. Then, season with salt and pepper, and stir.