Giant Uterine Myomatosis: What Is It and How Is It Treated?
Giant uterine myomatosis causes a series of symptoms that you should pay careful attention to, so that you can get a diagnosis and treatment as soon as possible.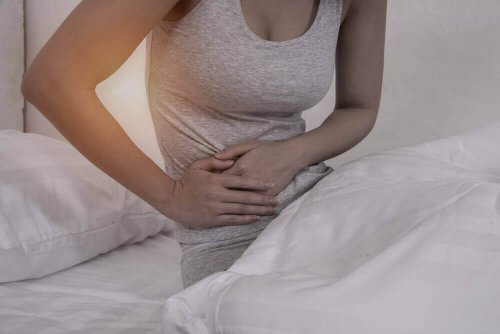 Many women are diagnosed with uterine myomas. These are benign neoplasms in the uterus that don't normally cause bigger problems. However, they can lead to a giant uterine myomatosis.
A giant uterine myomatosis, also known as a uterine leiomyoma, is a myoma that becomes very large. Even though it's rare to find cases of 11 kg (24 lb) myomas, this can sometimes appear in a gynecologist's office.
Because of this, we want to remind you of the importance of regular checkups so that if you have myomas, your doctor can keep an eye on them and see if they are progressively increasing in size or not.
Giant uterine myomatosis and its symptoms
Now that we know that giant uterine myomatosis is just a myoma that becomes much bigger than normal, it's important to know the symptoms so you will know if you have it.
However, we want to make sure you know that a giant uterine myomatosis doesn't generally mean that you have a malignant tumor. Though some patients have received a diagnosis of a borderline myoma or cyst. That means that it's very close to becoming truly harmful for their health.
Inflamed abdomen
One of the symptoms of giant uterine myomatosis is a swelling of the abdomen. At first, you might confuse this symptom with gas. However, if the doctor checks it, they'll notice that the womb is hard, not soft.
It's important to see a specialist as soon as possible so that they can do an ultrasound and see the myoma. This is because you have to start to fix the uncomfortable symptoms we'll list below.
Acidity
Acidity, together with the previously mentioned symptom, is one of the most common. As the myoma grows in size it presses on the stomach wall, just like a baby would do. Due to this, at certain times you might feel an uncomfortable level of acidity in your stomach that can make you have to rest.
Pain and hemorrhaging
The pain you might feel when you have a giant uterine myomatosis can be sharp, or simply, a constant annoyance that normally happens when you're standing up.
You should also pay attention to see if you bleed much more during menstruation, prolonged and with clots. Likewise, you might notice bleeding between menstruation.
Infertility
Other symptoms of giant uterine myomatosis includes the pressure it can cause in the area can change the functioning of your Fallopian tubes, preventing the embryo from implanting and growing normally.
The pressure from the myoma can also cause other symptoms. For example, urinary incontinence or problems with constipation.
How is giant uterine myomatosis treated?
When someone in your family has myomas, or you've been diagnosed with them, it's important to see your gynecologist regularly, at least once a year.
If you've never had this type of checkup, you'll have to first see if you have the previously mentioned symptoms. If you have any discomfort, pain, urinary incontinence, or others, it's better to consult with a professional.
Hormone treatment: This helps to reduce the size of the myomas before surgery, but it doesn't completely resolve the issue.
Hysteroscopic resection: This is a minimally invasive surgery that lets you keep reproductive functions. It's a widely used option among young women.
Laparoscopic surgery: This is surgery in which they can remove the myomas, or the uterus, if necessary.
Traditional surgery: In this case, they make an incision on the abdomen, similar to a cesarean section, to extract the myoma and the uterus (in cases where it's necessary). They only use this option when doctors can't reduce the size of the myoma.
Although it's recommended that you make your first visit to the gynecologist when you start to have sexual relations, there are many young women at 17 years old or even younger who can suffer from this problem.
Therefore, it's important to go to these checkups like you would see a general practitioner and pay attention to the symptoms we listed. This will help you to get the proper treatment as soon as possible.
It might interest you...