Get Rid of Pimples on Your Nose with these 4 Homemade Remedies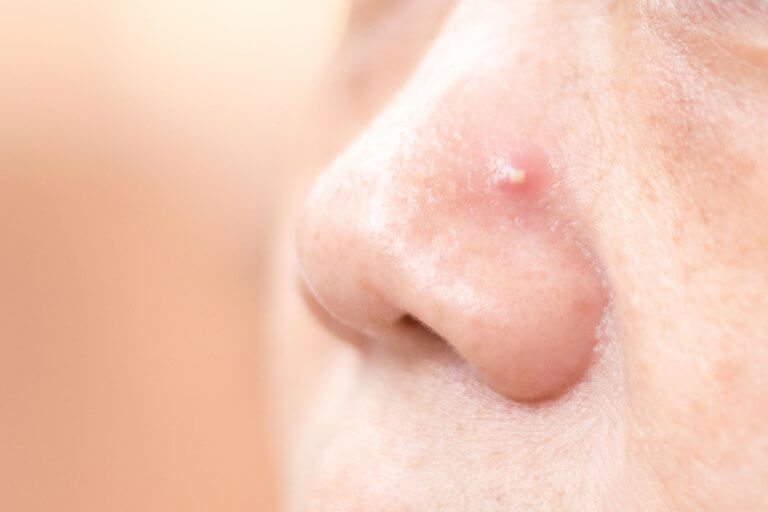 The combination of aloe vera and tea tree oil is perfect for both preventing pimples on your nose as well as healing ones that are already there.
Pimples on your nose are unsightly, and unfortunately since they're right there in the middle of your face, they're very noticeable. Some people get them a lot and can't find a natural way to get rid of them.
If that's you, then continue reading find out how you can prevent and treat pimples on your nose with these simple, natural, homemade remedies. Try them out and get beautiful, flawless skin!
Why do you get pimples on your nose?
To start, there are multiple reasons you might have pimples on your nose.
Eating poorly
Pollution
Hormonal changes
Improper hygiene
Genetic factors
Below are some remedies you can make at home. Try them out and include them into your personal beauty routine.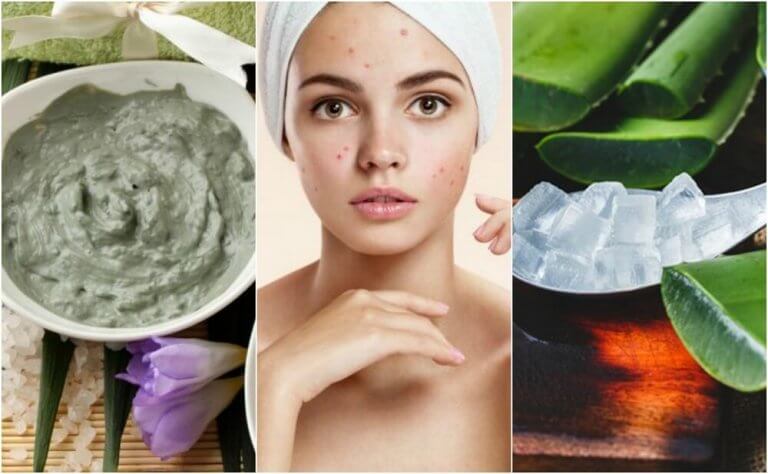 Natural home remedies
Rosemary chamomile steam
The first home remedy is good for clearing pimples on your nose by using a steam "bath." It consists of making a medicinal infusion and letting the steam it creates to open your pores. The medicinal components of the herbs then have direct access to your skin.
Chamomile is anti-inflammatory, while rosemary can address the infection; together, they make an effective steam bath. It would be a good idea to do it once a week.
Ingredients
5 cups of water (1 liter)
2 tablespoons of dry rosemary (30 g)
2 tablespoons of dry chamomile flower (30 g)
Instructions
First of all, put the water on the stove and bring it to a boil and let the herbs simmer for 5 minutes.
Remove from heat and lean your face over the water, about a foot away. Be careful not to burn yourself!
Drape a towel over your head to keep the steam in place.
Let the steam work its magic for 2 to 5 minutes.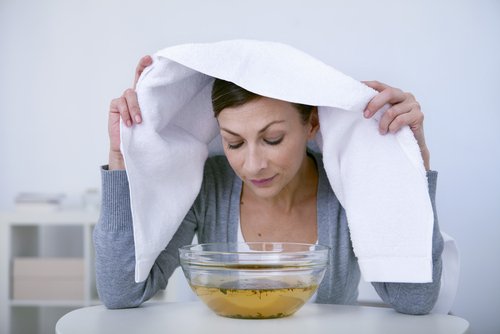 2. Baking soda coconut oil exfoliant
After opening up your pores with the steam bath, you're in a great position to do a deep clean and exfoliation of your skin. For this, we recommend combining baking soda, which has just the right amount of grit, with coconut oil. Coconut oil will nourish and moisturize your skin and keep pimples on your nose from popping up.
Ingredients
1 tablespoon of coconut oil (15 ml)
1 teaspoon of baking soda (3 g)
Instructions
Mix the ingredients together until a paste is formed.
On damp skin, apply the paste to your nose and massage gently.
If you like, exfoliate your entire face.
To finish, rinse with water.
3. Aloe vera gel and tea tree oil
If you want to moisturize your nose without making it greasy, use aloe vera gel as a base, which will keep the moisture in, protect your skin, and help heal blemishes. The tea tree oil will help keep pimples on your nose from coming back up because it is antibacterial.
Ingredients
3 tablespoons of aloe vera gel (45 g)
6 drops of tea tree essential oil
Instructions
Mix the ingredients together and store in an airtight container.
Apply it to your face, avoiding making contact with your eyes.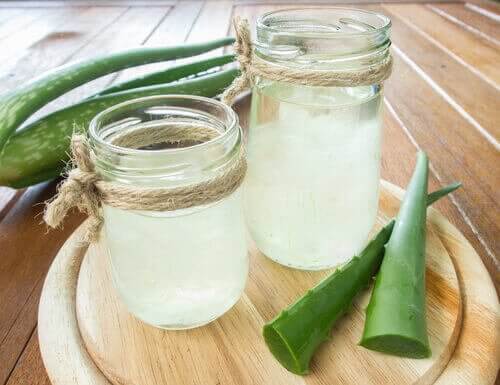 4. Charcoal clay mask
You want to get rid of pimples on your nose, so you need ingredients that will absorb and then remove contaminants from your pores. Two natural detoxifiers perfect for the job are charcoal and clay.
The clay will absorb toxins because of its mineral content. The charcoal is a powerful cleanser, and thanks to its grainy texture, also acts as an exfoliant. Together, they make an extraordinary anti-pimple mask.
Ingredients
1 tablespoon of green or white clay (15 g)
1 teaspoon of charcoal for cosmetic use (5 g)
3 tablespoons of water (45 ml)
Instructions
First, mix the three ingredients but do not use utensils or containers made out of plastic or metal. Use glass, ceramic, or wood.
It should form a spreadable paste that's not too wet or too dry.
Apply the mask to your nose and let sit 15 minutes or until dry.
To finish, rinse off and moisturize.