Four Vegetable Soups for the Entire Family
Vegetable soups are delicious and very nutritious. Some involve more complicated preparations that contain many ingredients, while others are simpler. In this article, we'll take a look at a few delicious options!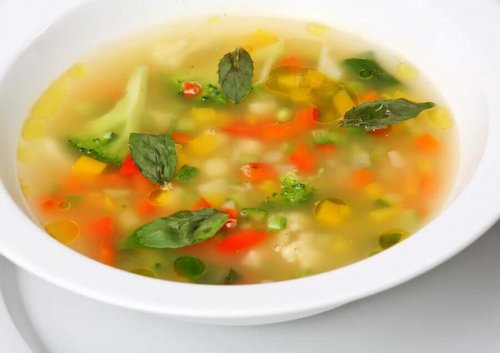 Vegetable soups are great ways to get your entire family to eat vegetables. Their delicious flavors and the nutrients they contain are two compelling reasons to include them in your weekly menu. Below, we'll present four varied and surprising vegetable soups so you can keep trying different options and amaze your family and guests.
Four vegetable soups
1. Traditional vegetable soup
In our selection of vegetarian soups, we couldn't exclude the classic vegetable soup that our grandmothers always recommended to warm the heart and body in winter. The truth is that you can use any vegetables you have at home to make this soup. Nevertheless, we propose the following:
Ingredients
1 garlic
2 carrots
1 large onion
1/2 a red bell pepper
1/2 a green bell pepper
2 celeries
Parsley, bay, paprika, salt, and pepper (to taste)
Water
Oil
Preparation
Thoroughly wash, peel, and cube all the vegetables.
Pour some oil in a pot, sauté the vegetables, and add a little salt. Stir with a wooden spoon to prevent sticking.
Remove from heat and add the bell peppers, stirring well so that all the vegetables become imbued with their flavor. You must remove the pot from the heat so the peppers don't burn and become bitter.
Incorporate the other spices to taste and stir again.
Cover the vegetables with water and simmer until the vegetables become tender. Adjust seasoning to taste.
Note: If the broth is too watered down and you prefer it more textured, blend some vegetables (without water) and add them to the soup.
2. Indian Sambar stew
Sambar stew is a typical Indian dish that contains all sorts of vegetables. Below, we'll share our proposal. Nevertheless, you can add the vegetables you like or vary the recipe according to those you have at home. We're sure it'll be delicious!
Note that this recipe requires many ingredients. Therefore, we recommend it for a holiday or special event. We're sure it'll surprise everyone!
Ingredients
1 onion, cut in julienne strips
3 pumpkin slices
1 medium tomato, chopped
2 carrots
12 green beans
1 tablespoon of coriander seeds
1 teaspoon of cumin
2 red peppers
2 teaspoons of oil
1/2 teaspoon of mustard seeds
1 tablespoon of tamarind paste
1/4 cup of cilantro
1/8 teaspoon of turmeric
Salt (to taste)
Preparation
Wash the vegetables, peel them if necessary, and cube them. Set them aside.
Sauté the peppers. When they're roasted, add the cilantro and half a teaspoon of cumin. Stir-fry for a minute and then remove from heat. Set them aside.
Pour five cups of water into a pot and heat them. Incorporate the cubed vegetables and let them cook until tender. You'll see that a rich broth forms.
When the broth is hot, remove a ladle and wet with the tamarind sauce.
Then, incorporate the turmeric, cilantro, and pepper mix (you can remove the peppers), and, finally, the tamarind.
In a frying pan, salt the mustard seeds with the other half teaspoon of cumin. After that, add the curry leaves and, when they're crunchy, remove from heat and incorporate the soup.
Taste and adjust the seasoning if necessary.
3. Chickpea vegetable soups
Another of the most nutritious vegetable soups is the one that we share below, which includes chickpeas. You can use the legumes and vegetables you like or use the ones you already have at home.
Ingredients
200 grams of chickpeas, already soaked or cooked
2 carrots
1 leek
1 medium zucchini
Extra virgin olive oil
Salt and pepper (to taste)
Preparation
If the chickpeas aren't cooked, boil them first before adding the vegetables.
Thoroughly wash, peel, and cube the vegetables.
Add a tablespoon of olive oil to a pot and then add the chopped vegetables and stir-fry them.
When they brown, cover them with enough water and add the chickpeas.
Incorporate the cumin, salt, and pepper and simmer without covering the pot for about twenty minutes or until the vegetables are tender.
4. Vegetable noodle soup
The last vegetable soup we decided to share is vegetable noodle soup. It'll certainly become one of your children's favorites!
Ingredients
150 grams of noodles
2 tomatoes
1 scallion
1 large potato or 2 medium potatoes
2 carrots
1 liter of water
Salt and pepper (to taste)
Optional: 1 tablespoon of cilantro
Preparation
Wash, peel, and cube all the vegetables.
Boil a liter of water and then incorporate the carrots and scallion. Simmer for ten minutes.
Incorporate the potatoes and noodles.
Sauté the tomatoes in a frying pan. When they're cooked, add them to the soup.
Add the cilantro and adjust the seasoning to taste.
When the noodles and vegetables are cooked, serve the soup.
We hope that you liked these vegetable soups and add them to your recipe book. Don't hesitate to try them out. You'll be amazed at how yummy, healthy, and comforting they are!
It might interest you...