Why Should We Forego Plastic and Teflon in the Kitchen?
Given that utensils made out of plastic and teflon aren't as safe as we used to think they were, you should replace them with healthier options, such as items made out of glass or ceramics.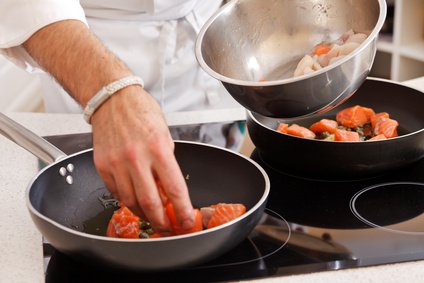 Nowadays, most consumers tend to pay plenty of attention to the ingredients in the foods they consume, but it's also important to pay special attention when choosing the containers or utensils that you'll use to prepare those foods. You may have heard about the danger of using certain types of plastic or other materials. In this article, we'll explain why you should forego plastic and teflon in order to prevent possible health problems in the future.
Bisphenol A
Bisphenol A, abbreviated BPA, is a substance included in many plastic containers. According to a huge number of scientific studies, BPA can have a negative effect on your hormonal balance and is related to diseases such as diabetes, obesity, infertility, breast or prostate cancer, heart problems, brain development issues and behavioral disorders.
France has already banned the use of this element, whereas the European Union prohibited the sale of plastic baby bottles with this component, just like the United States and Canada have done.
In addition to Bisphenol A, there are other potentially toxic substances, such as phthalates or polystyrene.
In the following article, we'll explain how you can keep these substances from affecting your health.
How can you avoid BPA?
Any plastic container must have a recycling code printed on it, usually on the bottom. Check this code to figure out what kind of plastic it is, because not all plastics contain BPA and not all containers are equally harmful.
The plastics with the most BPA are the ones with the numbers 3, 7 and 10.
According to the U.S. Pediatric Environmental Health Specialty Unit, the least harmful plastics, on the other hand, have the following numbers:
1 (PETE)
2 (HDPE)
4 (LDPE)
5 (PP)
In addition to choosing these plastics when you don't have another option, you should avoid reusing plastic bottles, because using them for an extended period of time can result in the liberation of certain toxic substances.
Finally, you should definitely avoid exposing plastics to high temperatures, such as cooking your food in the microwave in plastic containers. This process makes it easier for the chemical substances in plastic to come out.
Whenever possible, forego plastic containers and even cans, which usually have a harmful interior coating. Instead, choose glass, wood or stainless steel containers.
Teflon
Scientific studies have found increased levels of teflon in many people's blood. This happens when this anti-stick material gradually comes off pans, pots and oven sheets.
The toxic substance associated with teflon is perfluorooctanoic acid (PFOA), which has been proven to be a potential carcinogen.
Alternatives to plastic and teflon
Old utensils made of aluminum are not recommended, either, because exposure to this heavy metal has been connected to neurodegenerative diseases such as Alzheimer's and Parkinson's. So, what are the alternatives to plastic and teflon?
The healthiest materials you can use in the kitchen are:
Glass
Ceramics
Titanium
Stainless steel
Cast iron
Natural clay
Wood
Bamboo
What should I choose?
Some of these materials may surprise you, or you may not even be familiar with them, but more and more stores are selling containers made of natural materials. These can help you avoid toxic components that could cause long-term health problems.
You should do a bit of research and try out different pots and containers that don't use plastic or teflon. You'll soon be able to find the best one for each type of food that you prepare. Some will cause the food to stick a bit more, whereas others are recommended for cooking at high temperatures. Every material has its secrets.
However, in this way you'll be able to discover new types of cooking and even be inspired by other cultures, such as using bamboo steamers to steam your food, or tajine pots made of fired clay to cook Arabic food.
You should also consider the price of these different materials because, unfortunately, environmentally-friendly and effective products such as titanium tend to be a bit pricey.
On the other hand, ceramics are becoming more and more popular and are available at a low price.
It might interest you...