Five Tips to Cope with the Death of Your Partner
The first step is to accept that your partner has died and give yourself time to grieve. In this article, discover five tips to help you cope with the death of your partner.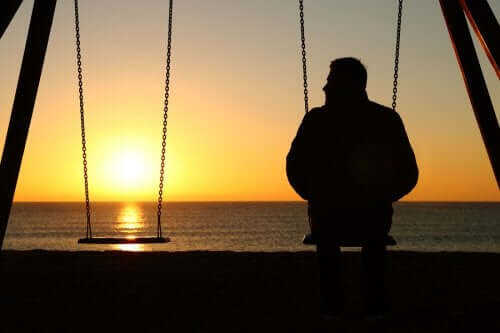 When your partner dies, you don't just have to say goodbye to a very special person in your life. You also have to say goodbye to your past, present, and future together. You have to say goodbye to your life plan, common projects, unforgettable experiences, special moments, and memories, among other things. Overcoming all of this isn't easy. You need time to mourn, and it will be painful. However, it's important to overcome the death of your partner because your life continues.
The death of your partner
How can you overcome the death of a loved one? How can you overcome the death of your partner, your friend, your lover, and your accomplice? Although it seems impossible, it isn't.
Each person is different and deals with loss and grief differently. However, the truth is that certain guidelines and techniques can help you overcome the death of your partner more healthily.
Inevitably, you have to keep in mind that you must close the wound. Otherwise, you won't mourn properly, which may cause future problems such as phobias, fears, insecurities, and inability to compromise, among others.
Mourning: time and patience
Every person mourns in a different way. Some people mourn for more time than others.
Grief is a physical, emotional, and social reaction to the death of a person you loved. Depending on each person, the reaction will be more or less intense, it'll have some characteristics or others, and it'll take more or less time.
However, time is always necessary. That is, you must give yourself time, you must understand that what happened isn't easy, and you must also understand that you have to be kind to yourself.
Remember that mourning is a necessary – although difficult – experience. Therefore, you must understand that there will be pain and a wound that must heal. You must be kind to yourself and give yourself the necessary time to heal. You must experience the pain and sadness.
In this regard, here are the various things you need to do to heal:
Accept the loss.
Suffer for it.
Adjust to your new life without the person who died.
Detach yourself from the energy of the deceased person (talk about them normally, maintain healthy friendships, learn to love again, relate to others, etc.)
Moreover, experts state that mourning typically lasts approximately 18 months. If your sadness and pain are still too much to handle after this time, you may need to seek professional help. However, as we said above, everyone is different.
Don't be afraid to talk about him or her
You must resume your normal life. You have to move on from what happened and focus on the fact that you have another destiny now. However, the person who died has filled your heart, days, and hours. Thus, they'll always be part of your memories.
Therefore, although it'll be painful for the first few months, you gradually have to integrate the memory of your deceased partner into your personal history. They'll always be a part of your life, of who you are, and how you are.
Thus, talk about your emotions and of that special person who's no longer here. Talk about how they were, what you did together, and the experiences you shared. It'll help you heal.
Visualize your new future after the death of your partner
Face this new stage of your life by visualizing your future and your goals and remembering that you're doing them for your loved one.
Death is inevitable. There's nothing you can do about it. Therefore, the only option is to accept it sooner or later.
However, as we noted above, the problem with dealing with the death of your partner is that, along with the person you loved, your dreams, expectations, plans, and years together may have also died with them. This forces you to have to rethink everything you thought your future would be and visualize it in a completely different way.
Therefore, to be able to overcome the death of your loved one, you have to be able to visualize that new future. To do this, you don't need to imagine yourself the rest of your life in one way or another. You can start with short-term goals and gradually project yourself towards the future.
Gradually resume doing the things you love
During the first months of mourning, the idea of doing activities you used to do with your deceased partner can be extremely painful. Indeed, grief and sadness will make those activities you used to love seem painful.
However, you must gradually start doing the things that make you feel alive. You should be able to feel pleasure again when you do the things you've always liked to do and have made you feel good.
In this sense, you must gradually understand that it won't be the same without your partner. However, remember that you can enjoy those activities once again and they can even help you feel better. Also, you should gradually incorporate the memory of the person you've lost into the activities you love.
You have the right and the obligation to enjoy life again.
Seek professional help if necessary
Psychological therapy will help you manage your emotions during the grieving process, guiding you to find the way more easily.
Although you try, it may still be really hard for you to accept or overcome the grief over the death of your partner. Thus, don't hesitate to seek professional help to deal with it. Grief counseling can help you get over the loss and be able to resume your normal life.
Finally, remember that mourning is a normal and necessary process that is painful and not easy to overcome. Keep this in mind and give yourself time and patience to accept the loss, grieve, gradually integrate what happened into your personal story, and, eventually, overcome the loss.
It might interest you...