A Natural Onion-Garlic Cough Remedy
Both onion and garlic have expectorant, antibiotic and anti-inflammatory properties that favor the expulsion of phlegm and help to relieve productive coughs.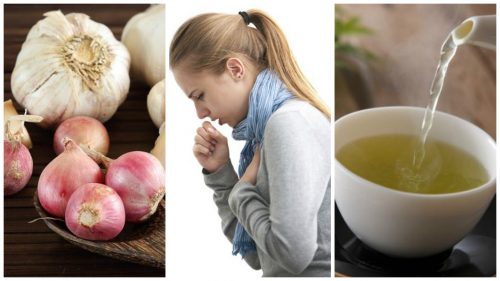 Today we'd like to talk about a natural onion-garlic cough remedy that's a good complement to any prescribed treatment from your doctor or pharmacist.
Coughing is rather annoying when you're sick and all you want is sleep and rest in order to feel better. This is why many people look for all sorts of methods against it.
One of the most common methods is home remedies with ingredients such as garlic and onion. Most of them are part of grandma's apothecary and it's believed their main ingredients have compounds capable of providing various benefits.
Thus, both garlic and onions have been attributed to antibiotic, expectorant, and anti-inflammatory properties, which are responsible for giving you relief, helping you expel phlegm (if you have any) and, of course, fighting coughs.
Natural onion-garlic cough remedy
This natural garlic and onion cough remedy is an ancient remedy that can help to reduce cough in a very simple way. By drinking it, not only does it hydrate your throat (thus reducing the irritation and symptoms that afflict it), but it also helps eliminate the pathogens that caused the disease.
It's believed that due to the content of allicin and sulphur compounds both onion and garlic act as antibiotics and therefore contribute to the relief.
On the other hand, it's believed that by drinking this natural garlic and onion cough remedy, you'll avoid the excessive intake of drugs and will help supplement daily hydration, which also plays a key role in the recovery process when you're sick.
The properties of onions to relieve a cough
Onions are one of the most frequently used vegetables in gastronomy. This isn't only due to their flavor but also to its high nutritional value that benefits our health.
According to data from the Spanish Nutrition Foundation, onions contain protein, potassium, vitamin C, and various sulfur compounds. In addition, it is rich in flavonoids.
The benefits of garlic as a cough remedy
Garlic has played a big part in hundreds of cultures around the world for centuries. In a similar way to an onion, several medicinal properties have been attributed to it.
It stands out for its antibiotic, antibacterial, and expectorant effects. These help to eliminate the germs that cause coughs. In addition, it also helps to strengthen the immune system by increasing the production of the antibodies that destroy viruses and bacteria.
How to make this natural onion-garlic cough remedy
This warm onion and garlic drink is a very easy recipe to make. It may not be a miracle treatment to cure this condition. However, drinking it makes an excellent complement to your diet and the treatment recommended by your doctor.
Some people use white onions to make it, but others prefer red onions because they can provide a different, more pleasant taste. Look for the option that's most pleasant for you and use it.
Here's the recipe:
Ingredients
2 cloves of garlic
1/2 medium onion
2 c. of water
Preparation
First, put the water in a pan and boil it over medium heat.
Then, chop the onions and slice the garlic.
When the water boils, add the chopped onions and sliced raw garlic.
Turn down the heat and then leave it to simmer for 2 or 3 minutes.
After this, let it sit at room temperature until it is ready to drink.
Finally, strain it and drink it in moderation.
How to consume it
Firstly, serve half a cup and drink it in sips at the first sign of a cough.
Consume this drink as part of the treatment prescribed by your doctor. Never as a substitute. On the other hand, remember you must also maintain a healthy lifestyle.
Some people add a little honey to the mixture, to soften the strong taste of the onion and garlic. If you're going to add this ingredient, try to keep it in moderation, since it has a high-calorie content.
It might interest you...