A Father Gets a Tattoo of His Son's Cancer Surgery Scar
After his operation Gabriel was left with a cancer surgery scar on his head that took away all his joy and desire to leave the house.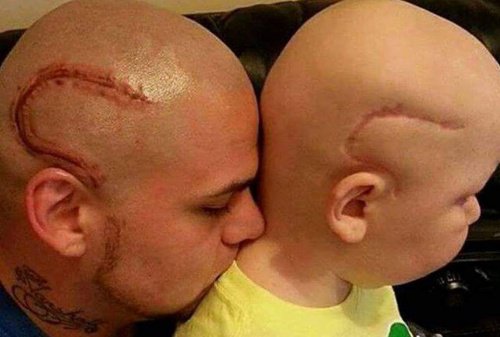 Gabriel Marshall is an eight-year-old boy who knows two things very clearly: he has the best father in the world and a long life ahead of him. Find out why his Dad got a tattoo of his cancer surgery scar in this article.
He's a brave boy, very beloved to those around him, and yet his brain cancer has left a deep scar on his head that took away some of his spirit and his confidence.
If Gabriel is a news item these days around the world, it's because of a beautiful and encouraging reason. Not long ago, many countries celebrated Father's Day, and his father, Josh Marshall, wanted to do something special.
Gabriel bears a striking cancer surgery scar on his head that he's ashamed of. It reminds him of his illness, which is now nearly gone.
Because that scar was robbing him of his smile, his father decided to get a tattoo. In the same place, the same color, to simulate the same wound for a very specific purpose: to give his son strength.
Let's share their story.
An example of a father who loves his son
All parents love their children above anything else. There's perhaps no scarier  moment than finding out your child has been diagnosed with a serious illness such as cancer.
Statistics say the survival rate for children with cancer between the ages of four and 18 is 80%.
This is good news, but nevertheless the struggle, fear, and pain of seeing your young one subjected to harsh treatments and interventions is undoubtedly very difficult.
Gabriel Marshall received his diagnosis last year and the impact was overwhelming: he had a rare form of brain cancer known as anaplastic astrocytoma.
It's a malignant tumor of the central nervous system that usually appears in adult males.
Although the prognosis is not great, survival in children is greater, which gave Gabriel's family hope that they never lost for even one day.
Cancer in an 8 year old child
When a child is diagnosed with a disease of this magnitude, they are not yet fully aware of what it means.
Their life will drastically change, and everyday activities like school, friends, games, and homework will be disrupted by hospital stays, treatments, needles, and fear.
One of the toughest things they have to accept is their physical change.
Chemotherapy treatments not only cause patients to lose their hair. Their face swells, they lose weight, their expression changes, and fatigue is the constant companion of every cancer patient.
Gabriel survived a difficult operation during which oncologists removed much of the tumor. It was a complex intervention that couldn't completely eliminate all of the damage caused by astrocytoma.
However, his diagnosis is good. The disease is now stable and inactive. This is something positive that the family clings to.
However, the lasting problem was that Gabriel had lost his self-confidence. Every time he looked in the mirror all he could see was his cancer surgery scar.
The huge, inflamed scar curved above and around his ear like an arrow pointing to his illness.
He had lost his dreams, refused to leave home, return to school, or to play in the park… all he saw was this mark.
The cancer surgery scar tattoo
Josh Marshall is Gabriel's father. He's a 28 year-old optimist and a brave man who hasn't left his child's side even for a moment. In spite of how unfair life can be, he knows that the most important thing you have to maintain is your attitude and your sense of hope.
That's why it was clear that once the doctors had done their job removing the tumor from his child's brain, now it was time to "heal his emotions," restoring his confidence, energy, and optimism.
Father's Day allowed Josh to give his son an incredible surprise: he had shaved his head and gotten a tattoo that looked just like Gabriel's cancer surgery scar. Now "they were the same."
Since then, the little boy has gone outside again with renewed strength.
He's no longer ashamed because his father is with him to show the world their scars, and together they are stronger people who are able to face anything.
All of us here at Step to Health wish little Gabriel all the luck in the world in his recovery.
It might interest you...