Fat-Burning Soup to Promote Weight Loss!
You can spend one week eating plenty of this vegetable-based broth every time you feel hungry. After seven days, you can go back to your normal diet.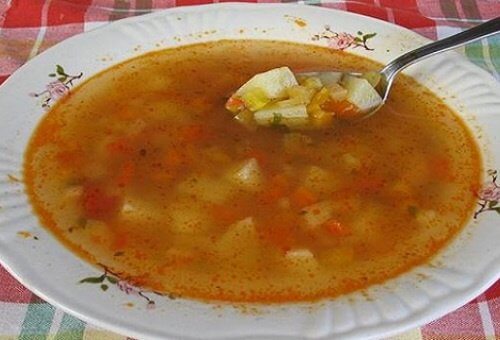 A recipe for a fat-burning soup isn't very common when it comes to weight loss recipes. However, we can guarantee that this one is great for all those who want to find a food to help them lose weight.
This "fat-burning soup" has become quite popular over the past few years due to its ingredients. They promote weight loss and help you stay healthy without having to follow any strict diets or weight-loss plans that may end up having a negative effect on your health.
This powerful weight-loss soup is a great way to get rid of toxins in your body and reduce water retention. At the same time, it'll help you burn fat and lose weight so that you can enjoy a better figure and health.
For this soup to work, you should eat it for 7 days in a row. This is enough time for you to start losing weight. After that time period, you can go back to your normal diet. Nevertheless, make any necessary changes to include healthier foods so that you can maintain a balanced weight.
What Does This Fat-Burning Soup Contain to Help Me Lose Weight?
This fat-burning soup is a super healthy way to lose weight in a short amount of time. It also detoxifies your organism and cleanses it of all the substances that build up and negatively affect your health and weight. All you have to do is prepare a broth with fresh veggies. Then eat plenty of it every time you get hungry.
The Ingredients for This Soup Are as Follows:
½ head of cabbage: This vegetable is rich in potassium, sulfur, calcium and other acidic mineral salts. Regular consumption of this vegetable helps combat problems such as constipation. It's also great for keeping your skin healthy. There's only 40 calories in 100 grams of cabbage.
6 large onions: Onions are strong body purifiers. They help cleanse your organism of toxic substances bad for your health. Onions also have lots of water, sulfur, potassium and phosphorus. They're especially good for people who suffer from water retention and need to reduce their uric acid levels. There's only 20 calories in 100 grams of cooked onion.
6 tomatoes: Tomatoes are known around the world for their powerful antioxidant and diuretic properties. They help revitalize your organism and get rid of waste products that have built up in your body. Tomatoes also have lots of potassium, phosphorus and chlorine. There's only 19 calories in 100 grams of tomatoes.
3 stalks of celery: This vegetable is a powerful diuretic. It helps cut down on excess uric acid in your body. It's also rich in potassium. Besides, it contains chlorine, sulfur, copper, calcium and sodium. There's only 19 calories in 100 grams of celery.
2 green peppers: Peppers are rich in antioxidants and have lots of vitamin C. Thanks to their fiber content, peppers help you feel full and allow you to prevent constipation. There's only 10 calories in 100 grams of peppers.
Salt and spices:If you decide to use salt for your soup, we recommend using sea salt or Himalaya salts. However, you can also choose to use different spices, such as oregano, turmeric, pepper, etc.
How Do I Make This Fat-Burning Soup?
The above-mentioned ingredients are enough to make a batch of fat-burning soup for one day. The night before, you should chop all the vegetables into small pieces and then place them in a pot with water. To figure out how much water you need, you should cover the vegetables you prepared with about twice its volume.
Cover the pot and cook it over medium-low heat until the vegetables are well cooked.
Finally, just remove the soup from the stovetop and eat as much as you want each day.
If you have leftover soup, you can reheat it the next day. You can eat this soup hot or cold whenever you get hungry.
How Should I Eat This Fat-Burning Soup?
As we mentioned before, you should eat this soup for 7 days, which will allow it to detoxify your body and start to have some very beneficial effects.
During the first two days of this diet, whenever you get hungry, remember to only eat this soup or drink water or natural fruit juices.
From the third to the seventh day of the diet, you can start adding other foods that will provide your body with protein, carbohydrates and healthy fats. These foods may include cereals, lean meats, fruits and vegetables other than those included in the soup.
Note:
This soup is a great way to burn fat and lose weight in a very effective way, as long as you follow the instructions provided above. You should not stick to this nutrition plan for more than 7 days because this soup lacks some of the essential nutrients that your body needs.
It might interest you...