Fat-Burning Smoothies That Will Fascinate You
Discover 8 delicious fat-burning smoothie recipes that will not only help you achieve a slender figure, but also optimal health.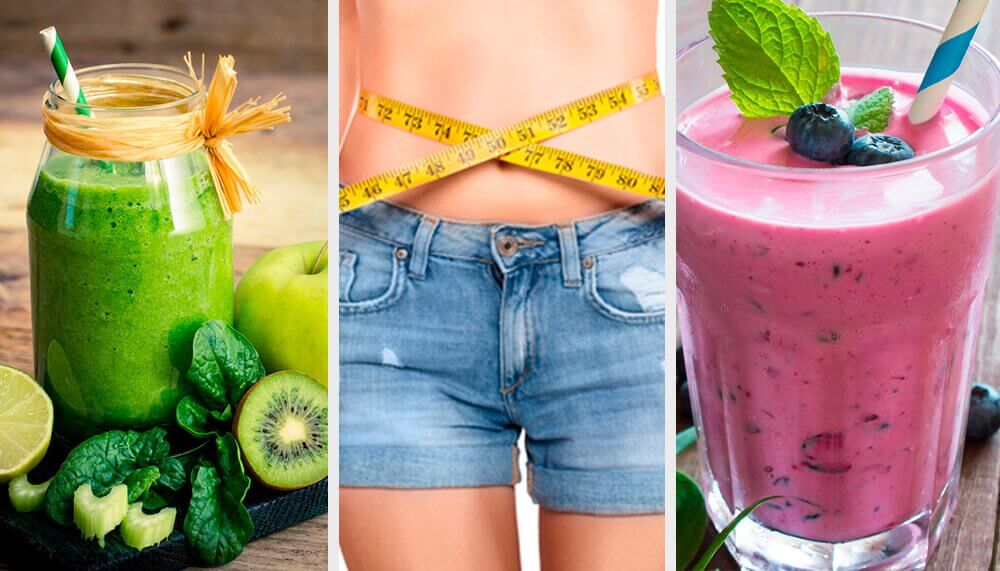 Fat-burning smoothies are an excellent option for getting a slender figure while improving your health. Remember that the mixture of ingredients provides multiple benefits.
In general, they usually take advantage of the diuretic properties of certain foods along with those that favor intestinal transit.  This way, the body's digestive and purifying functions are regulated. This is what allows you to reduce inflammation of the abdomen and, little by little, to lose weight.
Remember that, to lose weight, it's necessary to adapt your entire lifestyle. Drinking enough water, maintaining a balanced diet and exercising regularly is essential.
If you add the following fat-burning smoothies, success will be guaranteed!
8 recipes for fat burning shakes
1. Apple and carrot juice
Ingredients
1 apple
1/2 of a carrot
1/2 stalk of celery
5 g (1 teaspoon) of chlorella powder
Preparation
First, blend the ingredients with water (after washing and peeling them).
Then, add a teaspoon of chlorella. This is an algae that contains omega 3, vitamins, fiber and beta carotene, so it's a powerful antioxidant.
Apart from being detoxifying and contributing to weight loss, this smoothie also contains vitamins and multiple nutrients.
Visit this article: 4 Delicious Recipes With Carrots
2. Anti-inflammatory smoothie
Lemon is a natural fat burner, since it contains flavonoids. Plus, it's also an antioxidant that prevents aging. In addition, it's also a diuretic that helps your body eliminate toxins.
Ingredients
1 piece of aloe vera
1/2 of a lemon (with peel)
Preparation
First, blend the ingredients until smooth.
Then, enjoy!
It's best to consume this smoothie on an empty stomach.
3. Fat Burning Oatmeal Smoothie
Oats help you lose weight, since they contain a lot of fiber. They also provide a feeling of fullness, so they reduce your appetite considerably.
Flax seeds also contain fiber, are diuretic and help burn fat. They contain omega 3 that provides many benefits for the body.
Ingredients
40 g (4 tablespoons) of oat flakes
10 g (1 tablespoon) of flax seeds
Sweetener or honey (to taste)
1/2 of a peeled papaya
Preparation
First, blend all the ingredients until you get a smooth mixture.

Then, add water, little by little, you get the desired thickness. The

sweetener

 you use should be natural, like honey.
This smoothie is best on an empty stomach.
4. Super green smoothie
The ingredients in this smoothie provide the body with vitamins, antioxidants and folic acid. Overall, it's a potent diuretic and fat burner.
Ingredients
1/2 glass of lemon juice (100 mL).
15 g of spinach
15 g of chopped parsley
1 stalk of celery
An apple
A cucumber
Preparation
Blend the ingredients together for a couple of minutes.
It's best to drink this smoothie on an empty stomach for 10 days Then, stop drinking it for another 10 days and start again.
5. Fat-Burning Smoothie with Melon
Melon is rich in vitamin A and contains flavonoids, it also contains potassium and vitamin C. Plus, it's detoxifying and diuretic.
Lettuce is a natural purifying agent and prevents constipation. Strawberries, meanwhile, have vitamin C , fiber and antioxidants.
This is an excellent option to burn calories.
Ingredients
100 g of melon
100 g of strawberries
150 g of lettuce
Honey (to taste)
Preparation
Blend all ingredients with a little water and sweeten with honey.
6. Melon juice with green tea
Green tea is the most popular infusion to lose weight, because it accelerates your metabolism. It's an antioxidant that promotes cell regeneration and helps burn fat.
Ingredients
150 g of melon
200 mL (1 cup) of green tea
Sweetener or honey (to taste)
Preparation
First, prepare a cup of green tea and let it cool.
Then, blend the melon with the tea and sweetener is added to taste.
See also: Prepare These 3 Green Tea Drinks to Easily Lose Weight
7. Green triple shake
Kiwi is a fruit with a high fiber content and vitamin C. Therefore, it's is one of the most effective fat burning smoothies.
Ingredients
1 kiwi
50 g of lettuce
150 g of spinach
10 g (1 tablespoon) of honey
Preparation
The first step is to carefully wash the leaves of the lettuce and spinach. Then, peel the kiwi.
Put all the ingredients in the blender and blend until smooth.
8. Fat-burning fruit burst
Blueberries contain antioxidants, minerals and vitamins that nourish and also help you lose weight. Green tea enhances the flavors of fruits.
Undoubtedly, this is one of the most nutritious and appetizing fat burner smoothies, so don't hesitate to include it in your diet and enjoy it!
Ingredients
1 banana
100 g of pineapple
50 g of spinach
50 g of oat flakes
100 g (1 cup) of blueberries
200 mL (1 cup) of cold green tea
1 low-fat yogurt (without sugar)
Preparation
Blend all the ingredients until they're thoroughly mixed. 

You can get three glasses from this mixture:

Take one on an empty stomach before breakfast, another before lunch, and another after dinner.
It might interest you...