5 Tips to Get Rid of the Fat Under the Arms
The buildup of fat under the arms is unsightly. But with a proper diet and exercise, you can reduce it. In addition, it's important to know how to choose the proper clothes to wear.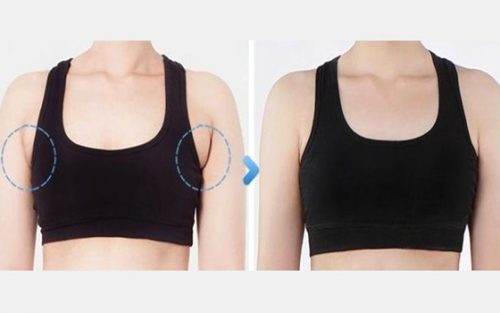 When some women put on a bra, they notice a little excess fat under the arms around their armpits. First of all, you should know that this is a very common problem for women, regardless of their weight or age.
The armpits are particular areas of the body where there's a tendency to accumulate excess fat. In addition, it can extend to your back, forming annoying rolls that are obvious when you wear tight clothing.
There's no reason to become obsessed over this, as the key to well-being has always been acceptance of your own body.
Why does the fat under the arms appear?
Just as we accumulate excess fat in the abdomen, hips, buttocks, thighs, and calves, it can also build up in the back, chest, and armpits. According to this study by the Complutense University of Madrid, genetics could play a key role when it comes to preventing certain types of obesity, as well as their distribution.
Nevertheless, here are the most common causes for this buildup of fat under the arms:
Tips to reduce fat under the arms
If fat in this region is also located on the back and prevents you from wearing certain types of clothing due to how unsightly it is, it's not too late. You can follow some simple tips that will also help improve your quality of life.
If you feel concerned that it may be something else, don't doubt to consult your doctor. They'll be able to calm you down.
1. Pay attention to what you eat
We advise a series of foods that could benefit your health if you include them in your diet regularly. However, no specific foods can help reduce or avoid excess fat under the arms:
2. Fat-burning drink
Although people believe it can help fight excess fat under the arms, no scientific has backed this up as of yet. If you still want to try it out, we show you how to make it below.
You'll need the following ingredients to make it:
First, boil the artichoke in the liter of water. Then, blend the pineapple with the lemon juice and the chopped almonds. Next, add the artichoke water to the pineapple, lemon juice, and almond blend.
3. Exercises to strengthen the arms
You'll need to dedicate about 30 minutes a day to these exercises to tone and strengthen your arms. All you need are hand weights or dumbbells and some comfortable clothing.
Start by lying on your stomach and then lifting your torso using only your arms. Do 20 repetitions to increase your resistance. Next, lie on your back and lift the dumbbells about 20 times.
Repeat this cycle for half an hour.
4. Try the plank
Doing plank exercises is no easy task, as it takes plenty of stamina and skill. However, if you can dedicate 15 minutes to this exercise every day, you'll eventually see results. Your arms and abdomen will be stronger.
First of all, lie down on your stomach. Next, lift your body using only a single arm and the tips of your toes. Hold this position for one minute before repeating with the other arm.
5. A good bra to disguise fat under the arms
If you have a normal weight and are in good health but still see that unsightly fat under your arms, don't worry: just choose a good bra.
Avoid bras with smaller cups. In addition to this being bad for your health, it causes flesh to fold out of them and become more noticeable beneath your clothing.
Look for specific bras that have fuller coverage. They'll have larger cups and wider straps. Thanks to them, your breasts will be completely contained.
It might interest you...