Amazing Face Masks to Rejuvenate Without Surgery
Some natural ingredients help to remove impurities from your skin and help to firm and hydrate the skin, making it look younger and fresher. Try them!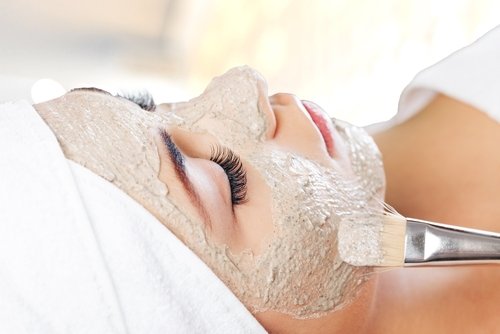 There are a number of different techniques that we can use to make our skin look younger and healthier and rejuvenate without surgery. The problem is that many of these treatments are expensive, and can even be painful.
If you don't want to pay for having surgery (or the idea terrifies you), we'll you about some excellent face masks that you can make at home to rejuvenate your skin.
Face masks that rejuvenate and firm your skin
The passing of time, exposure to sun, lack of rest and stress are just some of the factors that cause lines and wrinkles, mainly on your face.
In order to reduce these lines, and show off smoother and younger looking skin, we can take advantage of the benefits of some natural ingredients. When combined together, these ingredients can create face masks with great benefits.
Strawberries and honey
Dedicate some time each week to enjoy this great face mask. It not only hydrates your skin, but also reduces expression lines and gets rid of dead skin cells.
Strawberries stop the skin from drying out. Meanwhile, honey acts as an exfoliant.
Ingredients
10 strawberries
2 tablespoonfuls of honey (50g)
Method
First, wash the strawberries thoroughly and then mash them with a pestle and mortar.
Next, mix the strawberries with the honey until it forms a paste.
Apply to a clean, dry face in circular movements.
Leave it for 15 minutes and rinse with cold water.
Yogurt and lemon juice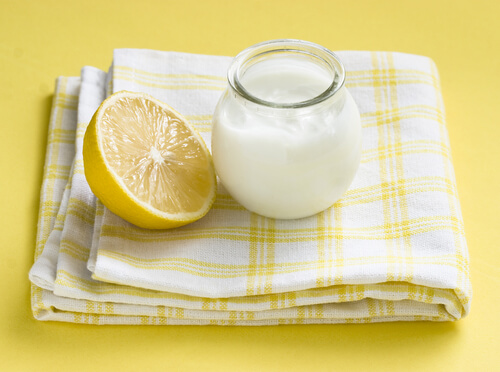 First of all, lemon juice has the capability of eliminating or reduce the appearance of blemishes. Plus, yogurt instantly softens the skin. Together, the two ingredients are perfect for rejuvenating the skin.
Ingredients
1 tablespoon of natural yogurt (15g)
1 tablespoon of lemon juice (10ml)
Method
Put the yogurt in a bowl, add the tablespoon of lemon juice and mix until well-combined.
Wash your face and apply the face mask, being careful not to get it in your eyes, as it can sting.
Leave it for 20 minutes and rinse with clean water.
Remember that this face mask should be applied at night, as the lemon juice can blemish your skin when it comes into contact with the sun.
Powdered milk and rose oil
This treatment completely hydrates your skin. After all, it's the lack of water (dehydration) in the top layers of the skin that causes wrinkles and lines.
You can also apply this treatment to your neck and hands, and it's suitable for both dry and oily skin.
Ingredients
5 tablespoons of honey (125g)
3 tablespoons of powdered milk (30g)
2 drops of rose essential oil
Method
First, put the honey and powdered milk in a bowl.
Then, add the essential oil and mix well until it forms a smooth paste.
Apply to the face, neck and hands after washing them, and leave to act for 20 minutes.
Rinse with warm water and pat dry with a towel (without rubbing).
Milk and oil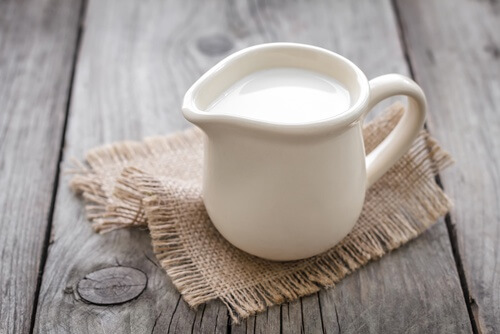 This is a face mask with cleansing effects. After all, it removes dead skin cells, impurities and any makeup.
It can be used twice a week. We recommend you apply it at night in order to get rid of any toxins from during the day.
Ingredients
1 cup of milk at room temperature (250ml)
3 drops of sunflower oil
Method
First, add the oil to the cup of milk and stir well.
Soak cotton wool in the mixture and apply it to clean skin.
Then, leave it for 5 minutes and rinse thoroughly with warm water.
Egg white and lemon juice
Egg white has many great properties, including the ability to firm and heal skin.
Its nutrients penetrate wrinkles to reduce their appearance. However, at the same time it softens and rejuvenates.
Ingredients
1 egg white
1 tablespoon of lemon juice (5ml)
A vitamin E tablet or a tablespoon of vitamin E oil (15g) (optional)
Method
First, separate the white from the yolk and place the white in a bowl.
Add the freshly squeezed lemon juice and the vitamin E (if you choose to add it).
Mix well and apply to your face in a gentle circular motion. You can also use it on your neck, if you wish.
Leave it to act for 15 minutes or until it dries completely.
Rinse with warm water and dry very carefully (without rubbing) with a cotton towel.
Oats and honey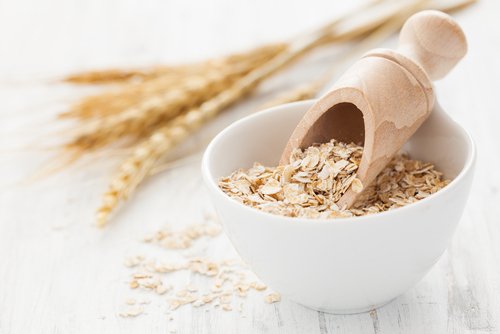 Honey also has many properties, such as acting as an exfoliant and antiseptic, for example. Oats also help to eliminate dead skin cells and rejuvenate without surgery.
The other ingredients are perfect for removing impurities and helping to make your skin look younger.
Ingredients
The juice of ½ an orange
3 tablespoons of oats (30g)
1 tablespoon of sugar (10 g)
2 tablespoons of honey (50 g)
Method
First, juice the orange.
In a bowl, add the oats, sugar and honey.
Add the orange juice to the oat mixture and stir well.
Apply to your face, being careful not to get it in your eyes.
After 10 minutes, rinse with cold water to reactivate circulation.
To finish, apply a moisturizer.
We recommend you read: 11 Benefits of Oats, Plus a Breakfast Recipe
Egg whites and cucumber
Egg whites are extremely nutritious. Meanwhile, cucumber freshens (that's why it's used a lot in facial treatments). This face mask closes the pores and leaves the skin feeling firmer.
Ingredients
A cucumber
1 egg white
1 tablespoon of lemon juice (5ml)
A vitamin E tablet (optional)
Method
First, peel the cucumber and cut into slices.
Add to a food processor, along with the egg white, lemon juice and vitamin E tablet.
Mix everything well and apply to your face.
Rinse with cold water after 20 minutes.