Exercising While Pregnant: Is it Safe?
Exercising while pregnant has positive effects on both the mother and the fetus. Today, we'll tell you how to do it safely and when you should avoid it.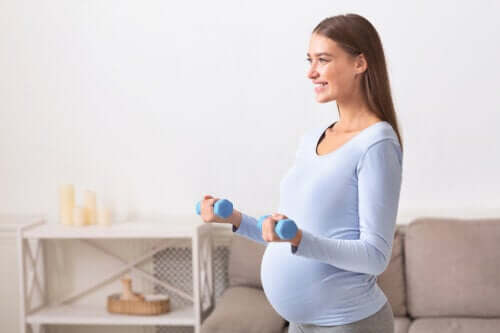 People used to believe that exercising while pregnant was dangerous because it could cause a series of problems for both the mother and the newborn. However, we now know that it's a safe practice that provides many benefits, even in the postpartum period.
So, here, we'll talk about how to exercise in pregnancy, its benefits, and what things you should keep in mind before starting (or continuing) your workout plan.
But first… The following parameters are aimed at healthy women with low-risk pregnancies. If this isn't your case, consult your doctor before starting or continuing any exercise plan.
Benefits of exercising while pregnant
Among the most important benefits are:
Reducing the risk of developing gestational diabetes, especially in overweight or obese pregnant women.
Managing low back pain. Exercising during pregnancy can reduce the intensity of both low back and pelvic pain.
It can prepare you for childbirth. Regardless of whether you prefer a natural or cesarean delivery, exercising in pregnancy will prepare your body for that moment.
It can decrease the risk of postpartum depression compared to sedentary women.
It can help you lose the weight gained after childbirth.
Will exercising while pregnant decrease my baby's birth weight?
It depends. Performing low to moderate-intensity exercise is associated with an increase in the baby's birth weight. Apparently, this happens because, in theory, exercising increases the delivery of oxygen and nutrients to the fetus.
On the other hand, the baby may be born with less weight if the exercises are of high intensity. For this reason, it's better to do low or moderate-intensity exercises.
Exercising while pregnant: How to go about it
Aerobic exercise, better known as cardio, is considered the most beneficial during pregnancy. Ideally, pregnant women can do a total of 150 minutes a week, time that can be divided in various ways, for example, 30 minutes a day, 5 days a week.
If the mother was exercising regularly before pregnancy, it is fine to continue the same workout regimen. However, the intensity may need to be decreased.
If the activity includes any contact sports, it's best to modify the routine for safety reasons.
If you weren't exercising before pregnancy, you can start with just 5 to 15 minutes a day, three times a week. Then add 5 to 10 minutes each week or increase the frequency to 4 times a week.
How do I know if I'm exercising enough?
The most convenient way to assess intensity is the "talk test". If you can converse while exercising, you are exercising at low to moderate effort. Keep it up! Overexertion should be avoided as much as possible.
Exercise Considerations in Pregnancy
Sedentary women who begin exercising during pregnancy may lose weight. This is true for anyone who moves from a sedentary lifestyle to an active one. However, losing weight isn't the goal during pregnancy.
Any exercise is good. You can go to the gym, have a personal trainer, or go swimming. But sometimes, the simpler the better: Walking 45 to 60 minutes a day is as good as any other exercise, and it's free.
Adequate hydration should be maintained, especially if you are exercising after a sedentary lifestyle.
Studies indicate that normal uterine contractions slow down between 10 am and 2 pm, so it is preferable to exercise during that time period.
Generally, experts recommend beginning the exercise program during the second trimester.
Avoid these exercises while pregnant
Any activity that may cause falls.
Activities that require you to lie on your back, as this can obstruct venous return or blood flow.
Activities that expose you to heat or humidity.
High-intensity activities. The exception is in athletes, who should decrease the intensity by 20% or 30%.
Diving.
If you have the following symptoms during exercise, stop exercising and consult your doctor:
Painful contractions
Vaginal bleeding
Breathing problems
Dizziness
Headache
Leg pain
Contraindications to exercise in pregnancy
In these cases, only walking is recommended to reduce the risk of thromboembolism:
Uterine insufficiency
Bleeding in the second or third trimester
Premature rupture of membranes
Premature delivery
Severe heart disease
Severe respiratory problems
Preeclampsia
Severe anemia
Exercise while pregnant: Conclusions
Exercising while pregnant is considered a safe activity in most cases, as it improves the well-being of both mother and baby. Just the same, there must be a green light from the doctor before starting any physical activity.
Exercise is only one of several factors to consider for a healthy pregnancy. Proper nutrition, stress management, and rest are just as important as physical activity.
It might interest you...