Everything You Should Know About Social Distancing
Social distancing is not only based on maintaining a safe distance between people; it also includes measures such as closing down entertainment venues. Find out more in this article.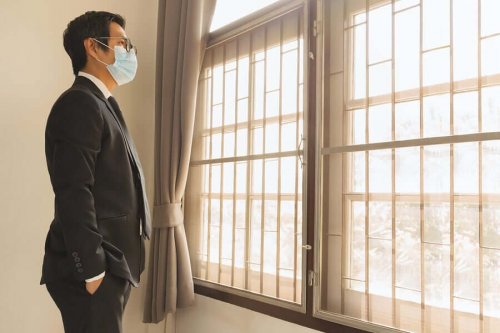 We're currently experiencing a very complicated global situation due to the coronavirus pandemic. Because of this, most countries have implemented containment and prevention measures, such as social distancing.
The period of containment, in which many of us have to remain in our homes, is to attempt to stop the spread of the virus. The new coronavirus, which emerged in December 2019, is extremely contagious.
However, social distancing is not unique to this virus. It can be used to stop any other infectious disease from spreading from person to person. In this article, we'll explain what it is.
What is social distancing?
As the spread of the coronavirus has progressed, almost every country has asked its citizens to reduce or stop any close contact with others. This is the basis for social distancing.
In other words, social distancing is about creating space between people. By maintaining a safe distance and limiting contact, the number of people who get the same disease will decrease.
In the case of the coronavirus, we know that it spreads by respiratory droplets. These droplets are expelled when an infected person coughs, sneezes or even speaks. Therefore, if someone is nearby, they can get infected by them. At the beginning of the pandemic, experts started to recommend that we keep a safe distance of 1 to 2 meters between us and any other person. In theory, this is the recommended distance so that respiratory droplets can't reach other people.
How can we set social distancing in motion?
We've already discussed the recommended safety distance between people. However, social distancing involves many other measures in addition to this. First, it's essential to avoid large gatherings of people.
To this end, the first thing to do is usually to close down places of entertainment, such as restaurants, stadiums, or theaters. Not only that, but schools, universities, and other educational establishments have also closed.
Moreover, for social distancing to work, any contact between people must be limited to essential needs. This is why most companies are closed down and people are carrying out teleworking wherever possible.
Another basic measure is to avoid using public transport or sharing a car with others. Similarly, governments are recommending that we only go to shops and supermarkets when really necessary.
What other measures can be taken to prevent the spread of the virus?
In addition to social distancing, there are other preventive measures that help reduce the spread of coronaviruses. First and foremost, correct handwashing is essential.
To do this, soap and water are sufficient, although you can also use a disinfectant. You must also avoid touching your face with your hands. When sneezing or coughing, you need to cover your mouth or nose with a tissue.
Of course, any warning signs (such as coughing or fever) should be reported to a doctor. Many people recommend always wearing masks when going out, for whatever reason. However, their effectiveness isn't yet fully known.
We can't forget that measures such as social distancing are truly necessary to improve the situation. Therefore, we must try to follow all the experts' recommendations. This way, the number of infected people will be reduced considerably.
It might interest you...