Make This Energizing Breakfast Without Dairy, Flour, or Sugar
Thanks to the properties in it natural ingredients, you can get an energizing breakfast. This gives you everything you need to face the day better.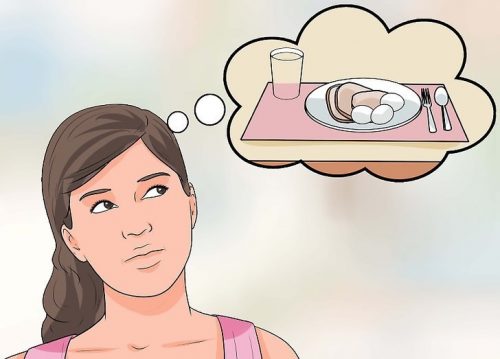 For people who are looking for an energizing breakfast that gives you strength and fills you with nutrients, we want to show you a healthy option. This is one that doesn't have dairy, flour, or sugar.
Discover this breakfast that will help you start your day with energy and a good mood.
The importance of an energizing breakfast
Many people who want to start the day with energy usually turn to coffee.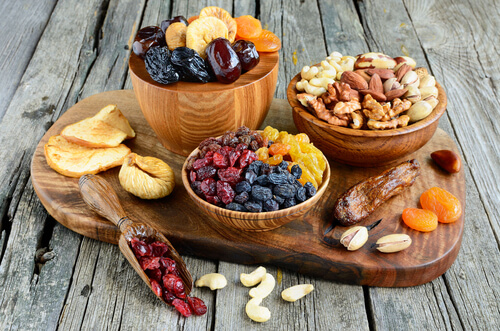 However, even though coffee rapidly stimulates your metabolism, its effects aren't long lasting. It also doesn't give you the amount of nutrients that you need to face the day.
If you chose an energizing breakfast, you'll find several health benefits:
You'll feel fuller all morning long. And, you won't need to snack on any other food.
You can allow yourself some snacks during the day without suffering from a lack of nutrients. This is because this breakfast is rather complete.
It activates your metabolism in a healthy way. And you can burn calories easier.
You'll increase your bowel movements.
The foundations for this breakfast
Below, we're going to show you the properties of this nutritious breakfast.
Nuts
Nuts are rich in protein, fiber, fatty acids, vitamins, and minerals. So, they give you a lot of energy. And, they make you feel full.
Dry fruit
Dry fruits are rich in sugars and fiber. Among these, prunes, raisins, and dates stand out. Also, they help with proper bowel movements and they take away the cravings for sweets.
Seeds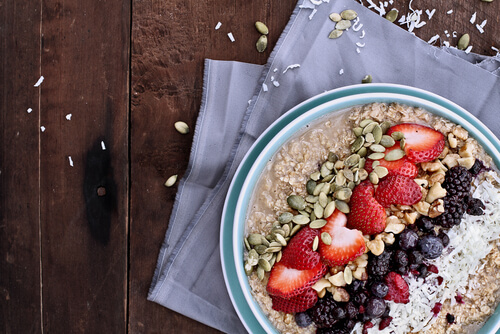 Seeds are super nutritious foods. Despite their small side, they contain a large number of nutrients. So, they're a great option you can add to all kinds of recipes, just like this nutritious breakfast.
Coconut oil
Coconut oil is a normal food for healthy recipes that are in style.
This is a healthy fat that you can eat in moderation. Although it seems impossible, it'll help you burn more calories and get rid of belly fat.
By eating coconut oil, you can enjoy its flavor and creamy texture. And, you can forgo other fats that are harmful for your health and make you gain weight.
Also, coconut oil has the benefit of letting you harden foods by freezing them. This lets you make all kinds of sweets and pastries.
Cocoa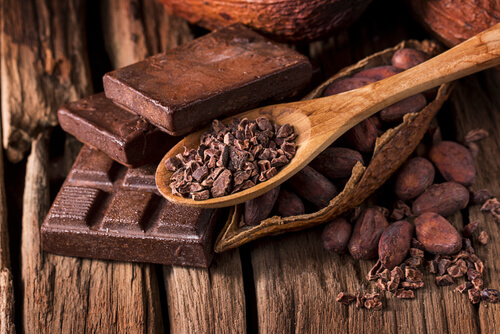 Pure, bitter cocoa is a medicinal food. You can eat this on a regular basis instead of chocolate, which usually has a lot of sugar.
Cocoa gives you energy, increases the health of your muscles, and gives you a feeling of happiness.
Also, it's a powerful antioxidant. This fights the damage caused by free radicals both internally and externally.
Honey
Honey is a natural sweetener. Additionally, it's very energizing with antibiotic and remineralizing properties. Also, it'll help you to harden this breakfast. This makes it easier to eat.
We suggest that you eat organic honey.
Energizing breakfast
Ingredients
To make this energizing breakfast for several days, you'll need the following ingredients:
3 cups chopped nuts (almonds, hazelnuts, walnuts)
1 cup dried fruits (raisins, plums, dates)
1 cup of seeds (sunflower, pumpkin, linseed, chia)
1/2 cup extra virgin coconut oil
1/2 cup powdered bitter cocoa
1/2 cup honey
Instructions
First, in a bowl, mix the nuts, (chopped) dried fruits, and seeds.
In another bowl, mix the honey and coconut oil. If they're hard, you need to heat them up in a double boiler until they liquify. Afterwards, add the cocoa powder.
Mix the contents of the two bowls.
When everything is mixed well, you need to spread the mixture on a tray that you'll freeze in the freezer.
In an hour, you'll have a kind of fruit and nut sheet that you can cut into smaller bars.
Always keep the bars in the freezer until you want to eat them. This is because coconut oil melts at temperatures above 73 ºF.
Main image courtesy of  © wikiHow.com