Cleansing Smoothie to Reduce Abdominal Fat and Bloating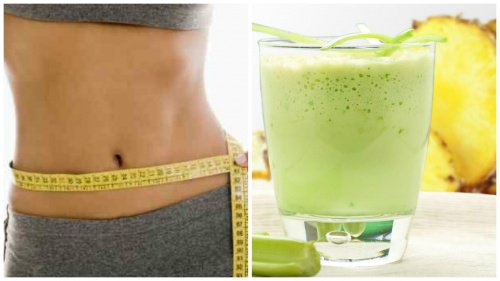 The properties and vitamins in these ingredients make this juice a perfect complement for cleansing whenever you feel bloated. Don't forget to support it with plenty of water.
One of the keys for getting rid of fat and getting a flatter stomach is to maintain healthy colon functioning.
The colon is responsible for eliminating toxins, balancing electrolytes and absorbing a lot of the nutrients that the body requires.
It's one of the excretory organs, and it sometimes has difficulties cleansing itself due to toxin overload.
These toxins come from industrialized foods, contaminated environments and particles from chemical products that we typically live with every day.
The main problem is that accumulated waste products lead to changes in the body's inflammatory process, which almost always leads to serious diseases.
But fortunately there are natural methods that help detoxify the body so that it functions perfectly. This incidentally leads to weight loss.
Below we are going to give you a recipe for a natural smoothie which has nutritional properties that help support these cleansing processes, without providing too many calories.
Would you like to try it?
Natural colon cleansing smoothie for fighting fat and abdominal inflammation
This natural smoothie for cleansing the colon and weight loss is made by combing several ingredients with digestive and weight loss properties that stabilize intestinal movement and facilitate the release of waste.
The detoxification process lasts two weeks, during which time one should avoid consuming dairy, fats, sugars and packaged foods.
To better understand the benefits provided, we're going to go over the properties of each of these ingredients in detail.
Benefits of pineapple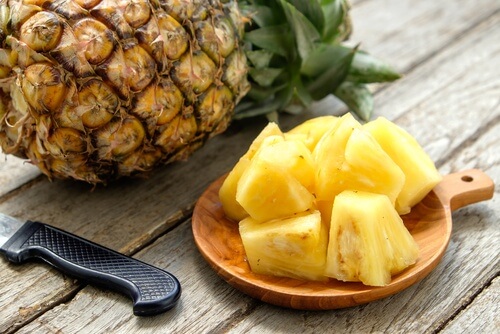 Pineapple is a tropical fruit characterized by its high water content, digestive enzymes and antioxidant substances.
It is a rich source of vitamins A, B and C, along with minerals like iron, magnesium and zinc.
Nearly 85% of its composition is made up of water, which explains why it is so low in calories and such a powerful diuretic.
Thanks to its high bromelain content, which is a natural enzyme, it controls inflammation, fights constipation, and increases red blood cell production.
It helps improve digestion, fights intestinal parasites and is one of the best alternatives for fighting fat and cellulite.
Benefits of cucumber
Cucumbers are considered to be one of the most complete and healthy vegetables around. It is a good source of dietary fiber, antioxidants and alkaline substances.
It is made up of 97% water, but it also contains vitamins A, B, C and E, and minerals like calcium, magnesium and phosphorus.
It has the diuretic strength of stabilizing liquid production within the body, and it fights high levels of inflammation. Cucumber helps control uric acid, blood pressure, and heavy digestive systems.
Benefits of apples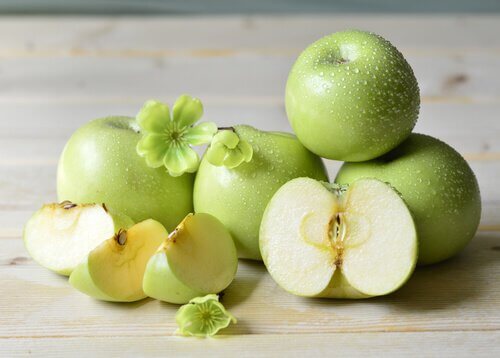 Apples are fruits rich in pectin, a type of dietary fiber that regulates intestinal movement and helps control cholesterol.
They are anti-inflammatory, they improve digestion and control excess acid in the stomach and blood.
Eating one apple a day is connected with a reduced risk of obesity, along with rheumatoid and cardiovascular diseases.
Benefits of aloe vera
Aloe vera contains that wonderful gel that provides 19 out of the 22 essential amino acids that the body needs.
It is an excellent skin remedy, which helps get rid of toxins and prevents acne, stretch marks and cellulite.
It has a mild laxative effect, which reduces abdominal inflammation. It also regulates intestinal movement to help remove waste products.
Thanks to these properties, it improves the metabolism and helps burn fat more easily.
Benefits of oranges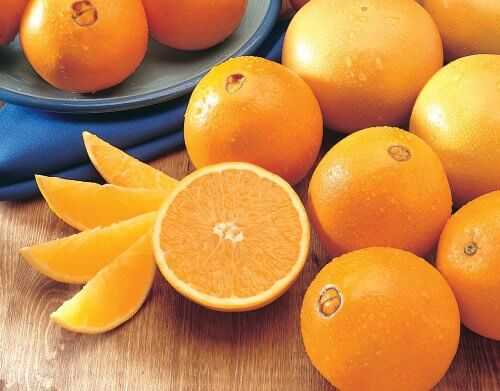 Orange is the last thing to be added to this natural drink. It stands out because of its high vitamin C content, along with vitamins A, B and E.
It acts as a disinfectant and natural cleanser, which is perfect for cleansing the colon, liver and kidneys.
It is rich in antioxidants and helps stop cellular damage to prevent premature aging.
How to prepare this natural cleansing smoothie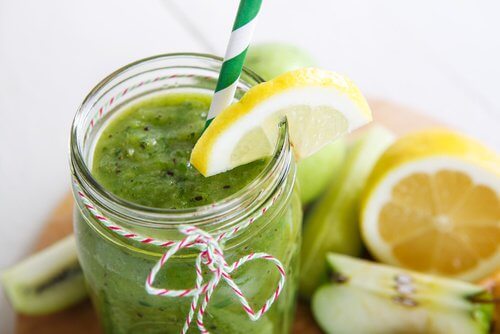 The recipe for this smoothie is very easy to prepare, and it doesn't require any costly ingredients, or anything that is difficult to find.
You will need:
1 pineapple slice
1/2 cucumber
1 green apple
2 Tbsp. aloe vera (30 grams)
Juice from 1 orange
1/2 glass water (100 mL)
Directions
Add all the ingredients to the blender, including the orange juice. Blend for a few seconds.
Once you've gotten a smooth drink, serve and drink in the least amount of time possible.
Enjoy before breakfast for two weeks straight.
For complete detoxification, we recommend drinking 6 to 8 glasses of water a day along with this smoothie.