Effective Natural Remedies to Treat Menopause
It is normal that, over the years, our body stops producing certain substances, which brings with it several symptoms that respond to these losses.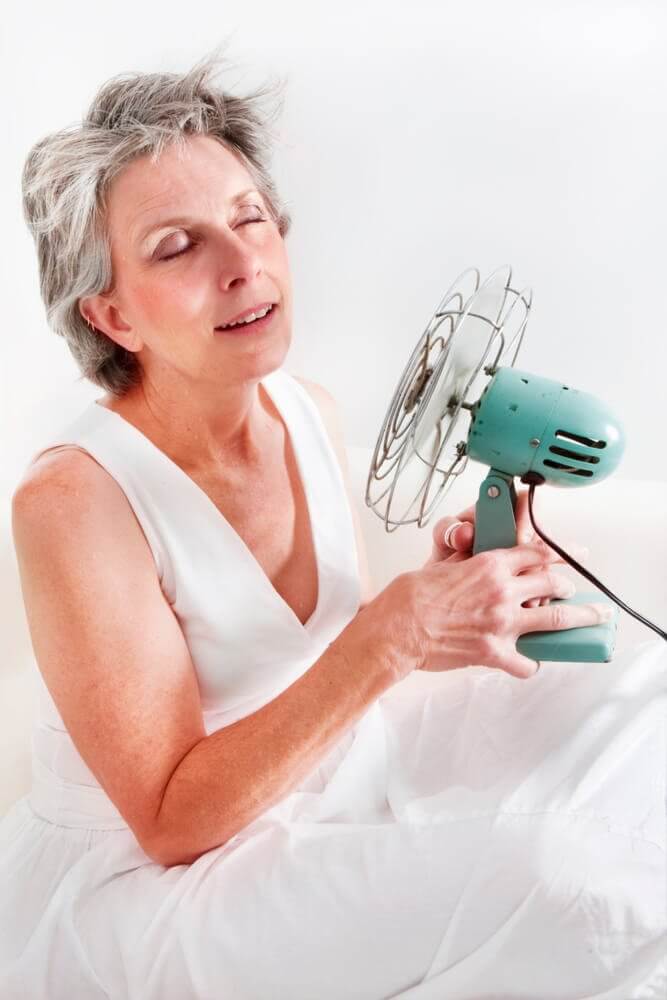 Menopause is a natural process that happens to all women when they reach a certain age. During this stage, a woman stops the formation of ovules. However, we can not ignore that this, in turn, comes accompanied by very annoying symptoms. 
In this article, we'll teach you everything you need to know about this condition and the most effective way to treat menopause using home remedies.
Symptoms of menopause
As menopause approaches, a critical age, or life change, there is often irregularity in the dates and amount of menstrual flow. More and more periods are omitted, until they cease completely.
The faculty of reproduction may be lost before menstrual disorders appear, although this usually does not happen, and it may even be the case that the aforementioned faculty subsists when menstruation has ceased.
Some of the symptoms that afflict many women in this stage of life are:
Feelings of cold or chills
Hot flashes
Weight gain or loss
Capricious appetite
Nausea and vomiting
Palpitations of the heart
Headache and back pain
Weakness

Depression

Fainting
Vertigo
Constipation or diarrhea
Sensitivity in the breasts
Hysteria and other nervous manifestations
Almost any symptom that has previously afflicted a woman tends to present itself again, and intensely during menopause.
Heat waves or hot flashes are the most common symptom of menopause and one of the most annoying. They can occur when women still have menstrual cycles, that is, in the period called premenopause (3-4 years) prior to the complete disappearance of menses and may last more than 5 years after the onset of menopause.
They can appear at any time of the day, but are predominate at night, as a sensation of increased body temperature in the upper part of the body, such as the face and neck.
It lasts on average between 2 to 5 minutes, and are accompanied by sweating and palpitations. Often, they happen while sleeping and wake up women several times at night. Thus, it causes fatigue, lack of sleep, and causes womens clothes and bedding to end up bathed in sweat.
Causes
Menopause results from the physical changes that age brings to a woman's body. They usually culminate sometime between 40 and 50 years, although sometimes the change occurs earlier and occasionally later.
In some women, it starts early and ends early, with few disturbing symptoms. It usually takes from a few months to one or two years for the nervous and menstrual irregularities to disappear.
What should be done?
These habits will improve overall health and make the symptoms of menopause less pronounced:
Light work
Lots of outdoor exercise
A lot of rest and sleep
Sunbathe 15 minutes a day
As for sexual health, lubricants should be used to prevent sexual relations from being painful. Also, you have to tone the vagina by means of pelvic floor exercises, which help to reduce incontinence.
This is also a good time for couples games, imagination, communication or trying new experiences. Sexuality is lived fully in this age, because there is no risk of pregnancy.
Natural remedies for menopause
Red cloves
Among its natural properties, we find that these contain small amounts of isoflavones, which are responsible for reducing the severity of hot flashes caused by menopause.
Ingredients
1 teaspoon of red cloves (5 g)
1 cup of water (250 ml)
Preparation
In a pan, we boil the cup of water and, when it reaches a boil, we add the cloves.
Let infuse 2 or 3 minutes and then remove from heat. Then, let stand for 10 minutes and strain.
We drink this three times a day, 30 minutes before each meal.
Alfalfa
This plant has many natural medicinal benefits. It has the ability to cancel the decrease in estrogen levels, responsible for hot flashes during menopause.
Ingredients
1 tablespoon of alfalfa (10 g)
1 cup of water (250 ml)
Preparation
In a pan, heat the water with alfalfa.
When it boils, remove it from heat.
Let stand and squeeze.
We must eat it at night, before going to sleep.
Cardamom
It is another plant that helps women to bear the symptoms of menopause easier. It stands out for its estrogenic properties, as it contains stigmasterol and nerol.
Ingredients
1 tablespoon of cardamom (15 g)
1 cup of water (250 ml)
Preparation
We will heat the water and bring it to a boil.
Next, add the cardamom, cover and let sit for 10 minutes.
We will drink the infusion in the morning and at night.
These natural alternatives are very suitable to treat menopause. We recommend following the advice given and take advantage of the remedies learned to cope with their symptoms.
It might interest you...