Did You Know Rice Pudding Can Help You Slim Down?
Some people believe that you can lose weight without giving up delicious desserts like rice pudding. Sound too good to be true? Keep reading to find out more!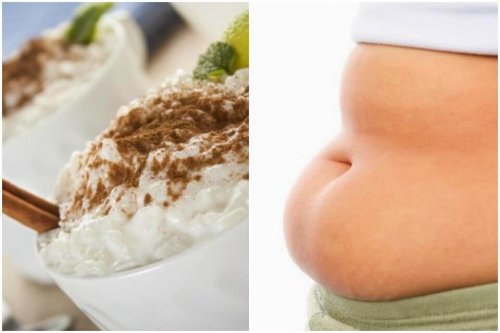 Rice pudding is a classic recipe in many countries, so you've probably tried it at some point in your life. You may even have tried several different versions of the recipe. Some people make it with more lemon zest, some with chocolate, without chocolate, the list goes on.
We have some good news for people who love rice pudding: you can eat a healthy diet and lose weight without giving up this delicious dessert.
Today, we'll share how you can incorporate rice pudding into your diet plan to lose weight in a healthy way.
A classic dessert that can be as light as you want
First of all, it's important to clarify something. Depending on how you prepare it, rice pudding can be a healthy dessert.
Making it with whole milk and a few tablespoons of sugar (or another sweetener) is very different from using low-fat milk and no sugar, for example.
Changing the ingredients will definitely change the taste, but that doesn't mean it won't be delicious.
Rice
While the classic recipe calls for white rice, you can make a lighter version with brown rice. The former is easier to digest because it has less fiber, but the latter is healthier.
Don't worry that it might not look appetizing – the color of brown rice and the cinnamon make it look just as delicious as the original.
After you make it, it will keep up to three days in the fridge.
Milk
Whether you're lactose intolerant or not, you can substitute whole cow's milk for plant-based milk and make different, but equally delicious versions of rice pudding.
You can try almond milk (without added sugar), millet milk, or coconut milk.
If you're trying to make a lighter version of rice pudding, remember to choose plant-based milk with no added sugar.
Cinnamon
This very famous spice adds a special flavor and aroma to your rice pudding. As if that weren't enough, it also has many nutritional benefits that are be good for your health when included in a balanced diet.
According to the Spanish Nutrition Foundation, cinnamon contains protein, iron, calcium, zinc, potassium, selenium, vitamins B6, C, phenols, and aldehydes. It's also commonly known for its anti-inflammatory properties.
Is it possible to lose weight and still eat rice pudding?
Yes, it's possible to lose weight as long as you eat a healthy diet and include desserts like rice pudding in moderation.
When people want to lose weight, they often reduce the amount of rice that they eat. Another useful trick is to eat a small amount of rice before exercising or playing sports.
This dessert can provide the energy you need first thing in the morning.
Light rice pudding
Ingredients
1 liter of milk (your choice)
One cup of white or brown rice (200 g)
1 stick of cinnamon
The peel of one lemon (optional)
Preparation
Add the milk, cinnamon stick, and lemon peel to a saucepan.
Bring the milk to a boil.
Add the rice and reduce the heat to medium.
Stir with a wooden spoon occasionally to keep it from sticking.
After 20 minutes the mixture should take on a creamier appearance.
Remove the cinnamon stick and serve in individual cups or bowls.
Sprinkle with ground cinnamon and enjoy.
Note
If you want to lose weight in a healthy way, you should talk to a nutritionist. They can tell you when it's best to include desserts like rice pudding in your diet, as well as how much you can eat and combined with what other foods.
It might interest you...