Discover How to Easily Get Rid of Armpit Hair
Before using natural products to get rid of armpit hair, make sure you test the compound. This helps you to be sure you won't have a bad allergic reaction.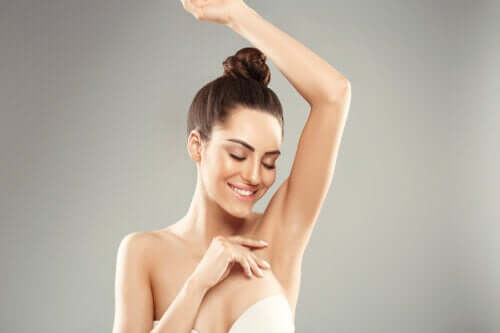 In recent years, a wide variety of methods to get rid of armpit hair easily. Although hair isn't a problem beyond aesthetics, most women prefer to remove it to feel comfortable. What are the options?
Today, after consulting in dermatology, it's possible to discover many new hair removal techniques. However, contrary to what some advertising campaigns have claimed, no solution can permanently eliminate it.
Despite this, several options allow you to remove it for days, weeks, and even months. If you want to know more about it, read on and find out how you can get rid of this unwanted hair!
How to remove armpit hair?
In a world where image is very important, the number of beauty spas is increasing. They have thousands of hair removal options.
The reality is that you can remove hair at home with different procedures. This process can include waxing (either hot or cold), creams, or other treatments. If you don't have as much time, shaving can get you on your way quickly.
Additionally, as a publication by the American Academy of Dermatology states, other popular ways to remove unwanted hair, whether from the armpits or other parts of the body, include the following:
Application of lotion, cream, or gel to remove hair.
Laser hair removal.
Electrolysis, a method that sends an electrical current through a hair follicle, which damages the follicle and prevent it from growing.
Prescription creams, such as eflornithine (Vaniqa).
Tweezers and professional waxing.
Now, we must state that some of these methods are aggressive for sensitive skin. Therefore, before choosing one method or another, it's best to consult a dermatologist
Natural options to get rid of armpit hair
Natural options to get rid of armpit hair stem from popular culture and have been used for ages. Although no scientific evidence backs them, anecdotal data state that they can be a good option to remove unwanted hair.
In general, their application is safe and can yield good results when your hair isn't too thick. However, we recommend doing a small test first to verify that they don't cause unwanted reactions. If you decide to give them a try, try these options.
Lemon and sugar for waxing armpit hair
Ingredients
The juice of 1/2 a lemon
1 cup of sugar (200 g)
Preparation
Juice the lemon. Add the juice to the sugar in a good-sized stock pot.
Add water if the juice doesn't cover all of the sugar.
Heat the mixture over medium-high heat. Stir with a spoon until the sugar dissolves.
When the mixture starts to boil, turn the heat down. Keep cooking until you get a thick, sticky paste, but one you can still spread.
Wait for the paste to cool. Then, it's ready to use.
Application
Wash and dry your armpits. If you want, you can put on a little talcum powder to prevent having the mixture stick to your skin too much.
Spread a fine layer over your armpit. Then, pull it off in the direction opposite your hair growth.
If there are any remains, remove them with lukewarm water.
Turmeric remedy
Another option is using natural ingredients to debilitate the hair in your armpits. To reach this goal, turmeric is said to be one of the best options.
Ingredients
1 teaspoon of turmeric (5 g)
Water (as necessary)
Preparation
You only have to mix a little water with this spice until you get a thick cream.
After you have had your armpit hair removed, apply this cream and let it work for 20 minutes.
Rinse with lukewarm water.
To get the best results, you can repeat this process every two or three days. You don't need to wax or shave, either.
Consult your dermatologist to discover other methods
If you want to remove armpit hair, you can find different professional, traditional, and homemade hair removal methods that yield interesting results. If you don't know which option to choose, consult your dermatologist and ask for more details on each of the techniques.
Also, if you want, opt for natural remedies. They're quite inexpensive and are generally safe to use. Of course, first do a small test to rule out that they don't cause allergies.
It might interest you...