Three Easy Braid Hairstyles for Any Occasion
The only thing you need for these hairstyles are your hands, a hair-tie, and some hairpins.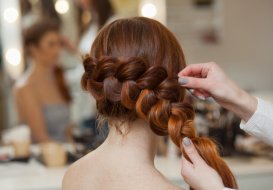 Braids are quite flattering hairstyles that can make a simple look much more sophisticated. They're also great for not having to wash your hair at the last minute or when you just don't have time to do your hair as you'd like.
You can look fabulous with beautiful braids and all you need is a little creativity, a pair of nimble hands, some hair ties, and bobby pins.
How to get ready?
The look of your face depends on the hairstyle you wear. Thus, being skillful when it comes to choosing the right one for your face shape, eyebrows and lips will make you feel and look even more beautiful.
Some say that people who enjoy their physical appearance are more capable of achieving success in life, due to their confidence and optimism.
Ok, so off to the braids. One of the most frequently asked questions is how to prepare hair for braided hairstyles? Well, straight hair must be dry before you start styling it, whereas curly hair just needs to be towel dry.
Furthermore, those with wavy hair tend to have more problems with braids. Don't worry if this is your case though, you just need to have it a little damp.
Three easy braid hairstyles
Continue reading to find out how to do some braided hairstyles; keep in mind there are many more out there. Choose the one you like best, try it out, see how it looks. It's all about having fund while you experiment!
1. Fishtail braid
Fishtails have a whimsical look, so much so that the heroines of the Game of Thrones sport it themselves. Don't let it overwhelm you though, it's quite simple. Just follow these easy steps.
Firstly, take one strand of hair from the left and one from the right side and twist them to bring them to the center — after detangling your hair. Then, tie them together.
Repeat the same operation a little further down and join the two sides with the styling cream.
Do a braid.
Finally, open the loops — the degree of openness will depend on the degree of casualness you prefer.
2. Braided crown hairstyles
This is a good option for you if you like the hippie or Boho style. It's also the perfect hairstyle for when you're in a rush.
Mark the beginning of the braid with a comb and separate the selected strand into three parts.
Braid in a straight line backward, shaping it with small surrounding strands.
Do the same on the other side.
Wrap them around your head, princess style, and pin them together. Play with the braided crown in different ways: from a casual look to an elegant headband – it's all a matter of preference!
3. French braid hairstyles
The French braid is one of the most versatile and traditional braid hairstyles. So naturally, it's perfect for those who want to add a little originality to a classic look, without being too forward.
In order to make this braid, take a strand of hair from the crown of the head. Then, divide it into three and start alternating them (braiding them that is).
As you go down, add another strand on each side until you reach the ends.
Be more innovative a little and create the braid on one side of your head. This is particularly nice for special occasions.
It might interest you...