Do You Have Dry Hair? Try This Great Natural Remedy
With the benefits of banana and the vitamins from lemon juice, this treatment helps your hair lock in moisture and encourages collagen production to strengthen your hair.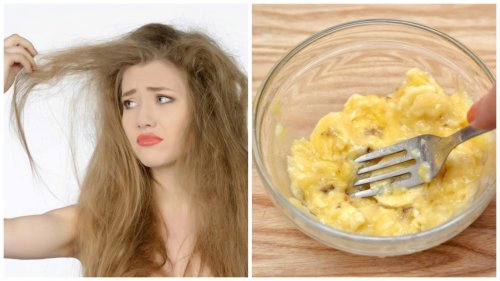 Do you have dry hair? Constant exposure to the sun, toxins in your environment, and the regular use of chemical products can all cause this. These are some of the factors that can cause excessive dryness in your scalp and hair.
Dry hair is very common among women. It starts when your hair follicles aren't able to absorb moisture and nutrients. Then, your hair starts getting weaker. You might notice this in the way your hair looks overall.
Excessive hair loss, split ends, and trouble growing hair are also related to this problem. This is especially true when you don't treat it correctly.
Fortunately, there are hundreds of moisturizing and revitalizing products that help to solve this problem. Plus, they keep your hair shiny, strong, and healthy.
The problem is that many of these tend to be very expensive. Plus, not everyone has enough money to get them on a continual basis.
However, there are also 100% natural options. The combination of their ingredients helps to hydrate and strengthen your hair without causing harmful side effects.
Among these options, there's an interesting treatment with banana and lemon that's perfect for controlling your hair's pH level. It also retains moisture in your roots.
Try it!
Banana and lemon hair treatment
This hair treatment with banana and lemon is a revitalizing treatment. It helps you to reduce hair damage to give your hair a shiny voluminous appearance.
It has proteins and essential amino acids that feed your scalp. This treatment helps your scalp retain moisture while stimulating growth.
The high number of antioxidants and vitamins fights cellular damage caused by free radicals. At the same time, it controls excessive hair loss and premature balding.
The benefits of bananas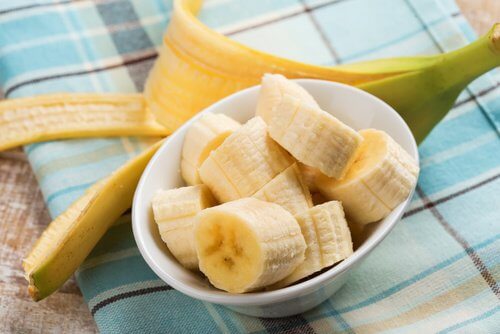 Bananas rich in vitamins, minerals, and antioxidant compounds. All of these substances have been used in multiple ways to get benefits for both your skin and your hair.
Its significant amount of vitamin A, C, and E has a repairing effect. This makes it ideal for fighting excessive hair loss and the appearance of split ends.
It has minerals like calcium, potassium, and iron. When your scalp and hair absorb them, they increase moisture retention.
Many people think that these are a good alternative to commercial conditioners. After all, they don't have aggressive chemicals. Also, using them externally leaves your hair smooth, untangled, and looking healthy. 
Besides, its compounds don't change the way your sweat glands function. Instead, they help them to make the right amount of natural oils.
The benefits of lemons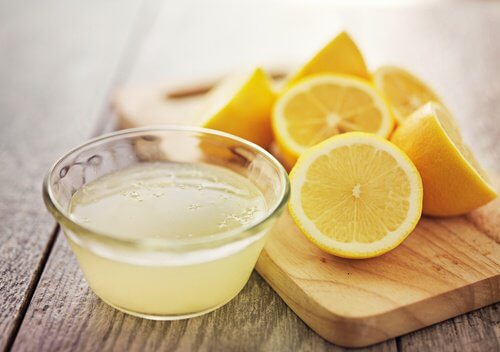 Lemon juice is used to control the excessive production of oil in your scalp. However, it also provides some interesting benefits for dry hair.
The high content of vitamin C and E promote moisture retention and increase your production of collagen. This gives you strong, long, and shiny hair.
It has antibacterial and anti-fungal effects. When you apply it to your scalp, it prevents skin infections and dandruff.
Its natural antioxidants protect you from damage caused by the sun and free radicals. This means it fights hair weakening and breakage.
How to make this banana and lemon hair treatment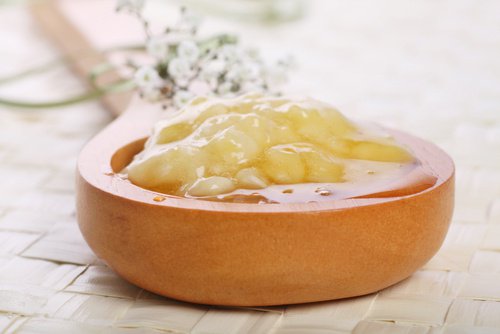 To increase the hydrating property of this home treatment, we recommend mixing bananas and lemon with a little bit of coconut oil.
Coconut oil is rich in essential fatty acids and antibacterial substances. This is important because these substances increase the effects of the treatment.
Ingredients
1 ripe banana
A lemon, juiced
1 tablespoon of coconut oil (optional)
Instructions
First, peel and mash the banana in a container with a fork.
After getting a thick paste, mix it with the lemon juice and the tablespoon of coconut oil.
Mix it until it's well incorporated. Make sure it has a creamy texture. This will make it easier to apply.
How to use
Moisten your hair. Separate it into several locks. Then, apply the treatment from the roots to the tips of your hair.
Cover your hair completely. Put a shower cap on and let it work for 30 to 45 minutes.
After this time, rinse it off with warm water and let your hair air dry.
Repeat this treatment two or three times per week.
As you'll start to notice, it's very easy to prepare a hydrating treatment to fight hair dryness.
Use it in your beauty routine. You'll see that you don't need to spend a lot to make you hair look strong and shiny.