5 Homemade Drinks that Will Detox Your Liver
In order for our liver to stay healthy and to function correctly, it's advisable to consume natural foods and drinks that help us purify and protect it.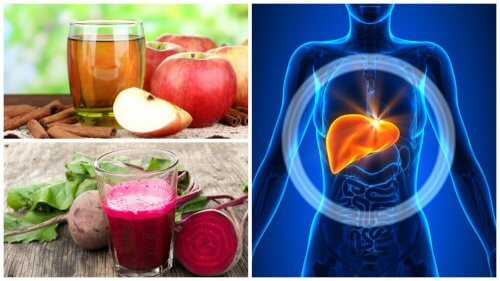 Many people don't realize how important it is to look after their liver in order to be in good health.
This organ is important because it carries out vital functions such as controlling our metabolism, cleansing our blood and digesting fats.
Furthermore, the liver also helps with plasmic protein synthesis, which is a process that is in charge of storing essential vitamins for the body.
Unfortunately, the problem is that being continuously exposed to environmental toxins  and unhealthy food can stop the liver from working optimally to keep the body cleansed.
As a consequence of this, we may develop various disorders that not only compromise our health, but also the health of other parts of our body.
Due to this scary fact, there are a growing number of people who detox their body regularly, which creates an impulse to eliminate waste and lets the liver get back to carrying out its vital processes.
Below you'll find five fully natural homemade drinks that protect the liver and help detox your liver.
1. Apple and lemon juice with a little bit of cinnamon
The antiseptic and detoxifying power of lemon combined with the purifying properties of cinnamon and apple come together to make this hydrating and hepatoprotectant drink.
It contains fiber and antioxidant substances that aid in the flushing out of toxins and waste in order to improve bodily vital functions.
Ingredients
2 apples
1 cinnamon stick
Lemon juice
1 liter of water
Method
Cut up the apples and remove their seeds.
Place the apple pieces in the blender and then pour in the water and lemon juice.
Blend all the ingredients together.
Pour the juice in a jug and then add the cinnamon stick,
Drink it throughout the day, for at least two weeks.
2. Strawberry, watermelon and rosemary water
This low calorie drink provides a great way to hydrate the body and reduce the presence of toxins in the body.
Moreover, it has a high concentration of antioxidants that protect us against free radicals and liver problems.
It also acts as a natural diuretic, ideal for eliminating excess liquids retained in the body.
Ingredients
1 cup of strawberries (170g)
2 watermelon slices
2 rosemary sticks
2 liters of water
Method
Put the strawberries in the blender and then add the watermelon and water.
Blend all of the ingredients together.
Pour the mixture into a large jug and add the two rosemary sticks.
Place the mixture in the fridge and drink it every four to six hours.
Drink it three times a week.
3. Beetroot and lemon juice to detox your liver
Beetroot contains betalains, which are powerful antioxidant and purifying substances. Eating these vegetables eliminates heavy metals from our body and reduces the risk of liver cancer.
In this case, we add to the positive effects of beetroot by adding lemon to this juice, to create an ideal drink against excess waste.
Ingredients
1 large beetroot
Lemon juice
1 glass of water (200ml)
Method
Cut the beetroot into several pieces and mix them in the blender with the water and lemon juice.
Serve it fresh and drink it on an empty stomach for seven consecutive days.
4. Watercress drinks
Watercress is known for its diuretic and purifying qualities, which facilitate the regulation of body liquids and decrease inflammation.
Furthermore, its properties improve blood filtration in order to remove toxins and excess lipids.
Watercress is also recommended for the treatment of high bilirubin, hepatitis and gallstones.
Ingredients
1 cup of watercress (50g)
Half a liter of water
Method
Wash the watercress and then cut it up (with or without the root).
Boil the half liter of water and when it comes to boil, remove it from the fire then add the watercress.
Let it stand for 10 minutes and then try a cup of it.
Drink it throughout the day and for three consecutive days.
5. Detox your liver with orange juice and ginger
Orange juice is a delicious detoxifying juice that can be drunk every day. However, in this case we're going to mix orange juice with ginger and olive oil in order to make a natural remedy to fight against liver problems.
The properties of this drink reduce inflammation and promote the elimination of waste substances from the body, in order to ward off chronic illnesses.
Ingredients
1 cup of natural orange juice (250ml)
1 teaspoon of fresh ginger (5g)
1 large spoonful of olive oil (16g)
Method
Pour all the ingredients into the blender and mix them together well.
Serve the drink straightaway and drink it for three consecutive days.
If you experience bloating or discomfort in your body, consider preparing some of these detoxifying drinks.
Remember that you should drink them by following the given recommendations above, and always supported with a diet low in fat and sugar.
Finally, avoid drinking several of these drinks at the same time because this could have counterproductive results.