Do You Know the Dangers of Stealthing?
Stealthing is when a man secretly removes a condom during sexual intercourse. Learn more about the dangers of stealthing in this interesting article!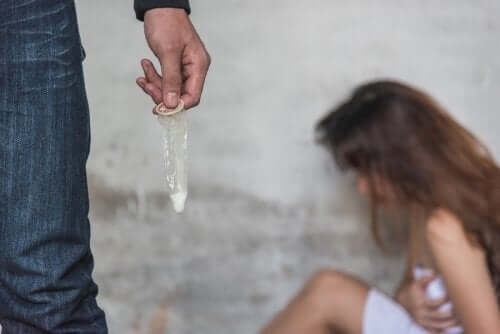 Do you know about the dangers of stealthing? If this is the first time you've heard about it, read on to discover the dangers it entails.
Nowadays, there are increasingly more scientific studies about sexual issues, in which experts have named certain sexual practices. The word stealthing refers to a terrible practice that can put a woman's life at risk.
What's stealthing?
The term stealthing refers to when a man removes a condom during intercourse in a non-consensual way.
In other words, the man removes the condom without their partner knowing it. Therefore, the word is appropriate, since stealthing means "secretly" or "stealthily".
If both partners have consented to having sex with a condom but the man removes it at some point without notifying his partner, then he's engaging in this dangerous practice.
Alexandra Brodsky, a prestigious lawyer, has conducted research on this topic. In fact, her study,  published in the Columbia Journal of Gender and Law, raised the alarm.
The intention of the lawyer was to raise awareness about this dangerous practice and to advocate for the creation of new laws to regulate it.
What are the dangers of stealthing?
Most of the men who do this are young. However, it shouldn't be taken lightly. In fact, the lawyer we mentioned above considers it a type of rape. This is because the woman doesn't give her consent. Thus, it's a violation of her rights and exposes her to many dangers.
Although this practice occurs in sexual relations between heterosexual couples, it can also occur in homosexual couples.
Experts believe that men decide to engage in stealthing for different reasons. For example, some men argue that they feel more pleasure when they don't use a condom.
Likewise, other men state that removing the condom without their partner noticing is an exciting challenge for them. However, other men do so because they want to get their partner pregnant without considering her opinion on the matter.
Therefore, even if the sexual relationship is consensual, if the man performs the practice of stealthing, he's committing a type of sexual abuse.
This stems from the fact that, although both partners agreed to certain conditions, the man failed to comply with them. This is because the victim believes that she's having protected sex, when this isn't really the case.
Know the real dangers of stealthing
This practice is really dangerous, since the woman could have an unwanted pregnancy or contract sexually transmitted diseases, such as syphilis, gonorrhea, or HIV. However, these aren't the only dangers. The victim of this type of sexual abuse also has to deal with other psychological aspects.
Stealthing is a real risk for women
When this study by lawyer Brodsky was published, many women felt identified and expressed having felt betrayed by their partners. This article also had quite an impact. In fact, stealthing has been classified as a type of rape in both California and Wisconsin.
In Germany, this practice became well-known due to a trial that went viral. The perpetrator was sentenced to almost a year in prison and also had to pay a large sum of money to the victim.
This trial was a milestone in the fight for women's rights, especially their sexual rights.
The laws of different countries could consider this practice a type of abuse or rape, even if the word stealthing isn't used as such.
It might interest you...