DIY Fashionable Reusable Grocery Bags
Help decrease trash in the landfills and save money by creating your own reusable grocery bags. They're very easy to make and perfect to tune up your creativity. You'll love them!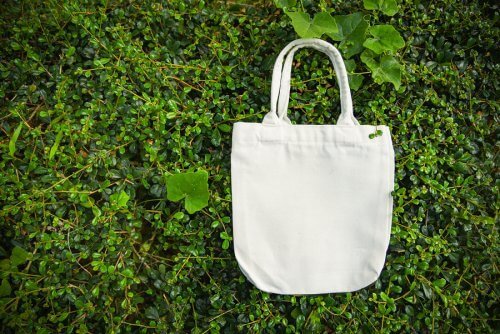 Making reusable grocery bags is a great way to do your part to decrease the trash that ends up in the landfills. Also, you won't just save money but will also walk around the street looking quite sharp and stylish!
Plus, making your own bag is the perfect opportunity to have a one of a kind item and personalize it with your own style.
Sewing a reusable grocery bag is not as difficult as you may think. You'll need some time, patience and a little skill. However, your bag will be so pretty that you'll want to start a new one after finishing the first one.
So, let's find out how it's done.
How to Make Reusable Grocery Bags
Currently, you don't just have to pay for the reusable grocery bags – most of them also end up in landfills. Therefore, reusable bags mean a considerable reduction in trash.
Today, we suggest you take it a step further and make your own reusable grocery bags so you won't have to buy them.
Materials
2 cloth napkins, anything you have lying around
2 thick straps
Printed fabric for decoration (as much as you need)
Paperboard
Needle and thread
Scissors
Chalk for marking fabric
Pencil
Pins
A sewing machine
Clothing iron
Decoration for Your Reusable Grocery Bags
First, cut a cardboard rectangle of 6 by 4.5 inches, or any other shape of your choice.
Next, place the cut cardboard shape on top of the printed fabric and use the chalk to trace the shape of the patch. This is the beginning of your decoration.
Calculate about an inch around it to finish it with a hem.
Then, iron the fabric patch, and press the hem (it'll be easier to sew).
Pin the fabric patch on one of the napkins, placing it where you like it the most. (be it in the center, in a corner, etc.)
Sew the patch in place with the help of the sewing machine. You can do it by hand if you prefer. However, the final sewing step of your reusable grocery bags should be done with a sewing machine in order for it to be more resistant. However, if you can do that by hand then go ahead.
The Bag
Once you have the patch in place, place the other napkin on top and pin both napkins together around three sides of the square.
Next, keep in mind the decoration should be in the middle of the two napkins and that you'll sew on the inside of what's to be a finished bag.
Then, sew the three sides of the napkins that you've secured in order to join them. Pay special attention to which side will be the opening of the bag so that the decoration looks the way you want it to.
In the lower corner of the bag, pin a corner triangle. Then, sew it to finish the base of the bag. Do the same to the other lower corner to sort of round it (as in the first picture in this article).
Finally, make a hem on top of the bag (the side that's open) and sew with your machine.
The Handles
Now it's time to attach the handles.
Cut two 12-inch straps. (You can make them longer if you wish. Just measure what you want and cut it to that length).
Pin the handles to the top of the bag.
Attach the handles forming a rectangle with the sewing machine and then finish them off with an X. That way, they'll be stronger and stable.
More Design Ideas
Using the above indications, you can make all kinds of reusable grocery bags in many different styles. All you have to do is let your imagination fly and soon you'll have many different models to take along to the grocery store.
Furthermore, you can use simple, thick white fabric and paint designs all over it. Actually, you can even turn it into family crafts day and let your children help you! You don't have to be Picasso to make a nice design on a bag.
You can also mix and match napkins of different colors or patterned fabrics or whatever else you can think of to get highly colorful and original styles.
Also, if you don't think you can paint, then write a funny or meaningful sentence. For this, you can use markers for fabric. It's easy and beautiful!
As you can see, making reusable grocery bags is not as difficult as you thought. Of course, make sure your sewing machine seams are very strong. In fact, test the bag before you take it to the supermarket to prevent unfortunate accidents.
It might interest you...