Discover the New Swimsuit Trends
Here we'll show you the new swimsuit trends for summer 2018. Don't miss out on them!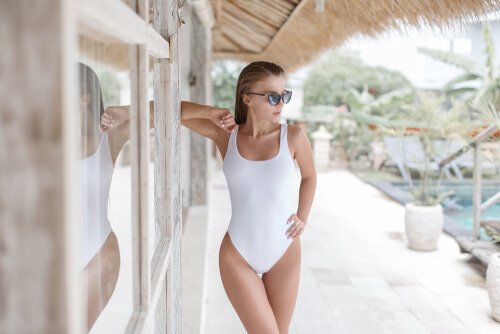 In 2018, the trend that will mark this summer in terms of swimsuits is undoubtedly the return of the nineties. Do you remember the famous television series Baywatch?
If so, you've already seen where the swimsuit trends inspiration came from.
Baywatch was a series that marked an entire generation and that heated up the beaches. Everyone copied the swimsuits that the actors had made famous for the simple reason that everyone wanted to feel just as attractive, fresh and, above all, sexy.
The trend for this summer brings back the sensuality of that decade with great elegance. The square cut neckline has been brought back and some interesting twists have been put on the rest of the suit.
In this article, we'll take a look at these twists.
2018 in swimsuit trends
Types of neckline
First, one-piece swimsuits are very in this season. 
This is especially true for those that have the so-called "infinite" neckline, which has that opening in the back that goes almost to the sides and that usually ends just above the point where the waist begins. This type of neckline is approximately 74 centimeters long and is accompanied by long armholes, approximately 25 centimeters, which help to accentuate the natural curves of any silhouette. So, the back is practically completely exposed.
One pieces have a very retro-looking cut around the legs. It's very Baywatch.
However, there are alternative versions that have semi-thread in the back and very deep V necklines. In fact, celebrities like Selena Gomez and Kylie Jenner have worn these styles a lot.
Meanwhile, others decide to keep the mystery and opt for a square neckline and show off only their back. The square neckline favors all female silhouettes and also helps to give off the illusion of a flat stomach. Now, the question is: Who wouldn't want that?
Of course, there are styles for all tastes. There's some with thin stripes, some criss-crosses or even frilly options. Now, the Baywatch one-piece turns into a "beach" princess' outfit. Some are more bold than others, but none of them can be overlooked.
The color palettes that are in:
Once again, the star colors for the most in pieces are nudes, as well as dusty rose and its different shades.
You will highlight your figure best in suits that are all the same color.
White is definitely a must when it comes to swimsuits for both the pool and on the beach.
Another very fashionable color is bubblegum pink, especially for girls who have a more playful and extroverted personality.
Black will always be the best option for when you don't want to take any risks; however, it won't be part of the "basic" colors for this season.
Prints and patterns are in
Of course, not all suits are one color. There will also some with different prints and patterns.
The sailor style will definitely be popular, but small polka dots will be the biggest trend. A polka-dot swimsuit with ruffles would be a great option because it will look very flirty and have a timeless air that will make you look awesome.
The jungle flora print will also be very in this summer. This is especially true for those in dusty rose, nude or white, because they will add a certain sweetness to the jungle leaf and flower design.
Personalized bathing suits will also be very popular, either with the name of the person or with certain phrases. This type of design pays homage to self-love and personality. Influencers and many other people won't even think twice before putting their name on a suit.
So, how should you accompany these suits?
It's very simple: sunglasses, of course. Since this accessory can also have a nineties touch, it'll be perfect. A lot of other accessories won't be used, so it is best to just wear your suit and sunglasses.
It might interest you...