Dietary Supplements to Promote Well-Being
Content created by Step To Health and sponsored by our partners.
6 minutes
Dietary supplements provide you with nutrients when your needs increase or you don't get enough of them through your diet. What are the best options? We'll take a look at some of them in this article!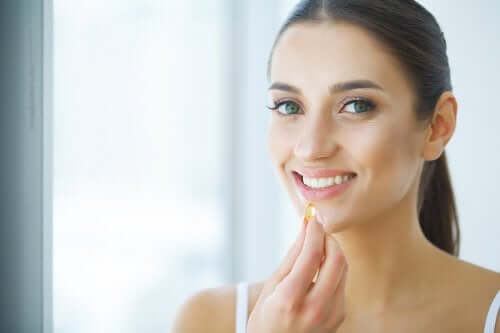 One of the keys to enjoying a good quality of life is good nutrition. The best way to do it on your own is by following a balanced diet that includes all the different nutrient groups. In addition, you can resort to dietary supplements occasionally. For example, when you're lacking nutrients in your diet or suffer a deficiency due to certain diseases.
Fortunately, experts have developed many formulas that concentrate nutrients and other food substances to help people meet their requirements when they're deficient. In fact, they're ideal to boost defenses. For example, this may occur during the winter, when we're susceptible to colds and other issues.
However, it's important to know how they work, when they're necessary, and what the most complete options on the market are. This way, you'll get the most of their properties and choose the best ones according to your needs.
Do you want to know more about them?
Keep reading!
How do dietary supplements work?
Dietary supplements are dietary products that provide you with nutrients when your needs increase or you don't get enough of them through your diet.
For example, they may include vitamins, minerals, proteins, amino acids, enzymes, or other nutritional substances. Also, they're usually available in capsules, tablets, or syrups.
As their name implies, their goal is to supplement the diet to avoid deficiencies that affect well-being. Therefore, you must understand that they aren't drugs and shouldn't be used to replace your diet or medical treatments.
The benefits of dietary supplements
Due to the modern lifestyle, many people find it difficult to follow a healthy and balanced diet. Also, factors such as stress, sedentary lifestyle, and sudden climate changes, among others, have increased the risk of diseases. Precisely due to these reasons, increasingly more people have been consuming them in recent years.
According to information from the National Institutes of Health, these types of products help you get enough essential nutrients when you have a deficiency for some reason.
As long as you take them responsibly and in adequate doses, they could help you stay healthy and avoid diseases.
For example, a meta-analysis from the National Osteoporosis Foundation states that the use of calcium plus vitamin D supplements can support bone health, reducing the risk of fractures in middle-aged to older adults.
For its part, as a study published in the journal Nutrients points out, vitamin B supplements can help reduce the risks of oxidative stress, birth defects, and neurodegenerative diseases.
Also, options such as gamma-Linolenic acid or GLA have been linked to certain cardiovascular health benefits.
These are just some of the benefits of dietary supplements. As we mentioned above, nowadays, you can find many different formulas that vary in their composition and properties, depending on the needs people need covered.
Which are the most recommended?
Let's take a look!
Dietary supplements for every need
As the use of dietary supplements has become increasingly popular in recent years, it can be a bit difficult to know what the most complete and safest options on the market are.
You're obviously going to find different options, qualities, and prices. However, when it comes to health and quality, the best option is Solgar dietary supplements.
Since Solgar created these supplements in 1947, they've stood out above the rest. With the help of experts, and taking the latest scientific and technological advances into account, Solgar has developed a wide range of dietary supplements for every need.
Thus, these products are adapted to people's food intolerances, as they're gluten- and allergen-free.
They also sell an innovative range of vegetarian products that are free of aromas, gelatin, or any other animal ingredient.
Of course, there are many other options. For example, supplements for women, children, and cardiovascular health, among others.
Solgar's immunity range
It's no secret that immune health greatly depends on the nutrients you get through your diet. Thus, when you eat a balanced diet rich in fruits and vegetables, you boost your defense mechanisms and reduce the risk of some infections and illnesses, such as common winter colds.
However, if you don't get enough nutrients through your diet, you can take dietary supplements that boost immunity. For example, vitamin C, vitamin D, or zinc, available in Solgar's immunity range.
Likewise, as a recent study published in the journal Nutrients states, live bacterial strains, in particular Lactobacillus plantarum HEAL9 and Lactobacillus paracasei 8700:2, can help support immune system functions.
But if you're looking for a more complete immune supplement, you should go for the new Ultibio Immune from Solgar, which is made up of these strains and vitamins A, B12 (cyanocobalamin), and D3. Also, they're gluten-free and suitable for vegetarians.
Solgar® Evening Primrose Oil
Without a doubt, including healthy fats in your diet is one of the best ways to supplement nutrition and promote health. This is why we decided to highlight Solgar's 1,300 mg Evening Primrose Oil, recognized for being a source of gamma-Linolenic acid.
Omega-6 polyunsaturated fatty acids or gamma-Linolenic acid (GLA) comes from the seeds of the flowers of a plant native to North America. According to studies, it plays a role in many inflammatory and immunological processes.
Therefore, this dietary supplement can help, among other things, to improve cardiovascular health and certain skin conditions.
Dietary supplements can support your diet
Dietary supplements can support your diet when you aren't getting the essential nutrients you need from your diet for some reason. Also, they can help manage problems associated with nutritional deficiencies and reduce the risk of some diseases. However, it's important to know how to choose the right option for your needs.
Likewise, you must opt for quality products, as they're safer and more beneficial. Remember that these products don't constitute a medical treatment nor substitute a balanced diet. If you have any questions, consult your doctor or nutritionist.
It might interest you...