Detox Treatments For Your Face
Your skin covers your entire body, and it's very important to take care of it. Learn how in this article!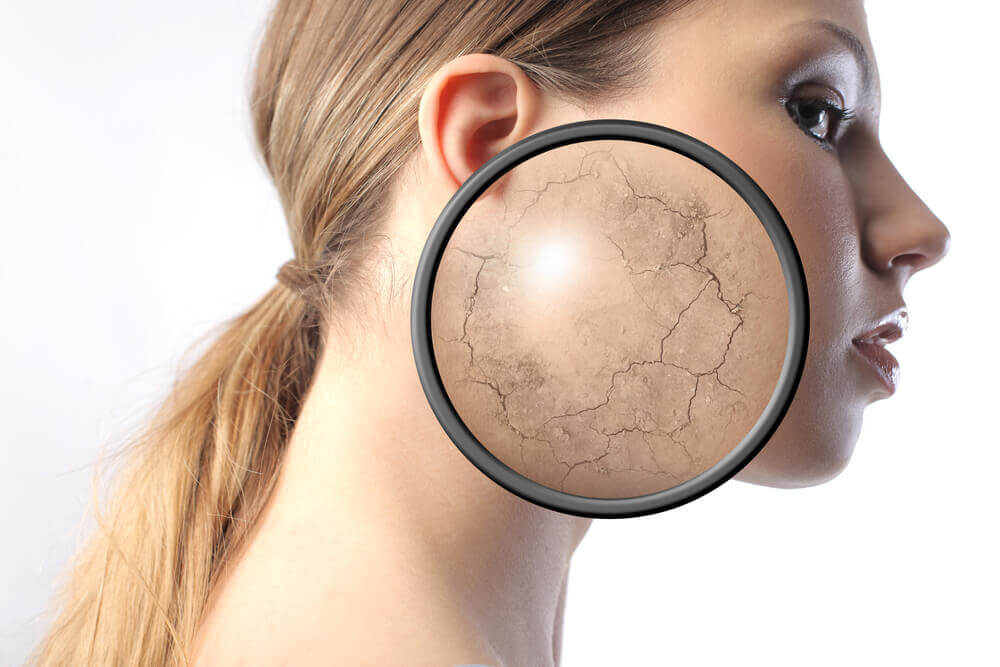 Have you ever tried detox treatments for your face?
Toxins can cause disorders, changes and reactions in the body. In other words, intoxication is a change in the body, which is unable to maintain the normal or ideal balance, and so manifests symptoms resulting from the harmful substance.
Thousands of chemical reactions happen in our bodies to maintain our internal balance and health. However, this balance is affected every day by external factors, like bacteria, solar radiation, environmental pollution and other toxic agents that constantly attack us.
Our skin can become contaminated, whether by substances from the environment or by beauty productions which block our pores. This is why it is recommended to cleanse your skin every night before going to bed.
Symptoms of intoxicated skin
The possible signs that our skin is intoxicated include:
Rigidity, caused by an increase in the number of dead cells in the skin, leaving a layer on the skin's surface that causes it to dry out.
Roughness, caused by dehydration due to toxins.
Flaky skin which arises when big flakes of skin come off and sometimes looks like a fine powder.
Itching is another result of toxins in the skin and is an impulsive reaction to the discomfort caused by rigid skin which does not fulfill its functions. The itching increases depending on the severity.
Why should we care for our skin and moisturize it?
The skin is the barrier that protects us from all sorts of external factors. So, it is important to look after it to ensure that it fulfills its functions properly. The benefits of caring for your skin correctly include:
Delayed appearance of wrinkles.
Brighter skin.
Looking less tired.
Softer skin.
For women, less damage from makeup.
Lower likelihood of damage by contaminants.
Natural detox treatments for your face
1. Natural honey and strawberry mask
Honey is a very effective and beneficial ingredient for the skin. Its high sugar content, containing substances like glucose and alpha-hydroxy acids, helps achieve fantastic exfoliation that leaves the skin revitalized and very soft.
It also acts to regenerate dead cells, and it isn't at all aggressive because, as well as exfoliating, it also hydrates the skin.
Strawberries are also excellent allies for whitening the skin and smoothing out skin tone. This is principally due to their salicylic acid content, which acts efficiently on dark spots resulting from sun exposure, age or hair removal.
You can reduce these kinds of dark spots and achieve lighter, more uniform skin tone.
Ingredients
2 tablespoons of honey (50 g)
10 strawberries
Preparation
Firstly, wash, peel and grind the strawberries.
When they are crushed, put them in a plastic container and add the 2 tablespoons of honey.
Stir well and leave the ingredients to combine for 15 minutes.
Wash your face well, apply the mixture and leave it to act for 1 hour.
After one hour, remove it and wash with plenty of cold water.
2. Yogurt and oat mask
Yogurt is a very beneficial food from both a nutritional and a health perspective.
One yogurt provides:
180 mg calcium
240 mg potassium
17 mg magnesium
vitamin A
B group vitamins, including vitamin B2, B12, folic acid and niacin.
Yogurt can work as an excellent natural exfoliant. In fact, it is ideal because it helps to cleanse the skin of dead cells, which tend to accumulate on the face and cause blackheads when they mix with sebum.
For their part, oats are an excellent source of fiber, magnesium, copper, iron and potassium, as well as providing antioxidants, which are ideal for caring for the skin.
Ingredients
Preparation
Pour the yogurt into a small plastic container.
Add the 2 tablespoons of oatmeal and mix well, until you have a uniform blend.
Apply the mixture to your whole face.
Leave it to act for one hour, avoiding the sun.
Finally, remove it and rinse with plenty of cold water.
Healthy, well cared-well skin always speaks for itself. That's why it's important to pay attention to it and moisturize it constantly to help it look younger for longer. Don't hesitate to try these incredible, simple, natural face mask recipes. You'll see how much they benefit your skin's health.
It might interest you...