Description, Characteristics and Uses of Pulmicort
Pulmicort is a drug that contains budesonide, a glucocorticoid with an anti-inflammatory effect. It depresses the immune system and changes metabolism, among other effects.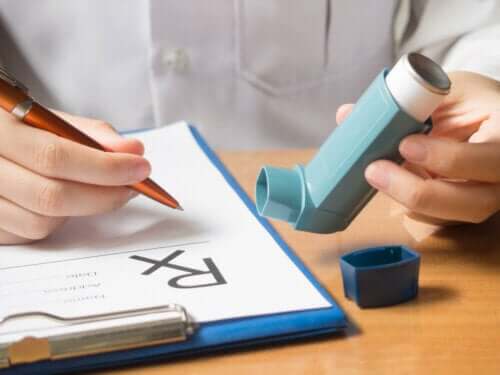 Pulmicort is a drug that contains budesonide and is administered by a metered-dose inhaler or nebulizer for maintenance and prophylactic treatment of asthma, including patients who require oral corticosteroids and those who may benefit from a systemic dose reduction. Budesonide is a corticosteroid drug marketed under different routes of administration, each indicated for different diseases.
In this case, Pulmicort is a form of inhalation administration indicated for maintenance treatment with glucocorticoids for the control of underlying inflammation of the airways in patients with bronchial asthma.
In other words, doctors prescribe it for the maintenance treatment of diseases with inflammation of the airways, such as asthma and chronic obstructive pulmonary disease (COPD), which we'll discuss later. It's also for the treatment of subglottic laryngitis that requires hospitalization.
However, you must take into account that this medication is only appropriate for acute asthma attacks when they've already started. Patients must use it regularly, as prescribed by their physician.
Furthermore, companies first marketed this active principle in 1981, even though the patent was already there in 1971. It was only available for the treatment of asthma when it first entered the market. It's now an active principle included in the list of essential medications of the World Health Organization (WHO).
Forms of administration of Pulmicort
Pulmicort is a budesonide preparation for administration via inhalation. However, as mentioned above, there are other routes of administration such as:
Oral route. This is a pill for the treatment of inflammatory bowel disease, Crohn's disease, ulcerative colitis, and microscopic colitis.
Nasal spray. This is for the treatment of allergic rhinitis and nasal polyposis.
Suppositories and other rectal forms. This one is also for the treatment of inflammatory bowel disease, Crohn's disease, ulcerative colitis, and microscopic colitis.
What's COPD?
The main characteristic of chronic obstructive pulmonary disease (COPD) is that it affects the flow of air from the lungs. It's usually due to long-term exposure to toxic particles such as those from smoking.
Patients with this disease are more likely to have other conditions such as heart disease, lung cancer, and others.
Symptoms don't usually appear until the disease is relatively advanced and has already produced significant damage. In addition, the symptoms usually worsen over time, especially if the patient smokes.
The most characteristic symptom is the daily cough and mucus production, others are:
Lack of energy
Pressure in the chest
Difficulty breathing
Infections in the respiratory tract
Wheezing when breathing
Mechanism of action of Pulmicort
As you already know, Pulmicort contains budesonide, which is a glucocorticoid. These drugs have a considerable anti-inflammatory effect, among many others, such as depression of the immune system or changes in metabolism.
The medication is effective against this type of disease due to said effects. In fact, it can have a potent local anti-inflammatory effect, as well as inhibiting the release of inflammatory mediators and the cytokine-mediated immune response.
However, we still don't know the mechanism of the anti-inflammatory activity of this drug on the nasal mucosa.
Glucocorticoids are natural hormones that prevent or suppress inflammation and immune responses when administered at pharmacological doses.
These effects happen in various cells such as mast cells, eosinophils, and lymphocytes, among others. Also in mediators involved in allergic and non-allergic inflammation mediated by histamine, eicosanoids, leukotrienes, and cytokines.
In short…
Pulmicort is a medication that contains budesonide. Doctors prescribe it for the regular treatment of airway diseases such as asthma or COPD. It's a nebulizer.
Like other steroids, long-term discontinuation of treatment with this drug should be gradual. There can be serious health consequences to those who suddenly stop the treatment.
It might interest you...