Description and Uses of Sandbox Therapy
Sandbox therapy is based on psychoanalytic theories and seeks to express unconscious conflicts through representations. Learn more in this article!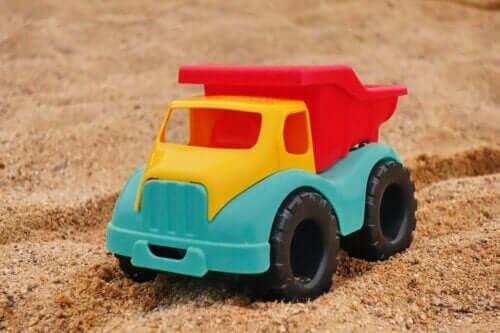 Sandbox therapy is a resource to complement any kind of psychological approach. This is because it allows therapists to learn about their patients' perceptions of the world around them. You may not be aware of it, but people are more expressive when they play.
The main idea of this type of therapy is to provide a person with a safe space (a sandbox) in which to act out the various situations of their life with the aid of miniature figures. Clearly, a therapist leads and monitors the process and also answers questions.
The history of sandbox therapy
The origin of this therapeutic model comes from an interaction between writer Herbert George Wells and his young children. On a certain occasion, he noticed his children were reenacting their daily conflicts through representations with figures.
Later, the child psychiatrist Margarita Lowenfeld used this technique in her therapy sessions to make it easier for the youngsters to express their problems. However, it wasn't until the 1950s when it became an official form of therapy.
Later, psychologist Dora M. Kalff finally established sandbox therapy as a way to make contact with the unconscious aspects of the patients, regardless of their age. Hence, the archetypes proposed by Carl G. Jung are the fundamental bases of this model.
In this framework, Jung's postulates regarding archetypal images (symbolic representations of the world) were part of it along with data from Margarita Lowenfeld's experience in child therapy.
The sandbox therapy procedure
To choose this therapy, the professional must have training in certain psychoanalytic notions. Mainly because it requires a complex interpretative process regarding the patient's interaction with the sand.
What the mental health professional does is provide symbolic elements in the sandbox, so that the person can use them to recreate their perceptions in a safe environment.
The therapist gives the instructions and then gives them space for free expression through the sand and the figures. However, it's always possible for them to intervene and ask specific questions.
The duration of the procedure varies according to the case. In any case, the patient might require the whole session to elaborate on the symbolic representations. Thus, the psychologist shouldn't rush them. They'll conduct all analyses and interpretations privately afterward.
How can it help?
This therapy is useful in many ways but helps people reach an epiphany. To begin with, the patient is in charge of the conflicts in their life and shapes and organizes them hierarchically.
Based on the above, this process is an insightful exercise for those who carry it out. For example, difficult family relationships begin to unravel in the sand. As a result of the therapy, people become aware of some things that remained in their unconscious.
Evidently, it isn't enough to just represent reality using symbols. As one can infer, the psychologist must enable their patient to confront the representations by employing conversational techniques during therapy.
Does sandbox therapy really work?
The effectiveness of this therapy has been questioned, as have psychoanalytic methods in general. This is because only the resources most commonly employed in conventional psychological therapies tend to have scientific validity. For example, cognitive-behavioral methods.
The lack of scientific validity significantly limits the treatments of psychoanalysis, including sandbox therapy. In this respect, it might work for some people, just as there might be situations in which it isn't productive at all.
In any case, one could say the results of this therapy are anecdotal. However, it'll largely depend on the knowledge and experience of the therapist. The quality of their training can either increase or diminish the chances of success.
Sandbox therapy for adults
Contrary to popular belief, play therapy can be effective for adults. Sandbox therapy is suitable for people of all ages. Sandbox representations tend to be more abstract in older patients when compared to children's.
This is because adults have developed abstract thinking and have incorporated more archetypes into their belief systems. In turn, children tend to focus only on the basic archetypes of childhood: mother, father, grandparents, other relatives, teachers, and classmates.
In this respect, adults not only deal with basic archetypes but also subtly introduce other characters to the scene. Such is the case of lovers, common archetypes in adults. This is why the therapist must be a bit skeptical when applying this therapy to adults.
In which cases is this therapy most effective?
This therapeutic modality is a good alternative when people demonstrate significant difficulty in expressing themselves through speech. An example could be a case of sexual abuse because the victim is unable to relate the events effectively due to the intensity of the trauma.
However, as mentioned above, the therapist needs to have training in this modality. This is because knowing how to interpret the process and accompany the patient is key.
It might interest you...