Delicious Tres Leches Cake Recipe
Although you could also used store-bought cake as a base, the result will be better if you make it yourself. We'll show you a tres leches cake recipe.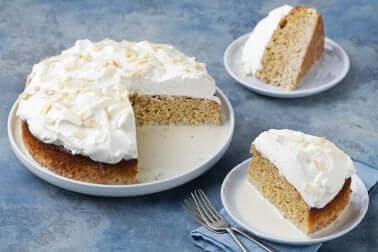 Latin America is a region with lots of different cultures, art, and types of food. Without a doubt, it has some great recipes, like the one we're about to show you. In fact, it's a combination of sponge cake, meringue, cream, and dairy. Today, you'll learn step by step how to make a delicious tres leches cake, that's as beautiful as it is delicious.
Learn how to make a delicious tres leches cake dessert step by step
Something great about this recipe is that there's a good mix between salty, neutral and sweet ingredients to create a really surprising result.
In general, cakes, tarts and biscuits usually have a smooth shape and texture. However, with a tres leches cake, this isn't true. This is because the surface is soaked in sweet milk and has a unique and sweet taste.
When you try it, your palate is sure to experience some really pleasant sensations. On one hand, you can feel the density of the cake, with all its fluffiness and classic texture. However, on the other, you'll feel that sweet and subtle flavor that only cow's milk (and other ingredients) can make possible.
In addition, something that the tres leches cake offers you is that, when you invite friends or family over to try it, they'll be completely amazed.
However, you'll need to keep something in mind to do it correctly. Remember, if you use too much of the condensed milk, evaporated milk or cream mixture, you'll ruin the spongy texture of the dessert. However, don't worry, we'll show you exactly what to do. Take note!
Ingredients
6 eggs
2 cups of all-purpose wheat flour (240 g)
1 cup of water (250 ml)
1 tablespoon of baking powder (15 g)
2 tablespoons of vanilla (30 ml)
1 can of condensed milk (370 g)
1 can of cream (290 g)
1/2 can of evaporated milk (180 ml)
2 cups of sugar
Preparation
First, you need to preheat the oven to 350ºF.
Then, grease a glass baking dish and set it aside.
Now, beat the eggs with the sugar.
In a deep bowl, add all-purpose wheat flour, water, vanilla and baking powder.
Then, mix everything until you have a nice thick, traditional cake batter.
Next, pour the contents into the greased baking dish.
Put the mixture in the oven and bake for about 25 minutes. You'll know it's ready when you insert a toothpick and it comes out clean.
Once you take the cake out of the oven, let it cool.
Then, pour all three types of milk on the cake once it's at room temperature.
Finally, repeat this step until it absorbs the liquids and gets the classic appearance of a tres leches cake.
Preferably, refrigerate the cake and eat it cold.
Instructions for the tres leches cake topping
You should start with this part once you finished the recipe for the main cake. It's important to follow it carefully. Tres leches cake just won't be the same without this delicious topping!
Ingredients
4 egg whites
1/2 cup of sugar (100 g)
1/2 tablespoon of lemon juice (8 ml)
1 pinch of ground cinnamon (optional)
Preparation
Remember that this is the part that gives this dessert a unique flavor. In fact, it's a very simple meringue to make to top your finished cake.
Start by pouring the egg whites into a bowl. Using a whisk, beat them until they are foamy.
Then, slowly add the sugar until fully integrated.
Then, pour in the lemon juice and continue beating for a few more minutes.
However, don't overdo it with the lemon juice. Otherwise, it could damage the flavor of the meringue.
Finally, place the mixture in a pastry bag and decorate the surface of your tres leches cake. If you want, add ground cinnamon to the top.
It might interest you...