Try This Delicious Homemade Cuban Sandwich Recipe
Pork is a very delicious meat. It doesn't require a lot of preparation to taste amazing and it's also considered the secret to the perfect Cuban sandwich!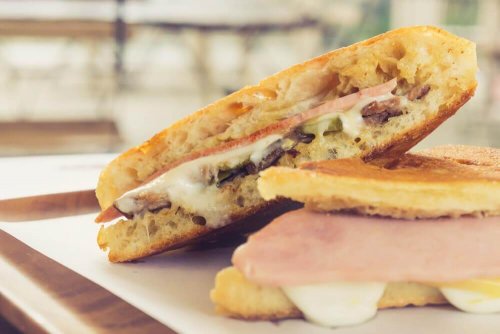 The Cuban sandwich is known worldwide for being a juicy and delicious preparation. Since it's easy to make, no one will have a hard time with it!
This appetizer originated in Cuba, but it became popular in the United State. Nowadays, it's very common to see different varieties in all kinds of food trucks or fast food places.
The secret is in the sauce and sandwich maker, where all the flavors come together. Fortunately, it takes no more than 20 minutes to make and the ingredients it requires are cheap.
Cuban Sandwich Recipe
Ingredients
5 slices of pork
1 loaf of bread
4 slices of yellow cheddar cheese
4 slices of ham
3 or 4 pickled cucumbers
Mustard
Butter
Pepper
Salt
Cuban Sandwich Preparation
Add some oil and butter to a frying pan so the pork doesn't stick. Then, roast the pork on both sides. While it's cooking, season it with some salt and pepper.
Cut the loaf of bread and add mustard on both sides.
On the loaf of bread, place the slices of pork, cheddar cheese, ham, and slices of pickled cucumbers.
Finally, toast the bread in a sandwich maker for a few minutes until it's well browned. You'll know it's ready when the cheese is melted and protrudes from the edges.
Remove from the sandwich maker and cut it in half. You can accompany it with a delicious juice.
Another Cuban Sandwich Recipe
This sandwich became famous in the United States a long time ago. Over time, the recipe has been modified in some ways. This is why we've decided to show you another way to make it.
Ingredients
1 loaf of bread
8 slices of salami
5 slices of Swiss cheese (80 g)
6 slices of Serrano ham
3 slices of pork (60 g)
Cherry tomatoes
Mustard
Mayonnaise
Olive oil
Salt
Pepper
Preparation
Like in the previous recipe, you have to cut the loaf and cook the slices of pork.
Then, slice the cherry tomatoes. Add a tablespoon of olive oil and salt and pepper to taste and set aside.
In addition to adding mustard, add as much mayonnaise as you like. You can choose classic mayonnaise or another kind, such as parsley or garlic mayonnaise.
Add the slices of pork, cheese, Salami, Serrano ham, and tomato slices. Put the sandwich in the sandwich maker.
The sandwich is ready when the cheese melts. Accompany it with your favorite drink!
The Benefits of Pork
Not everyone knows that pork is a very healthy white meat due to the fact that it's a significant source of protein. It's rich in vitamins such as B6, B12, and niacin, among others. Furthermore, it contains a variety of minerals that help the organs function as they should: zinc, phosphorus, magnesium, and potassium.
Doctors recommended that children should consume this meat during their development, especially because it helps build tissues. Moreover, its thiamine content helps keep you active. In turn, it improves digestion and keeps the immune system healthy.
Nevertheless, always remember that excessive consumption of pork products could lead to an excess of saturated fats. However, this will depend on how it's cooked, as pork normally contains 2.4 grams of fat.
Pork is a very delicious meat. It doesn't require a lot of preparation to taste amazing and it's also considered the secret to the perfect Cuban sandwich!
It might interest you...