Delicious Broccoli Recipes
Broccoli is an a great side dish for all types of entrees, since it has almost no fat and is rich in Vitamin C and protein.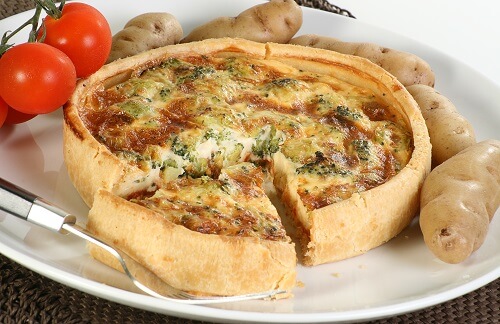 Here are some delicious broccoli recipes so you and your family can eat a healthy diet every day. You don't want to miss this!
Broccoli is one of the most protein-packed vegetables out there. It goes great with any kind of dish and always tastes amazing. It also has a lot of Vitamin C as well as antioxidants. Besides all that, it doesn't have a lot of fat, making it an excellent choice if you're on a diet. Take a look at these delicious broccoli recipes.
Garlic broccoli with mushrooms – one of our simplest broccoli recipes
This recipe is very easy to prepare and can serve as either the main entrée or as a side dish for chicken or meat. The ingredients are:
3 heads of broccoli
2 teaspoons of butter
1 cup of mushrooms, sliced
3 cloves of garlic
salt
ground black pepper
First wash and cut the broccoli. Cut the garlic into small pieces. Melt the butter in a frying pan, and add the garlic and then the broccoli. After, add the mushrooms, salt, and pepper, and cover it to cooking for about 10 minutes. Take it off the heat and remove the cover, and let it sit for another 5 minutes (or until the broccoli is well cooked). Serve hot. If you want to, you can grate parmesan cheese over the top and let it melt.
Broccoli, cauliflower, and potato stir-fry
This recipe is very good for cold days, because it doesn't only warm you up, but it also gives you a bunch of vitamins while also filling you up. The ingredients for five servings are:
1 head of broccoli
1 head of cauliflower
5 potatoes
Cut all of the vegetables into similar-sized pieces and put them into a frying pan along with some butter. Fry hem until they are tender. Afterwards, add a little bit more butter on top (but just a little) until it melts. You can also add grated parmesan cheese. For seasoning, we recommend nutmeg and cumin.
Broccoli in chickpea sauce
If you have the different ingredients, this member of our broccoli recipes is simple to make, and, even better, it's an interesting way to eat something different once in a while. The nutrients from both the broccoli and the chickpeas combine to become a "super entrée". The ingredients that you'll need are:
1/2 cup of cooked chickpeas
4 cups of broccoli
1/4 of natural yogurt
2 cloves of garlic
1 teaspoon of olive oil
1 teaspoon of lemon juice
1/4 teaspoon of ground cumin
1/4 teaspoon of cayenne pepper
Salt, to taste
In a blender or food processor, blend the chickpeas, yogurt, oil, lemon juice, spices, garlic, and salt until they are the consistency of a paste or sauce. Cut the broccoli into florets and cook in a saucepan. When they are tender, drain them and put them into a bowl. Pour the sauce over the broccoli and it's ready to eat. You could mix the two things together or leave the sauce on top.
Broccoli vinaigrette with cheese and corn
This entry on our list of broccoli recipes could be a whole entree or an excellent way to avoid eating unhealthy foods between meals (such as sugary snacks). The necessary ingredients are:
2 tablespoons of olive oil
1 bunch of broccoli
1 cup of corn kernels
1/4 cup of white vinegar
1/2 pound of gouda cheese
Salt
Boil the broccoli for 10 minutes with a little bit of salt, drain them, and set them aside. Mix the vinegar, olive oil, and salt in a small bowl. Pour the sauce on top of the broccoli and cook the gouda until it melts. Add the gouda and corn, and serve.
It might interest you...