Try This Lactose and Gluten-Free Bread Made of Oats, Walnuts, and Bananas
Treat yourself to a completely natural product without any conservatives. It is recommended that you eat this homemade bread 4 to 5 days after making it so it doesn't go bad.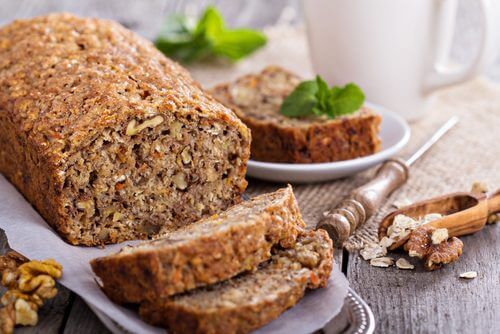 Throughout the course of history, bread has been the staple of nutrition in many different countries. 
However, in the last decade or so it has been criticized for containing too many calories and significantly contributing to obesity.
Luckily for you, nowadays there are many healthier varieties of bread that are coming out, such as this bread made from oats, banana, and nuts. These healthier varieties show us that bread can also be a nutritional and healthy food choice.
In this article, you'll learn the recipe for this delicious bread made of oats that doesn't contain lactose or gluten, so it's fit for all consumers. Plus, you'll also learn about its great health properties.
Bread, the Debate
Bread is not inherently bad for your health. It depends on the ingredients that are in the bread and the quantity of bread that you are consuming.
Overall, it's a food that is rich in carbohydrates. These are the fundamental building blocks of our bodies and are an excellent source of energy.
Regardless of this fact, if we consume excessive amounts of bread, it can cause us to gain a lot of weight.
In conclusion, bread that's prepared with healthy and quality ingredients is the ideal complement to a healthy breakfast or to accompany any meal.
Also, we must be wary of some breads that are made in a factory with a very poor quality flour. Factories produce it with yeast that can cause abdominal swelling after consuming it. Also, they make it with a large quantity of additives that makes the bread take on a rubbery texture. Thus, it becomes inedible in a short amount of time.
Due to this problem with industrial bread, many breadmakers have decided to revert to the old bread recipes that they make during the night, with patience, and with an artisan's touch. They have also decided to use higher qualities of flour such as spelt, rye, or buckwheat.
Don't oats have gluten?
The base for this particular bread is ground oats or powdered oats. This carbohydrate is very nutritious and has a high protein and fiber content.
Furthermore, it's very beneficial for digestion and helps curve our desire to eat more by helping us feel full.
Oats don't contain naturally occurring gluten. However, on many occasions they're processed together with the wheat, which contaminates it. In these cases, it can be quite dangerous for those who are celiacs.
If you have this problem, you should verify that the oats that you buy specify that they are in fact gluten free. Also, when you choose your yeast, check to ensure that it's also gluten free.
Oat, banana, and walnut bread
The bread depicted above isn't only very healthy, but also is very easy to make. It doesn't require any type of kneading process.
Ingredients:
2 eggs
1/2 cup of extra virgin olive oil (100 grams)
2 cups of water (500 ml)
1 tablespoon of sugar (10 grams)
2 cups of fine ground oats (260 grams)
2 ripe bananas
1 cup of chopped walnuts (150 grams)
1 packet of dry yeast  (12 grams)
Preparation:
The advantage of this bread is that it you don't need to knead it and you can do it quickly and simply with the help of an egg beater.
First, mix the two eggs with the beater.
Then, add the oil and continue mixing the eggs.
Add the water, the bananas, the sugar, and then mix it well again.
If the surrounding temperature is hot, use lukewarm water. If you're cooking in a colder environment, use hot water.
Gradually add the oats as you mix the ingredients so that they're consistent and you don't see clumps of oats everywhere.
When you have sufficiently mixed it and everything is consistent, add the dry yeast and again mix the ingredients.
When the yeast is completely mixed in, add the chopped walnuts and return to mixing the dough.
Then, take the dough and let it sit for 30 minutes in the refrigerator. This is so the bread can have time to rise. The hot dough and cold temperature cause rising.
While the yeast is reacting, preheat the oven to 350 degrees Fahrenheit.
After the thirty minutes have past, the dough should have risen substantially. Place it in a bread tin and put it in the oven for 50 minutes and let it bake.
After forty minutes have passed, check the bread with a knife to see if it is finished. Due to the difference in sizes of bread tins and other variables, it can take less time or longer.
Wait until the bread is suitably ready according to your tastes. Then, take it out of the oven and let it cool off for a bit.
We recommend that you keep it in a fresh and dry environment. Eat it within 4 to 5 days after making it. It's homemade bread and free of conservatives, so it's best to consume it quickly.
It might interest you...