This Delicious Banana and Turmeric Smoothie to Cleanses Your Liver
The combination of banana and turmeric makes a powerful mix. Not only does it improve your liver health, it can be very useful for calming anxiety. Try it!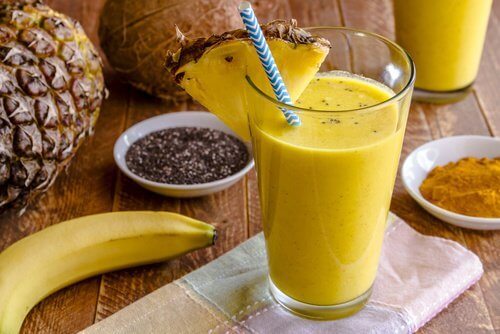 Your liver is the largest internal organ in your body. It's also one of the most important organs for your health.
It is involved in more than 500 of the processes of the body. These include cleaning the blood, synthesizing enzymes and proteins, aiding your metabolism and hormone secretion.
Its constant work enables us to get rid of excess toxins and fats, so it's key to the prevention of a wide range of illnesses.
However, certain factors can cause difficulties and health problems.
This directly affects other vital organs. Plus, if it isn't controlled, it can lead to the development of serious diseases.
That's why essential for everyone to understand the importance of cleansing your liver regularly. You can do this simply by complementing your diet with foods that stimulate its cleansing process.
To this end, in this article we want to share the recipe for a delicious banana and turmeric smoothie. It favors your liver health when you drink it regularly.
Enjoy!
Banana and turmeric smoothie
This banana and turmeric smoothie is a delicious drink that you can drink as a complement to promote the detoxification of the liver.
The benefits of bananas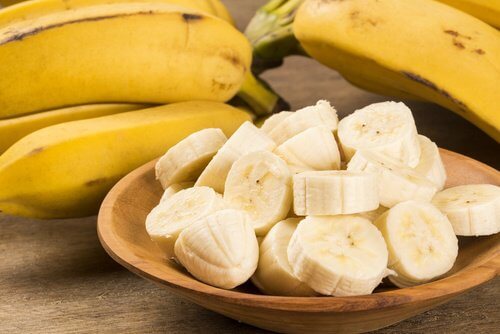 Bananas have a high nutritional value.While they are one of the most calorific fruits, they are also one of the best for our health.
They contain 90 calories per 100 grams, which shows that they are one of the best natural energizers.
They also contain natural sugars, minerals and antioxidants like beta-carotene.
They've stood out for centuries as one of the best sources of potassium, although they also provide magnesium and iron.
They have a gentle laxative and diuretic effect. This supports your body's detoxification process, because it facilitates the elimination of excess liquids and toxins.
They are also ideal for all types of diets, given that eating them helps to reduce cravings.
The benefits of turmeric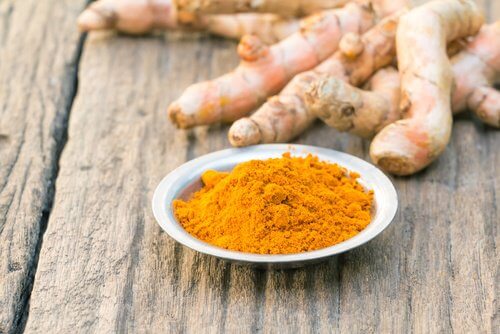 Turmeric, also known as "Indian saffron", is one of the best foods for liver health.
Its main active ingredient, curcumin, gives it powerful anti-inflammatory and antioxidant properties that make it very beneficial for the process of eliminating toxins.
This neutralizes the negative effect of free radicals, prevents cellular damage and even reduces the risk of suffering from several types of tumors.
It also acts as a stimulant for the body's natural enzymes. This makes it ideal for improving the metabolism of fats and proteins.
In fact, it's effects have also been related to the prevention of cognitive illnesses since it benefits the health of your brain and nervous system, among other things.
How to make this banana and turmeric smoothie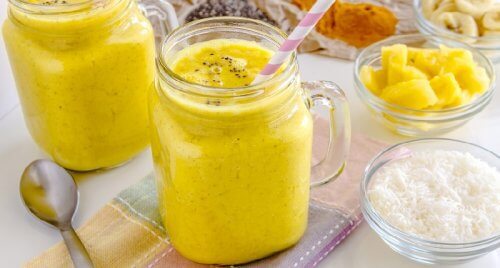 This banana and turmeric smoothie is an exotic tasting drink that you can enjoy when you're feeling anxious or as part of a liver detoxification plan.
Together with these two ingredients, we combine coconut milk, pineapple and other healthy additions that strengthen its cleansing effects.
That said, it is worth clarifying that you should drink it in moderation, only once a day, because its calorie count is significant.
Ingredients
1 cup of coconut milk (250 ml)
2 slices of pineapple
3 frozen bananas
2 tablespoons of coconut oil (30 g)
1 teaspoon of turmeric (5 g)
1/2 teaspoon of ginger (2 g)
1 teaspoon of chia seeds (5 g)
Preparation
Cut the pineapple slices and bananas into cubes.
Put them in the blender and mix them with the coconut milk.
Then, add the coconut oil, turmeric and ginger.
Blend it all for a few moments, until you have a creamy and uniform drink.
Drink it straight away to get the most out of its concentrated properties.
Did you enjoy this recipe? We recommend making it in the morning to give your body a boost of energy.
Make this several times a month and enjoy its benefits for the health of your liver and other systems.