Delicious Baked Orange and Rosemary Chicken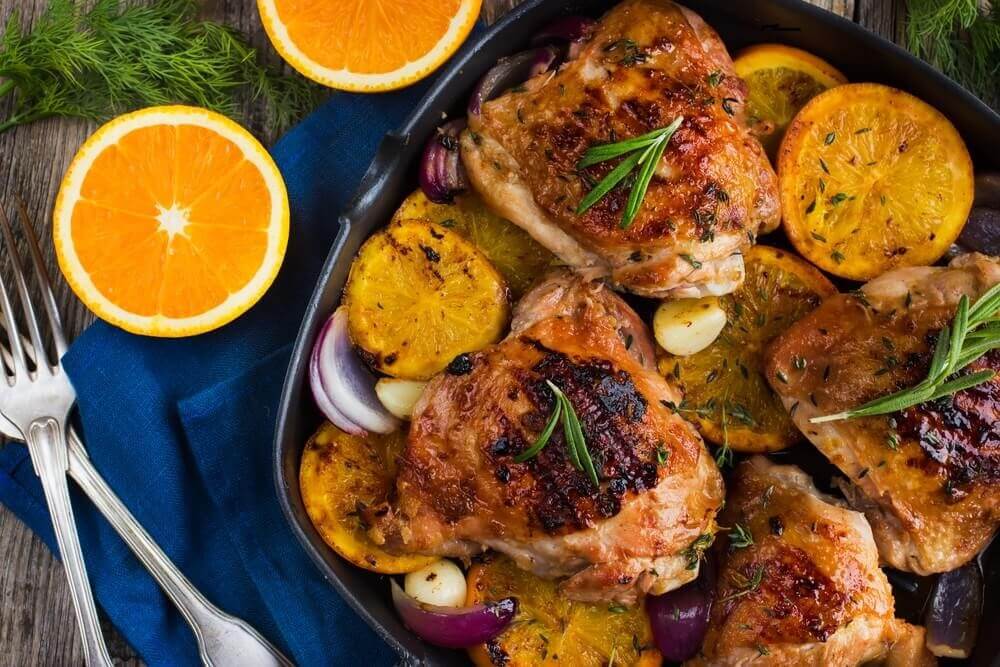 This baked orange and rosemary chicken is a different and delicious way to eat this nutritious meat without having to get bored of the same old recipes.
It's time to add new recipes to your cookbook because everyone gets bored of eating the same old things time on a regular basis. So, go ahead and learn how to make this This is why we decided to share this delicious baked orange and rosemary chicken recipe. This delicious chicken recipe has the aroma and flavor of rosemary that go great with the citric flavor from oranges.
It's quite normal for all chicken recipes to taste the same after long hours of preparation, cooking, and endless steps. However, this won't happen at all with this recipe! The recipe is very simple and you can always change it up a bit if you want. You can try to add some sort of hot spice or marinate to the meat before cooking.
Everything will depend on your ideas and creativity when preparing baked orange and rosemary chicken. By the way, most likely you have some doubts about using rosemary.
It's traditionally used in meats, pastas, and pizzas, but it can also be used in stews and to season chicken. It gives it a delicious smell and flavor.
Don't think twice about trying try this recipe because you can always change it up and use garlic and curry to send your taste buds on a wild flavorful ride.
How to make baked orange and rosemary chicken
Why should you use this method?
Although every culture and home eats differently, changing things up and making different recipes is really important. Not only due to gaining knowledge, but because you learn new techniques to make special dishes.
This is exactly why you should learn how to make this baked orange and rosemary chicken recipe. Combining the citric orange flavor with salty seasonings, and the refreshing and aromatic touch of rosemary could be risky.
The truth is that, perhaps without being aware of it, you consume a lot of calories in only one meal. So, with recipe, you will end up consuming elements such as such as vitamin C and benefit from the medicinal effects of rosemary.
It's a good idea to stop and think about a lot of factors. You shouldn't only consider variety, but also the quality of the foods you eat.  Almost no one seems to take this issue seriously.
Ingredients
2 skinless whole chickens (about 2 kilos)
3 large onions
4 peeled garlic cloves
2 ½ cups of orange juice (640 ml)
3 tablespoons of ground rosemary (45 g)
¾ cups of olive oil (150 ml)
3 tablespoons of salt (45 g)
3 tablespoons of ground black pepper (45 g)
Instructions
The most important thing in this recipe is concentrating on the seasonings.
First, dice the onions very well (in about 2 cm pieces). You can use a cutting board to get the right measurements.
Then, do the same thing with the garlic and place everything inside a medium bowl with the oil, some grated orange peel, black pepper, and rosemary.
Afterwards, mix everything well and let it sit.
Then, cover the chicken with the mixture. Pay attention to detail. You have to try to cover both chickens as best as you can.
Put them in the freezer for 40 to 60 minutes. This will make the seasonings come to together better.
Once the time is up, take them out of the freezer and add more seasoning if you want.
Finally, preheat the oven to 180°C. Put the chickens on a baking pan and bake for 30 minutes. Open the oven, flip them over, and bake for another 30 minutes.
Take them out of the oven when they're golden brown, let them cool, and enjoy!
It might interest you...