Decorating with Burlap: 5 Tips for Your Home
The rough texture of burlap lets us make different decorations with a rustic touch. Do you want to incorporate this element in your home? Discover these 5 interesting DIY ideas!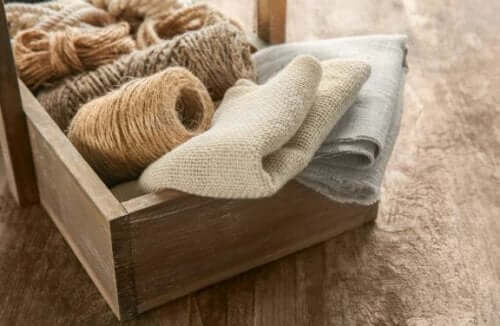 Decorating with burlap has become a trend among lovers of the rustic look. Due to the look and feel of this material, many have decided to incorporate it in areas such as terraces, living rooms, or gardens, among others. Do you want to know how it can become a great addition to your home?
Burlap is a type of textile that's obtained from the natural fibers of hemp or jute. It's a resistant material that stands out because of its thick and rough texture. Although it was used to make sacks for storing goods for many years, today it's an excellent resource for decorating. Keep reading to discover some helpful tips.
Decorating with burlap: 5 ideas for your home
Burlap is a cheap material you can use in many ways when decorating the home. Because of its characteristic texture and color, it can be used to upholster furniture, cushions and other accessories to decorate interior and exterior spaces.
Although initially burlap decorations were exclusive to country houses or rustic styles, little by little its use spread to other types of environments: Nordic style, vintage or shabby chic, among others. Are you interested in adding it to your home? Let's do it!
1. Upholstering furniture and armchairs
To make the most of decorating with burlap in areas such as living rooms, gardens and terraces, you can upholster furniture and armchairs with this material. Its color and texture adds a minimalist and vintage touch to these types of spaces. Keep in mind that the texture will be a little rough.
When upholstering the furniture with this material, make sure you adjust it very well, as this leaves a better finish and prevents the material from deteriorating before time.
If you wish, use the burlap to make decorative cushions to put on the furniture.
2. Organizer
Do you want a rustic touch in the bedroom, kitchen or study room? Then jot down this easy decoration idea you can do with burlap. You can make an organizer with several compartments to store small objects. Even if you make big pockets, you can use it to organize your shoes.
Take an old burlap sack, cut it to the desired shape and sew several pockets or compartments.
Decorative accessories are up to you: embroidery, ribbons, paint, etc.
3. Cutlery holder
Cutlery holders are usually used on special occasions such as family meetings or celebrations. To make them without spending too much money, you can choose this burlap alternative. They're very easy to make and require few materials.
Cut a burlap sack in several parts to the size you prefer.
Then sew them together to form a small sack.
Lastly, decorate it to your liking and place the cutlery inside.
4. Indoor lamps with burlap decoration
Is your bedroom rustic style? Do you want to give your office a more vintage look? Wherever you have a lamp, you can make this easy burlap decoration. This porous fabric is ideal for creating peaceful and romantic environments. It also lends itself to a variety of designs.
If you have a lamp at home, spice it up by covering its external part with burlap.
To make a lamp from scratch, acquire the assembly and use the burlap to give it the shape you like best.
5. Pots for plants
The overall look and feel of this material is ideal for making beautiful pots for plants. Why? First of all, its texture and color give a very interesting style in the garden. In addition, since it's a porous fabric, it's perfect to facilitate the absorption and filtration of humidity.
To make this decoration when cultivating: fill a bag with soil if the plant is of a considerable size.
If the plant is small, cut the bag into several parts and sew it into smaller bags. Fill them with soil and do the sowing.
About decorating with burlap
Decorating with burlap is an economic way to give your house a more rural air to. You can get this material by recycling storage bags or buying it in textile stores. You must remember to combine it with other decorative elements to have a cozy and elegant atmosphere with the desired style.
It might interest you...