A Crick in the Neck: 5 Tips that Will Help
Do you get cricks in your neck? To relieve contractions in this muscle, you need to first rest the area and then combine cold-hot therapies to reduce pain and inflammation.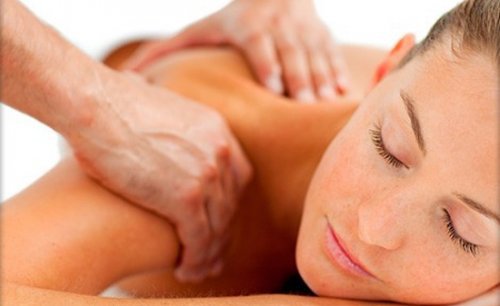 A trapezius contracture, or a crick in the neck, is more common than you think. It's an annoying, disabling condition that appears when you least expect it.
It is defined as having a stiff neck or muscle pain. Usually accompanied by this, people with a crick in their neck cant move their head to one side or the other.
Factors like leading a sedentary lifestyle, working at a computer, spinal problems, and even osteoarthritis can almost always generate strain in this very specific area.
The trapezius is a fairly large muscle located at the base of your neck and skull, which extends down to the shoulders.
Sometimes, just reaching for something on the ground can cause it to pull. Meanwhile, simply breathing can trigger the burning and painful feeling.
If you've experienced this before, consult with a good physiotherapist and follow these simple tips at home.
1. Rest
Whether you like it or not, you're forced to slow down. It's common for a crick in the neck to occur in the connective tissues between the neck and the scapula.
Patients might describe the pain as being "dagger-like" or a "knot" that keeps them from moving.
Generating more motion or forcing yourself into certain positions can further intensify the crick itself. So be aware: you need to rest.
The best thing to do is rest for at least a week. During that time, avoid lifting heavy loads or weight. Keep in mind that wearing a shoulder sling can even be counterproductive.
Try resting on your sofa for a few days at first, and little by little you can initiate some soft mobility therapy to rehabilitate the affected area.
2. Ice to relieve a crick in the neck
Every hour and a half, try to apply an ice pack on the affected parts of the muscle for 15 minutes.
This will reduce the inflammation and produce an analgesic effect. However, don't forget to follow the guidance of a specialist.
If the pain is very intense, take the medication that's prescribed to you. Nevertheless, ice and heat therapy can produce good results.
You could try taking a hot shower and then applying the ice pack to your muscles.
3. Ginger tea
The volatile oils, such as beta-bisabolene and zingiberene, are anti-inflammatory agents that are excellent for muscle strain as well as joint pain.
You can drink three cups of ginger tea a day, with between 250 mg to 1 gram of ground ginger in each.
4. Perform small daily stretches
As we mentioned at the beginning, it's best to do this under the advice of your physiotherapist.
If you don't have access to a good specialist, you always have the option of doing some simple stretches at home. To do this, try some of the exercises you can see in the photo above.
The best thing to do is to start out simple: hold the side of your head with one hand in a sideways position for a few seconds (it must be the hand on the same side of the affected area of the muscle).
Then, you can bend your body forward, dropping both hands to exert stretching in the area of the trapezius.
Perform this routine at your own pace and without forcing yourself.
5. Castor oil treatment
Castor oil is ideal for reducing the pain, inflammation, and muscle tension that is so common with this condition.
In fact, it's a classic method for relieving pain from arthritis. Here's how to use castor oil:
What do you need?
A soft cloth
2 tablespoons of castor oil (30 g)
A warm towel or a heating pad
How do you do it?
The first thing you need to do is warm the cloth. Place it above a stove or a radiator until it reaches a warm temperature.
Next, moisten it with the two tablespoons of castor oil.
Lie down and place the cloth over the affected portion of the muscle.
Then, add a heating pad over the cloth to hold the heat in this area.
You can do this treatment every day. Little by little, you'll notice you feel a lot of relief and you'll recover your mobility without feeling any pain.
It might interest you...